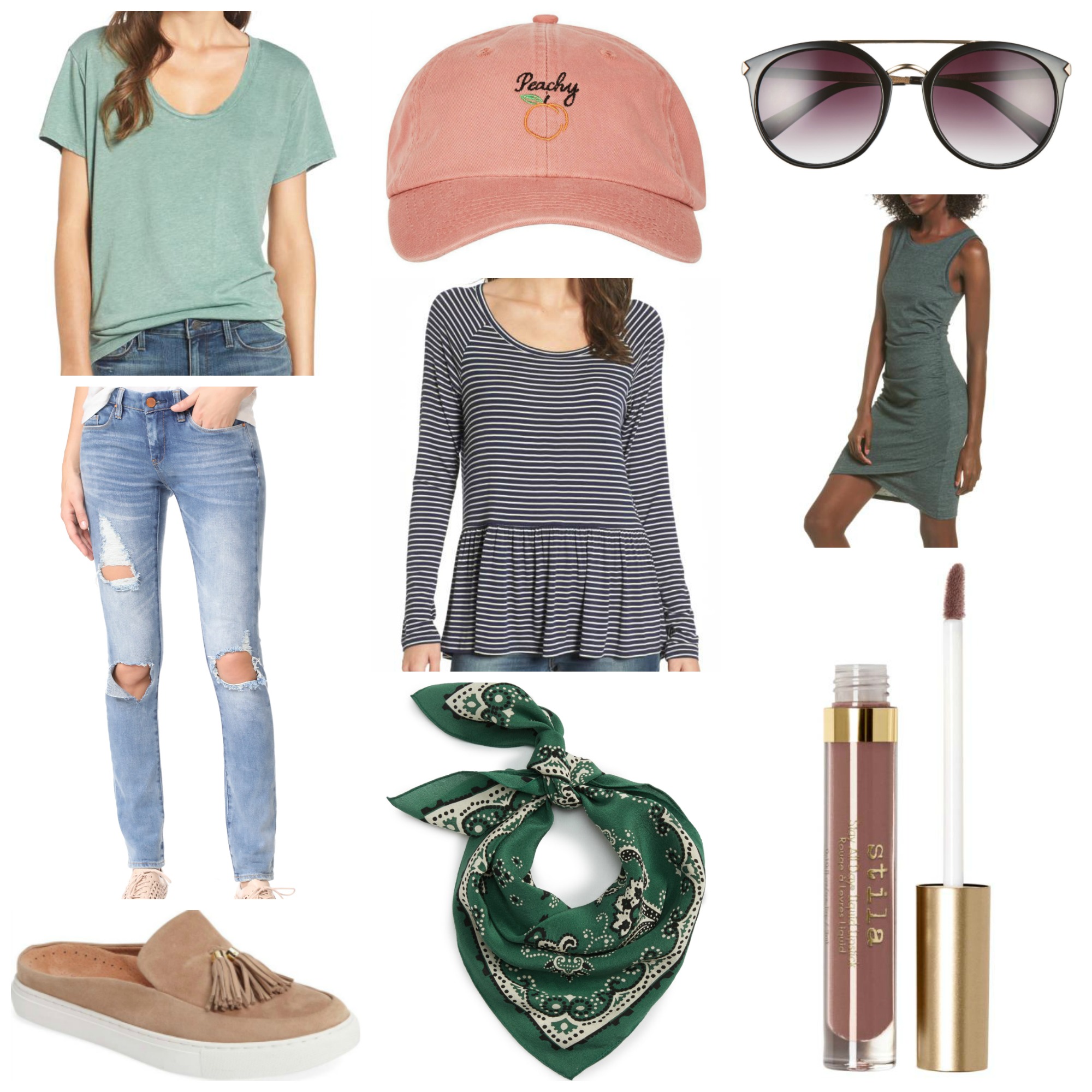 tee, jeans, mules, hat, shirt, scarf, sunglasses, dress, lipstick
August is always a weird time for me shopping-wise. I never know if I should be buying fall pieces or stocking up on summer sale items. While it still feels like summer, and probably will through September, I know that fall is right around the corner. So I really try to look for pieces that will work for end of summer and into fall. Lots of lightweight pieces that can be worn alone or layered. Tee shirts and jeans are typically my go to's but I also really love a casual dress. Mules are seriously my favorite shoe style (no pedicure needed!) and I'm thinking about getting either these or these for fall! I really love the leopard but I feel like I'll be able to wear these more often… And I'm not planning on investing in another pair of sunnies anytime soon because the rest of my wish list is just too. long. BUT these and these are only $12!
You've also probably noticed that I've been obsessing over all things green lately. While it is (and has always been) my favorite color, I don't always tend towards it as far as clothes go but recently I can't seem to get enough! Also, pink… and light blue!
On another note, keep checking back, or sign up for my email list, for a fun giveaway starting soon! It's a really good one for men and women so it's great to use as a gift option… any guesses?!
And now I have to go pick up Amelia from school. I had high (and unrealistic) hopes that I'd be able to get so much more done in the 3 hours that she's gone but… in reality I got this blog post done and up and I fed the baby… oh, and now he's asleep so I'll be waking him up to get him in his carseat… ugh! How does time go so fast? For real though…