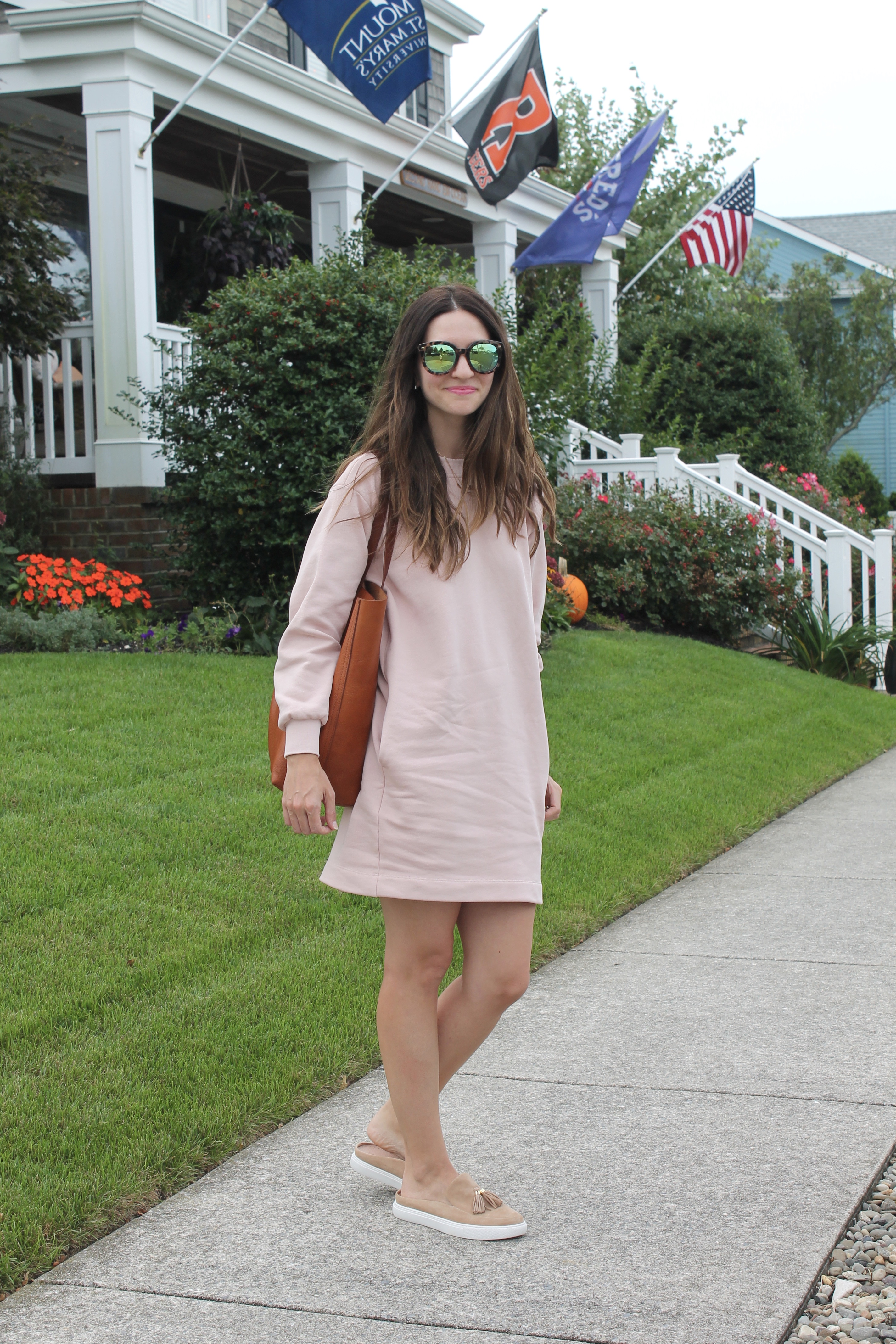 This sweatshirt dress is one of my favorites this season! I love the blush color and it's so comfortable yet still classic and chic. I have a few other dresses by Everlane and this one does not disappoint. It also comes in bone and black and I want both! I'd pair the black one with my black sneakers for weekend walks and I'm picturing the bone one with a comfortable pair of Uggs (or something similar) in a brown shade. They run pretty true to size (I'm wearing an xs) but I would recommend sizing up if you want it longer (for reference, I'm 5'4 and I think it's a good length on me) or a baggier fit.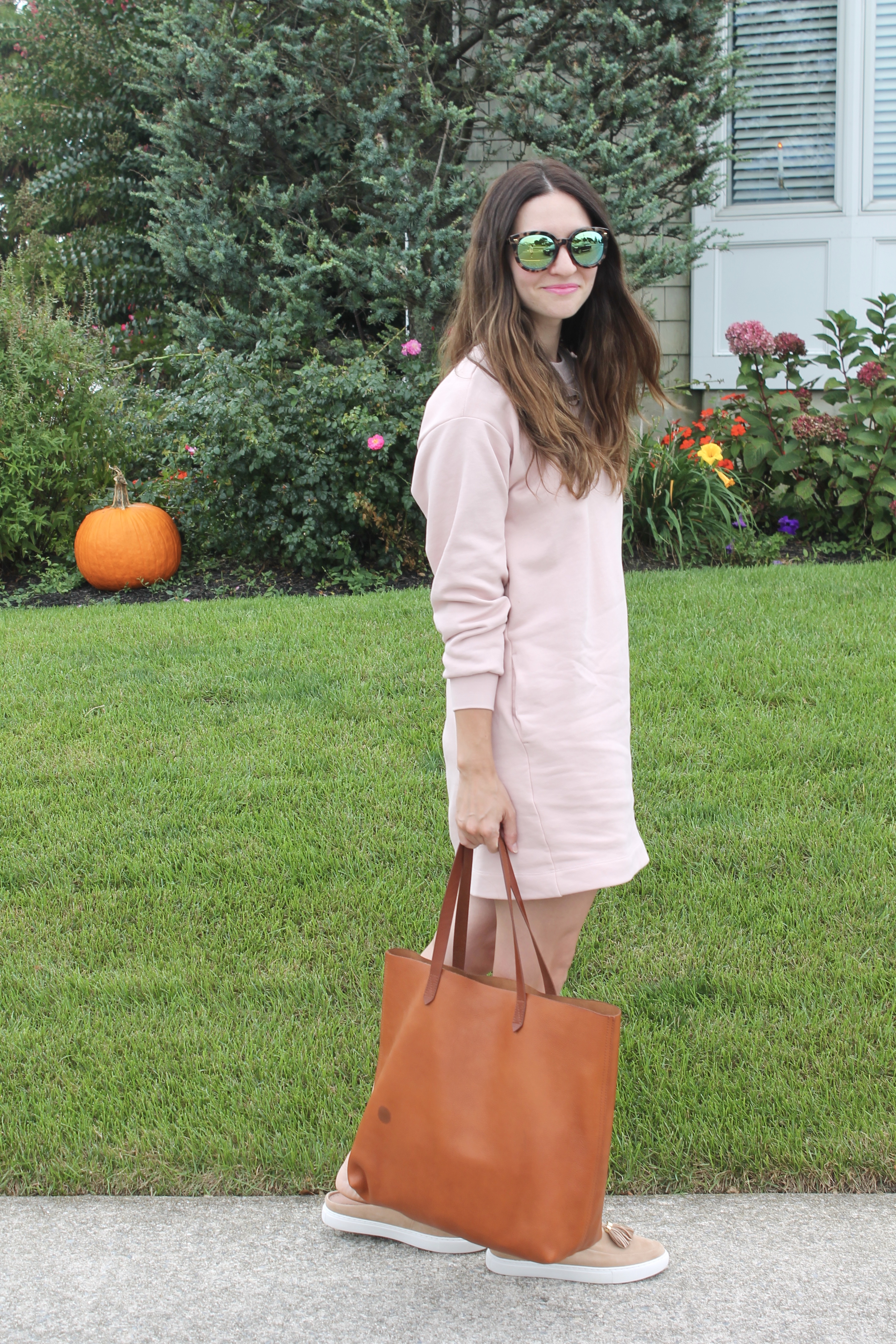 This shirt dress is next on my list. How pretty would it be for the holidays? I'd pair the navy with a chunky cardigan and some booties for Thanksgiving and the white with a blazer and chic pumps for Christmas.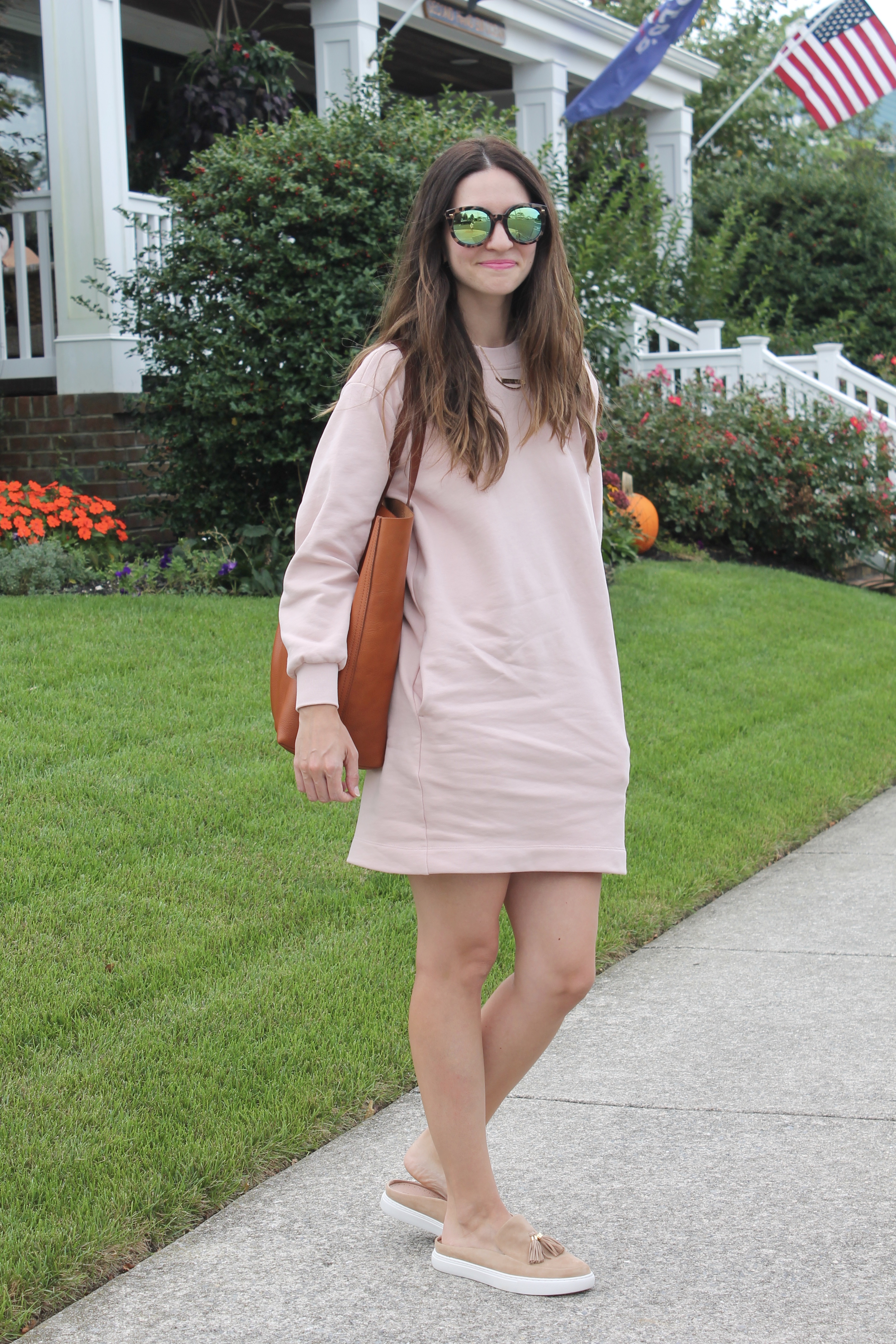 Also, these shoes are probably one of my favorite purchases this season. They're super comfortable (they have a ton of support and a really thick sole) and I love that I can wear them with pretty much anything. They look just as cute with jeans as they do with this sweatshirt dress and I've even worn them with leggings. They come in 3 other colors, one of which is a blush velvet that is gorgeous! It was really hard for me to decide between the ones I got and that blush color.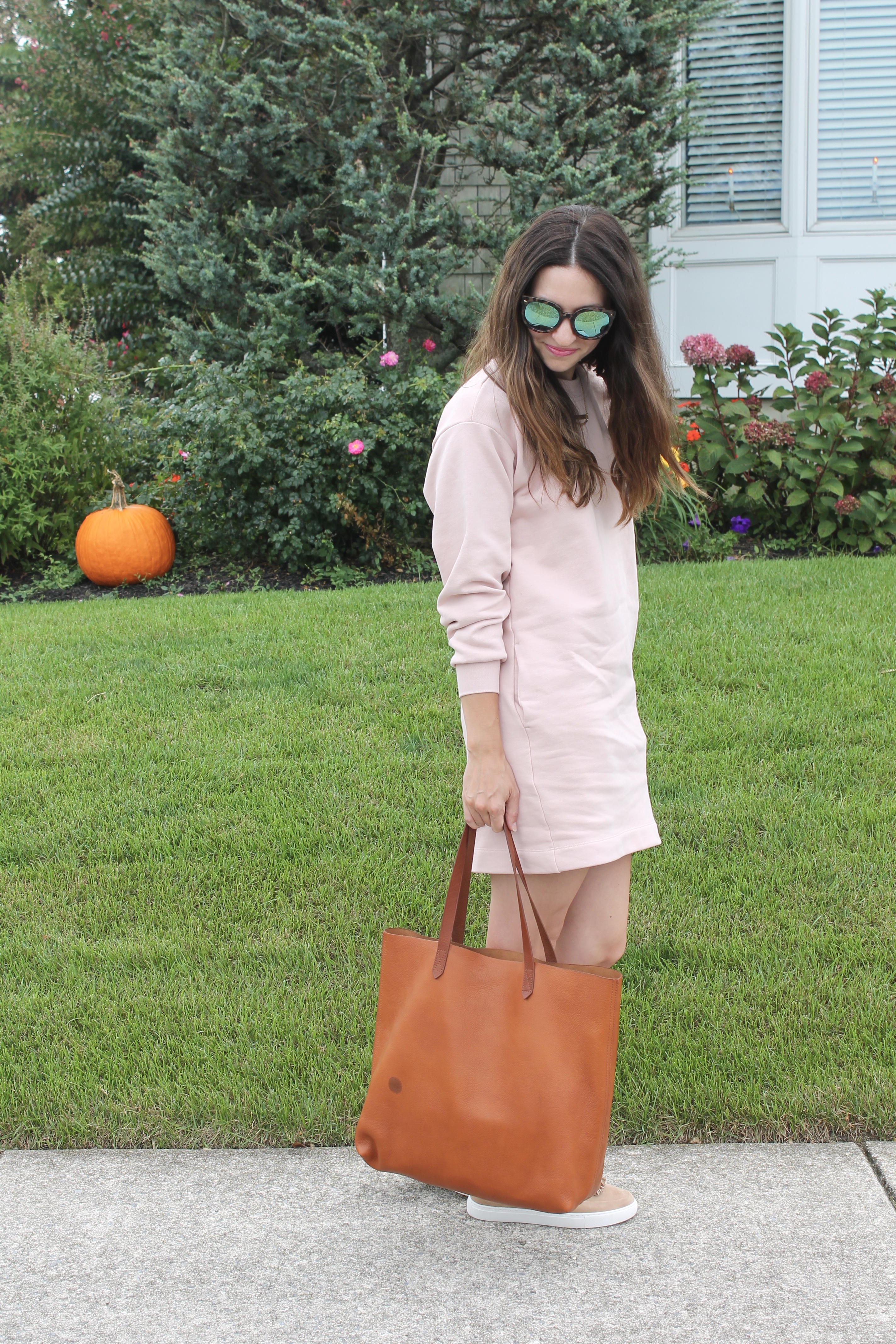 This tote remains one of my favorites, too. It's the perfect neutral and the perfect size for fitting everything I need (which is usually a lot with two kids). Of course on the way to take these pictures I spilled my water and that's the spot you can see here.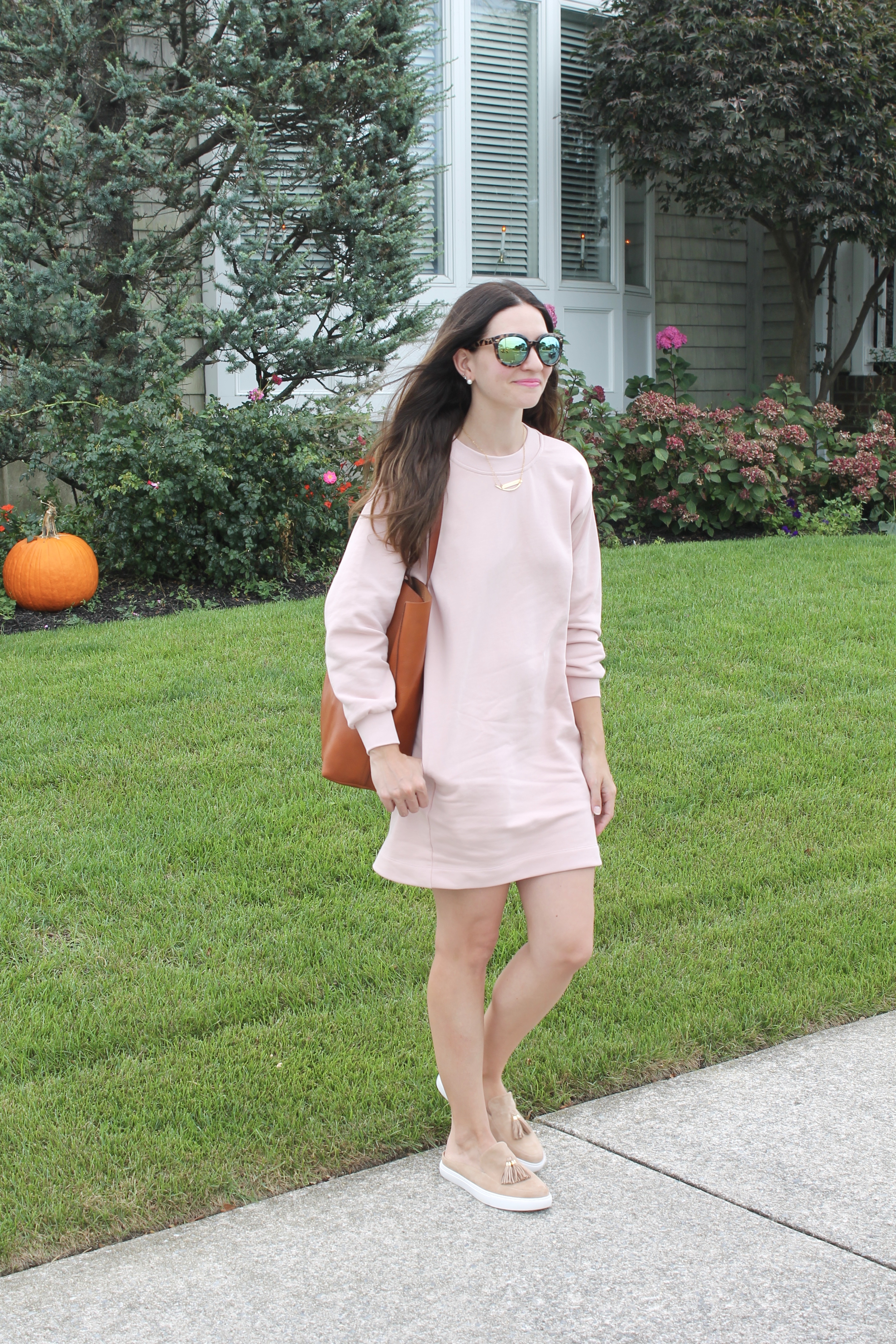 When we were down the shore in September, we drove by this house that was all decorated for fall and it was so cute! It's not often you see places decorated for the seasons or holidays other than summer there so I was really excited to see this house (so excited that I made Joe stop and do these pictures here!)!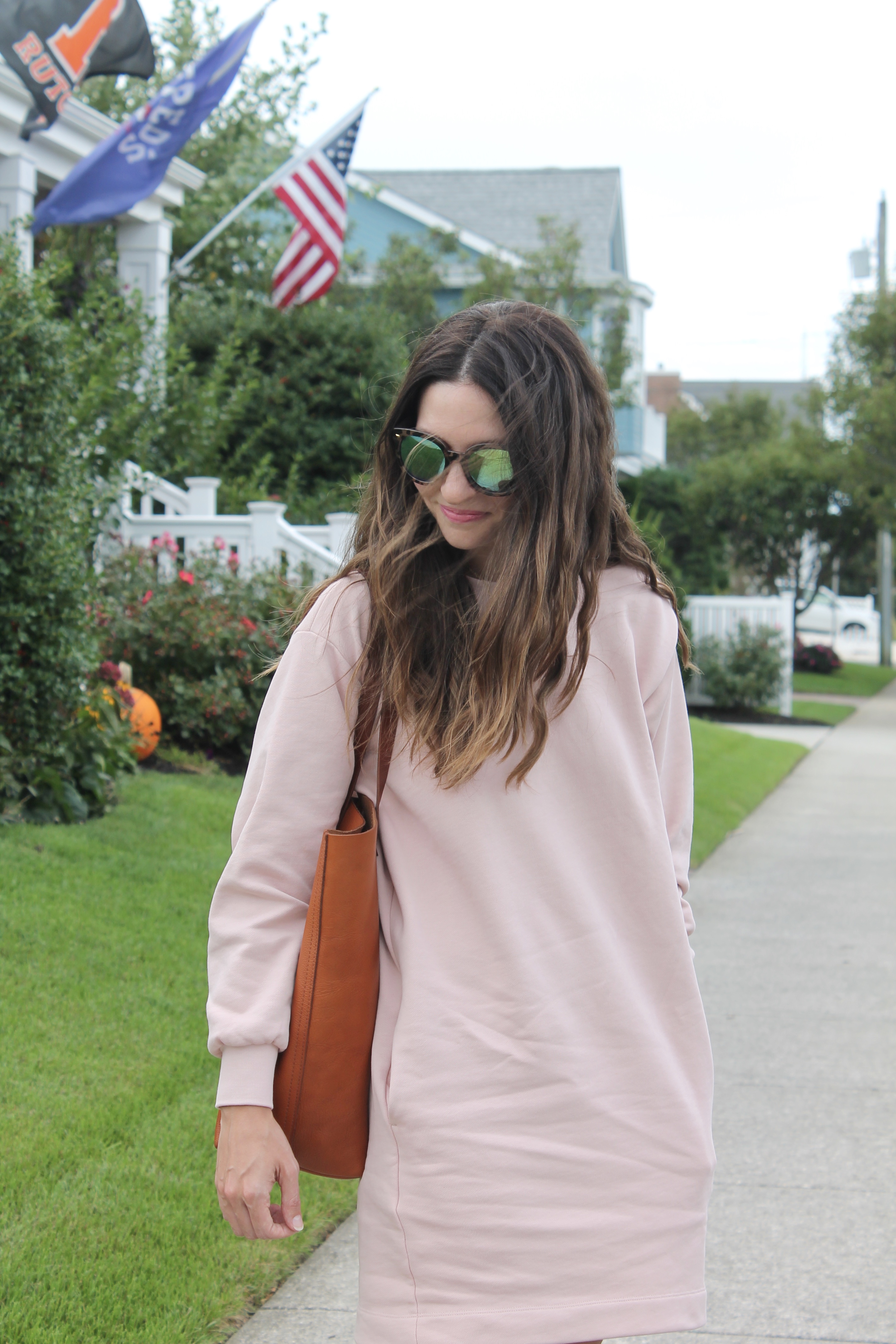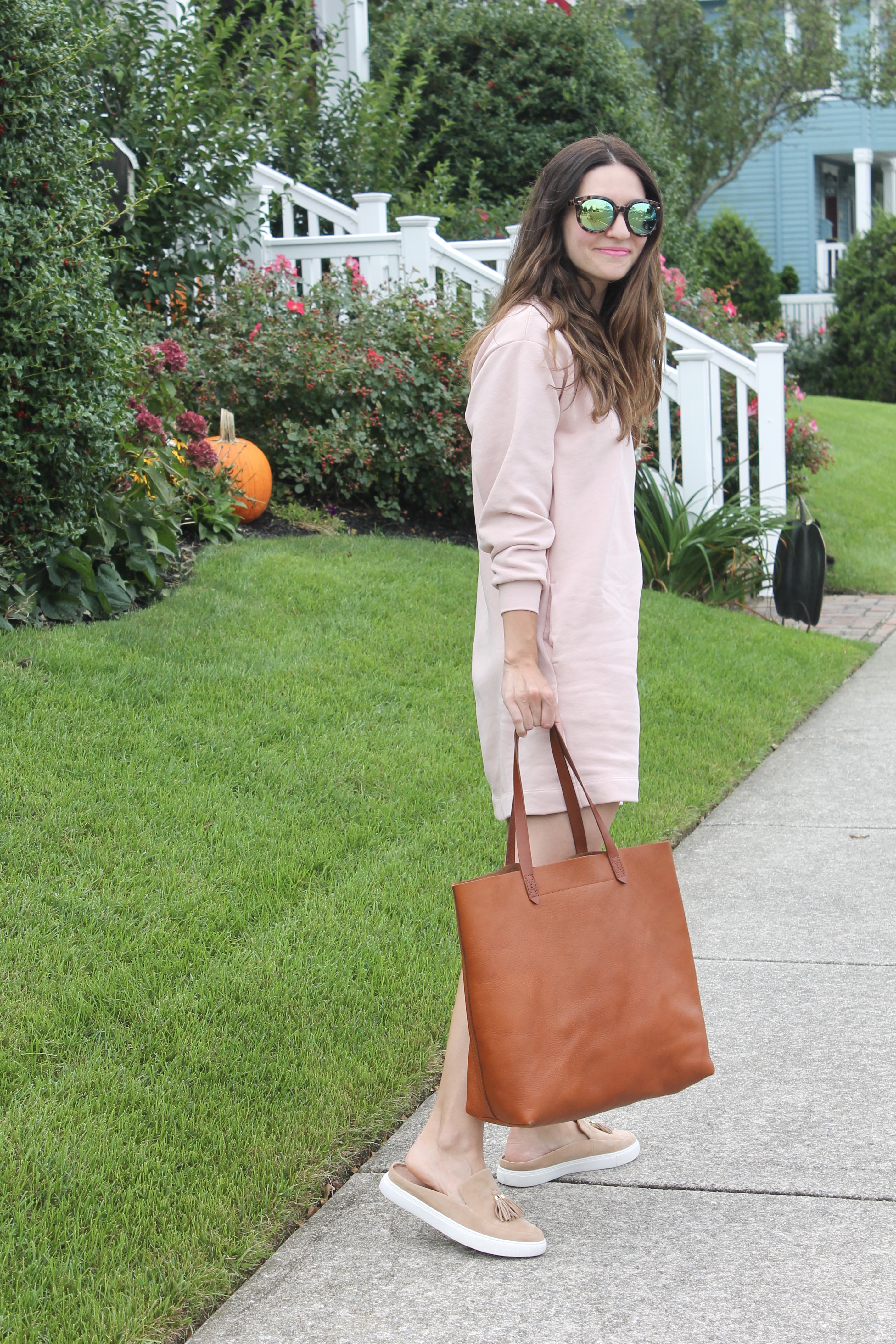 dress: Everlane c/o, mules: Gentle Souls, tote: Madewell, sunglasses: Nordstrom
Ten Favorite Things About Fall
1. Cooler weather, especially the mornings
2. Hot chocolate
3. Chili, red or white… I could probably eat this every night
4. Foliage and the falling leaves
5. Apple picking
6. Pumpkin everything (but I'd prefer a chai tea latte or vanilla over a PSL)
7. Layering
8. Pumpkins and mums (especially mini pumpkins, white pumpkins, and fairytale pumpkins)
9. Apple cider donuts, apple crisp, apple pie
10. Our anniversary (and Halloween and Thanksgiving!)
I have to admit that football is not one of my favorite things and I actually really dread daylight savings and that it gets dark so fast now. But the things I love about fall significantly outweigh the negatives and I think I'd have to say that it's my favorite season, especially for the temperature and wardrobe.
Happy Tuesday! Joseph woke up sick yesterday and I've been fighting a cold since the weekend so we're pretty much housebound again. Also, I somehow hurt my left foot and can't put my weight on it… send some healing vibes, please! And keep your fingers crossed that I don't go crazy, haha!