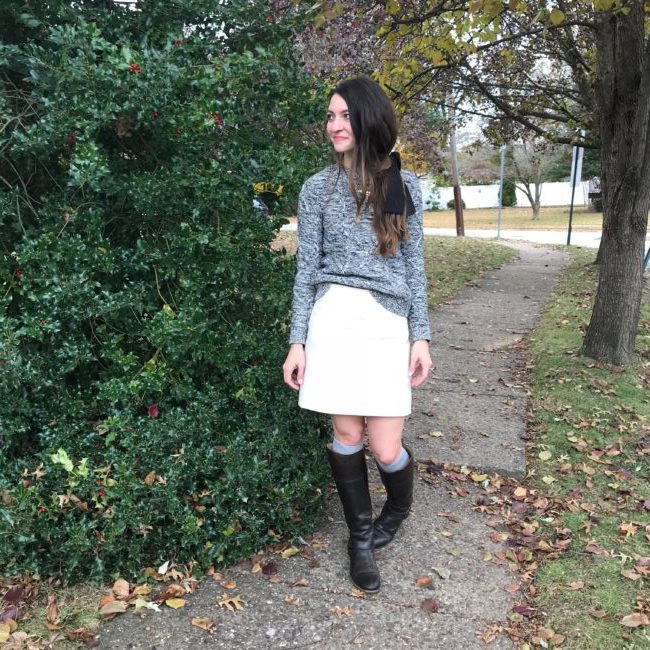 sweater: Banana Republic (old), skirt: J.Crew (old), boots: Frye, socks: DSW, bow: Shopbop
It seems like every other post I've been reading lately mentions something about someone needing or taking a social media (read Instagram) break &/or questioning what they share on social media and the comparison game that social media can foster… but I LOVE Instagram! I love scrolling through my own feed (though it is "curated" in the sense that I plan the layout & use the same filter with edits to crop & brighten, it's never photoshopped) & remembering highlights & special moments we've had (or even just a day that I did my hair & makeup). I love creating content & sharing little pieces of our lives, my motherhood journey, endeavors in homemaking, travel, etc. I love seeing other people's feeds and I find it so enchanting to get a glimpse of other people's homes and lives NOT for comparison's sake but from an inspirational standpoint. It makes me sad to think that some people struggle so much with Instagram and though I can see why, I try really hard to make it a positive space (or at least as positive as I can, I also strive to be as real as possible) about inspiration and making connections.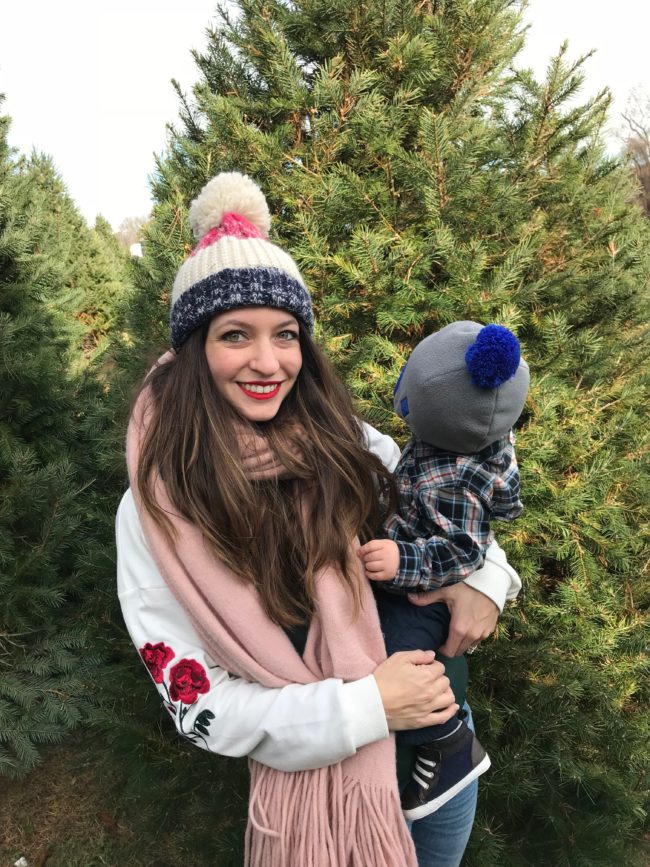 on Britt: beanie: Nordstrom, sweatshirt: Rachel Parcell Everyday Shop (how cute is this one?!), vest: Old Navy, jeans: Blank Denim, scarf: Free People
on Joseph: all Old Navy except for his shoes (Osh Kosh)
Someone once (recently) told me (told Joe, actually, but I was there), "don't compare your insides to someone else's outsides" & we weren't even talking about social media. My point is that people do this regardless of whether or not they are perusing social media. It's life (you know, "the grass is always greener?"). Unless you know what is going on in someone else's life, what you're seeing whether it be at a party, running into someone at the store, or social media, you never really know what is going on behind the scenes. Yes, there is a story behind every picture, but it doesn't end there… there is a story behind every face, behind every seemingly perfect couple, behind every bikini ready body, behind every mom who looks like she "has it all together," behind every smiling face and that has nothing to do with social media. I'm a big believer in life is what you make of it. You may not have any control over the hardships you're dealt but you can choose how you handle them. Also, you can make your photos as pretty (or pretty close to as pretty as) as you see in those photos, too. It just takes a little staging, editing, and A LOT of patience. DISCLAIMER: I am NOT perfect & I am only speaking from my own experiences. I am in no way telling anyone what to do or how they should feel!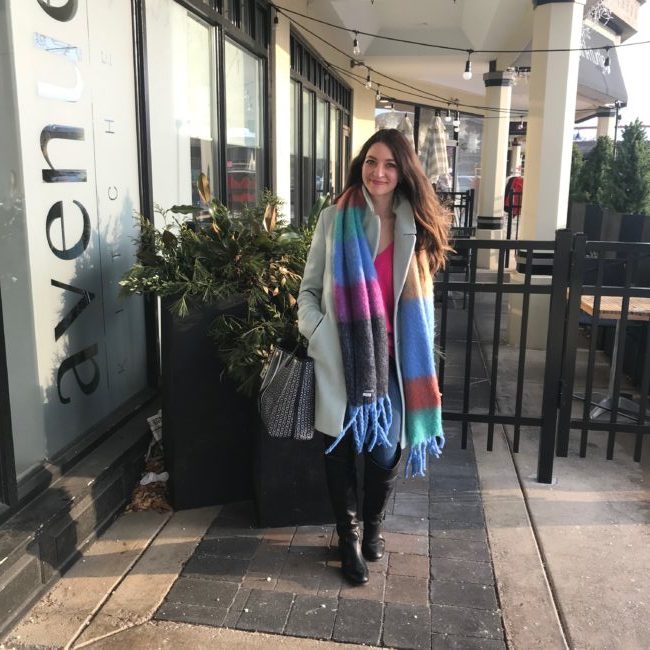 coat: Asos (old), scarf: TopShop, sweater: Nordstrom, jeans: Paige Denim, boots: Vince Camuto, bag: Tory Burch
In other news, it's looking pretty obvious that I have a preference when it comes to color… these photos are pretty heavy on the neutrals, blues, greens, reds, and pinks. And I'm ok with that… actually, I want to add more (have you seen my latest wish list here?!)! Pretty sure I need help!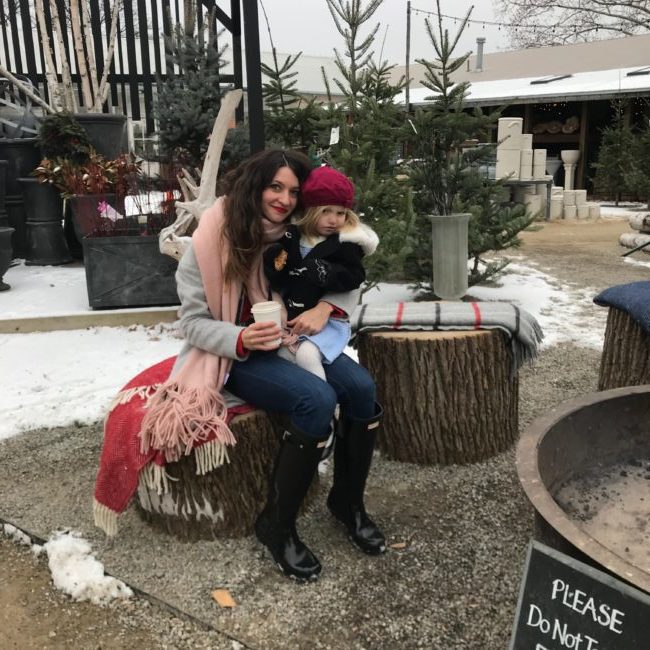 on Britt: coat: Asos, scarf: Free People, Sweater: Loft (old), jeans: Paige Denim, boots: Hunter Boots
on Amelia: all Janie & Jack c/o
Somehow, scrolling through these pictures, I'm realizing for the first time that I actually do look my age… probably because of the wrinkles at the corners of my eyes that I'm seeing for the first time! Looks like I need to seriously step up my skin care game! Anyway, this post has been a long time coming… that top look is from the end of November, I think. We have really been taking the camera out less and less but I want to make an effort to take it with us more often from now on.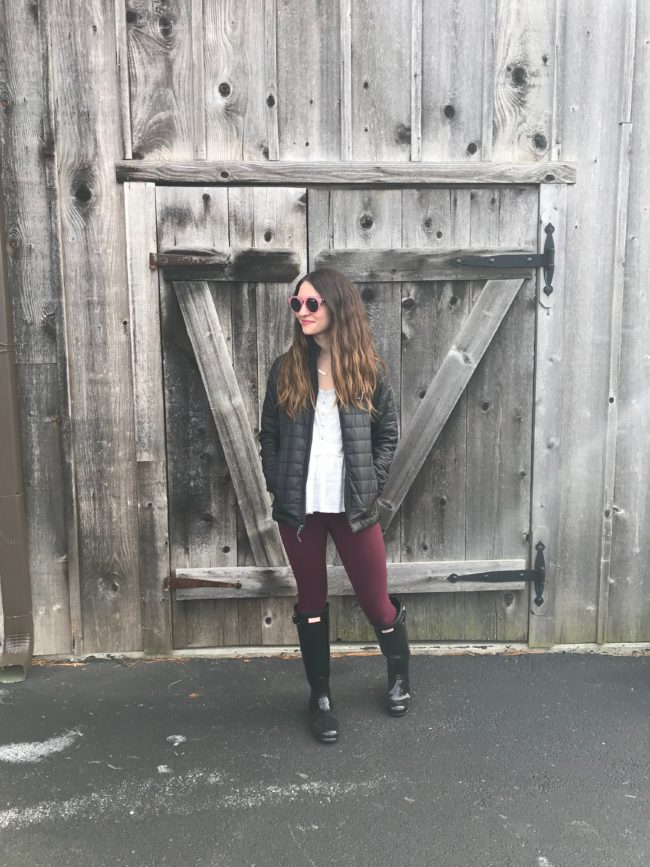 leggings: Nordstrom (my favorite, mine are from last year & I think they're maroon), tee: Free People (from a couple years ago, similar here for way less), coat: Patagonia, boots: Hunter Boots, sunglasses: Illesteva, necklace: Made by Mary c/o
Other than my lack of legitimate outfit pictures, I'm pretty sure I have next to nothing when it comes to pictures of Amelia and Joseph on the camera since the summer! Also, pretty sure we need a new lens AND we need to upgrade our phones- the camera is SO much better on the new ones! But first, I need to clean out the 16,000 (yes, 16,000) photos on my phone… in all my free time (insert laughing emoji here) 😉 Also, there's the small issue of both of those things being pretty expensive! Anyway, thanks for stopping by and hope you all have a great day and weekend!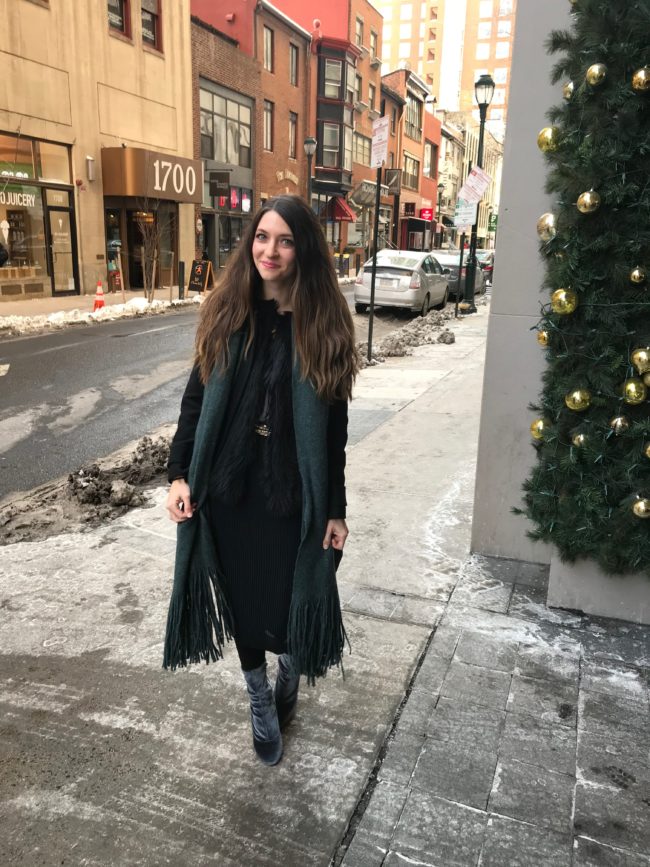 coat: J.Crew (I've seriously had this for like 8 years), scarf: Free People, top: Nordstrom, vest: TopShop (from a couple years ago), skirt: Anthropologie (old), boots: Sam Edelman (LOVE them and LOVE Sam Edelman!), tights: Commando, belt: BCBG (old)