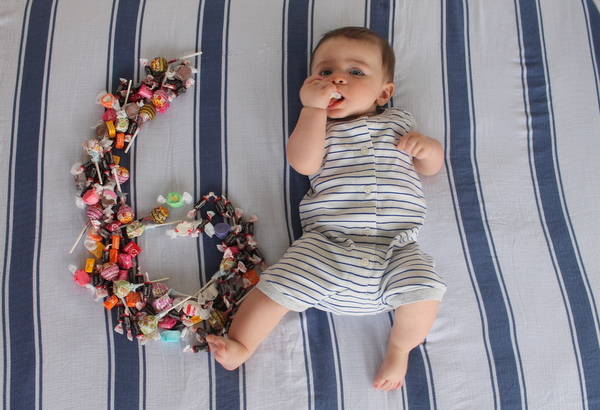 Joseph, because you are such a sweet baby, I thought this month's pictures were wildly apt. You are still a wonderful sleeper, you are sitting (you started sitting on your own about 3 weeks ago or so) so well, you are a rolling and teething machine but still don't have any teeth. You love to eat, though I don't think you have a favorite and you haven't turned anything down yet, either. You love to be cuddled and I love to oblige (and so does anyone else who meets you) and you recently started grabbing my neck when I'm holding you and laying your head on my shoulder and it makes me melt. You are so interactive and love when Amelia is watching Mickey Mouse Clubhouse or Little Einsteins! We took you to the beach for the first time a couple of weeks ago and you loved it! Since then, you've been to Avalon, NJ, Montauk, NY, and Rock Hall, MD and have been such a trooper about all the travel. You love the baby pool but baths still aren't your favorite (makes no sense to me!) and you love the beach (who doesn't?!)! I just feel so lucky to be able experience all your milestones with you!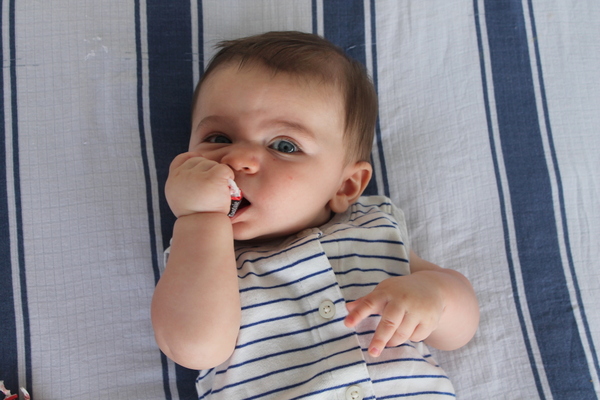 To diminish the risk of misleading people to believe you're the perfect baby, though, I have to say that you recently started this shrieking/screaming bit in lieu of crying and it is piercing. Also, you cry at the drop of a pin… any unexpected noise or touch scares you! Sometimes it's actually kind of cute because you make this pout face before you cry that is adorable and sad all at the same time.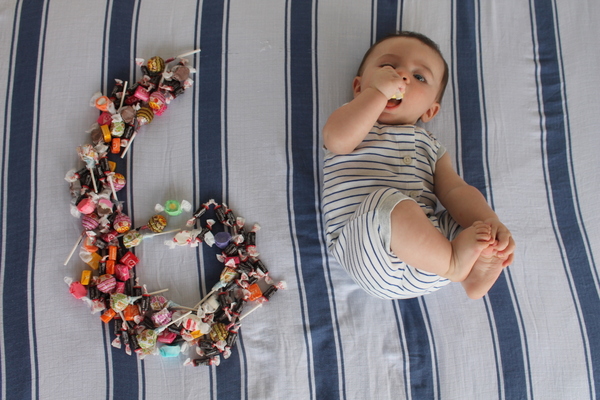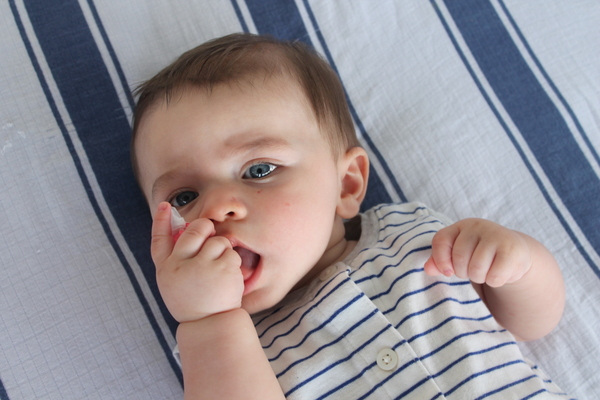 But your blueberry eyes are beautiful, your leg rolls are the best, and we just can't get enough of you. We love you so much, sweet boy! Happy 6 months, Joseph James!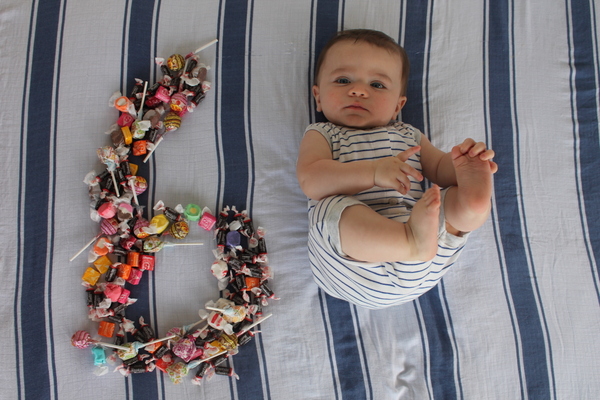 blanket XOve Baby c/o
5 months, 4 months, 3 months, 2 months, 1 month, birth story
I hope you all had a wonderful weekend! I know I've been missing from the blog for a while but it's been one thing after another over here and I'm seriously unorganized. I'm setting another goal to map out my time better so wish me luck! I need to make sure I have dedicated time to work on the blog (and I really want to get into writing again) and I've also been meaning to set aside time to work out and get serious about meal planning (and maybe clean my house and do the laundry, haha!) so here it goes!
❤Britt