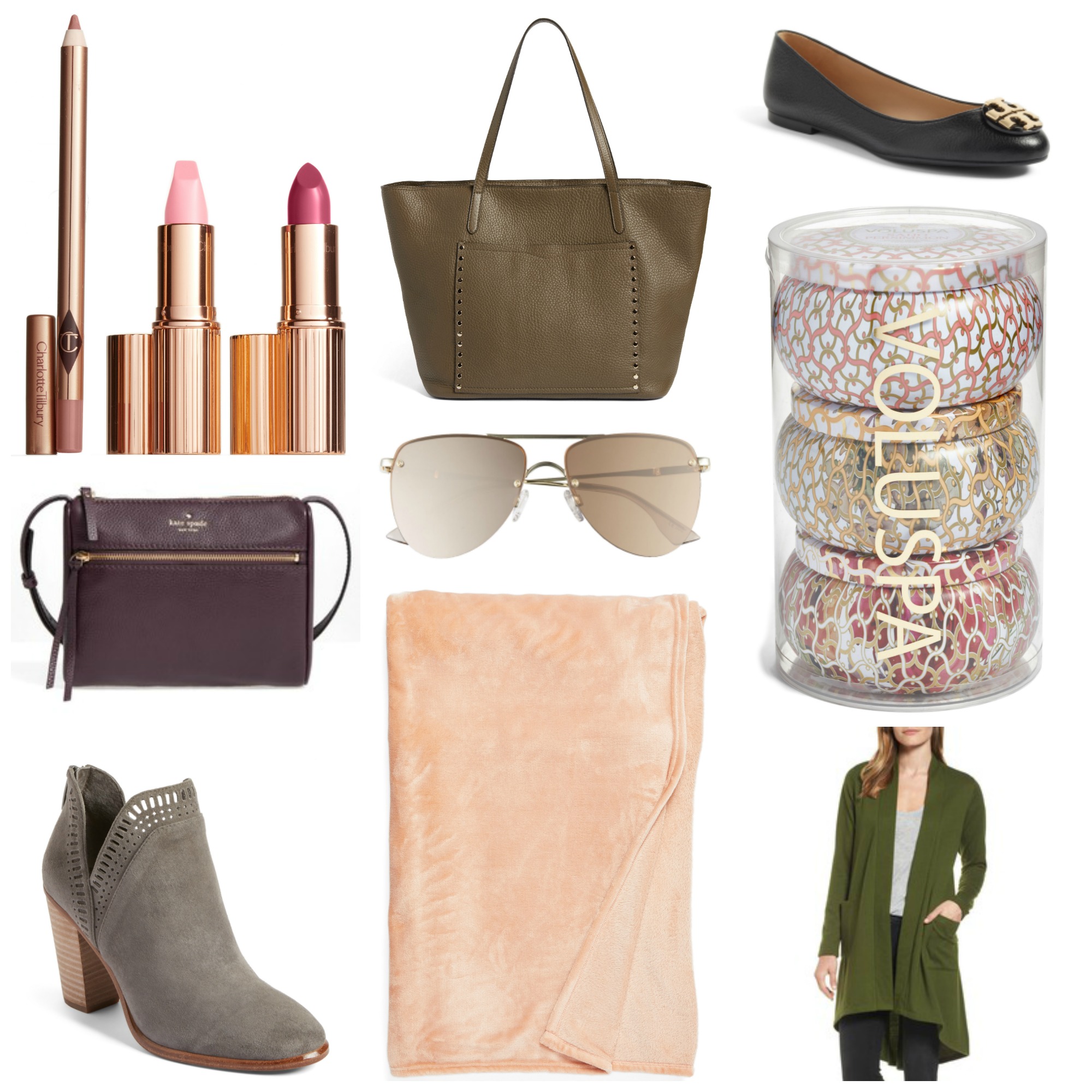 lip set, crossbody, booties, tote, sunglasses, throw, flats, candles, cardigan
Since the NSale is still going on AND it's my birthday week, I decided to put together a list of gift ideas at various price points and share 30 things you may not know about me… in honor of me turning 30 this week. It's always good to have a few extra gifts around and if you're anything like me, you're probably thinking about getting started on your holiday shopping… seriously, with a sale this good it's hard not to want to get started! Also, I don't know about you but it seems like every time we turn around there's another birthday, shower, or housewarming!
1. I married my high school sweetheart (we got married at 23, one day after our 6 year anniversary) almost 7 years ago!
2. I started out with a major in Fashion Marketing, switched to English and secondary education, and ended up with an English degree and Spanish minor.
3. Being a stay-at-home mom has been my dream job since I was a little girl.
4. Green has ALWAYS been my favorite color.
5. I have a serious sweet tooth. It's a problem.
6. I want to write a novel someday.
7. The sea is my happy place. Any ocean. It makes me feel small and I think we all need that every so often.
8. I need (and love) my coffee in the morning. I literally go to bed thinking about it.
9. But I love the idea of tea. I want to start having a daily "tea" at our house! It reminds me of my Grandmom.
10. I'm the oldest of four. I have two sisters and one brother.
11. I love all things Disney but the princesses are my favorite. Ariel in particular.
12. Speaking of which, I'm pretty sure that sparked my mermaid obsession from a young age.
13. I love anything vintage, especially floral china and teacups.
14. I have terrible nerves and anxiety issues. I think it's genetic but mine's also gotten worse with each baby.
15. Nine is my favorite number because it's my dad's favorite number.
16. I love anything British, always have.
17. I love to read and Pride and Prejudice is my favorite novel. Also, anyone want to start a book club?
18. I could listen to the August and Everything After CD by Counting Crows on repeat and never tire of it. Also, almost anything by Sam Hunt right now.
19. I used to want two kids before I was 25 but I'm happy that we waited and I still was able to have these two before 30.
20. I'm learning that I was wrong about pretty much everything I thought I knew, and I'm ok with that.
21. I've been to Spain, Italy, and Ireland, as far as European destinations go. I love to travel but don't love to fly. Road trips are my favorite.
22. We really try to see at least one new place a year, even if it's just for a weekend. We were just recently in Montauk, NY.
23. I've wanted a daughter named Amelia since before Joe and I were married. Also, Joseph is a fourth, so that's pretty cool.
24. I am in awe of really strong women and am lucky enough to be surrounded by them. I hope one day to be as strong as my mom.
25. I tested out of first grade but my parents opted to keep me with my age group.
26. I love the rain but not thunderstorms (I'm paranoid about tornadoes… no idea why since we're lucky enough to live in an area where we don't really have them).
27. I kind of wish I was a princess (but the kind like in The Princess Diaries).
28. If we weren't so close to our family, I'd move to a small southern town, or anywhere in England (or maybe Ireland), preferably somewhere coastal.
29. I'm fascinated by fairies.
30. I'm a huge introvert… but I'm also a Leo and have to catch myself because I can be overly opinionated. I'm working on it 😉
Happy Friday, guys! I hope you all have a great day and weekend! Don't forget to enter my Freshly Picked Giveaway on Instagram!!