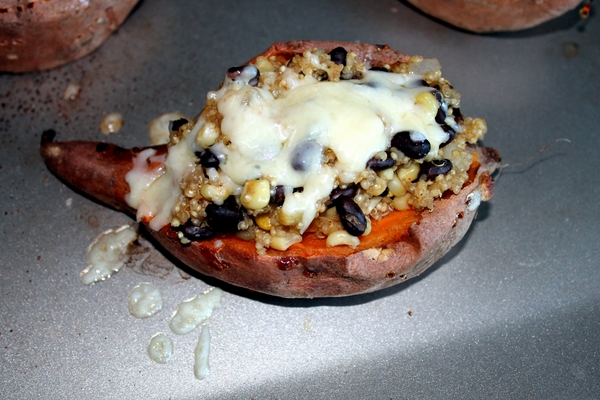 I made these one night for dinner this week as a healthy vegetarian meal and I have to tell you that they were delicious! They're not ingredients that I always have in my kitchen (you'll see that because I decided to make them at the last minute, I actually had to leave some of the ingredients out) and also not foods that we typically eat (Joe doesn't particularly like sweet potatoes or quinoa) but they certainly were a really good combination of flavors! I think the cilantro and lime juice would add so much more, too!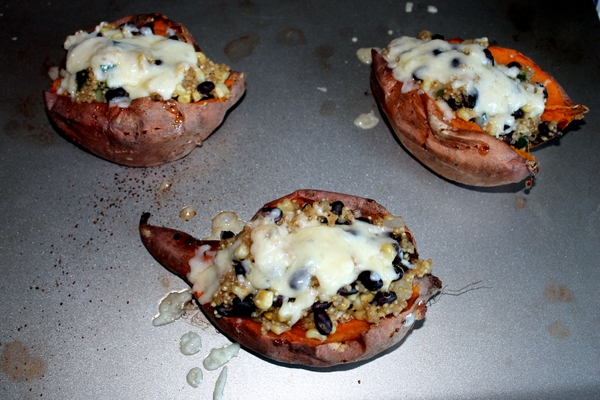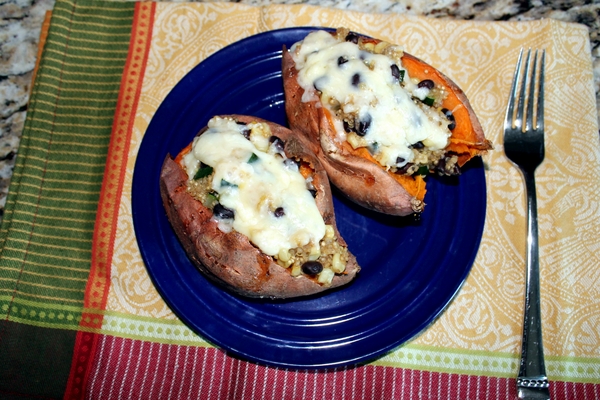 recipe adapted from Cooking Classy
Ingredients:
4 sweet potatoes, scrubbed, rinsed, and pierced several times with a fork
1 cup uncooked quinoa
1 3/4 cup chicken broth
1 tbsp olive oil
1 cup chopped yellow onion
1 clove garlic
1 can (15 oz) black beans
1 1/2 cups frozen corn
1 cup chopped zucchini
1/2 tsp paprika
2 tbsp honey (original recipe calls for 3 1/2 tbsp honey)
3 1/2 tbsp fresh lime juice (optional)
3 tbsp chopped cilantro (optional)
1/2 cup cheddar cheese (I used a little more than this)
sour cream for serving (optional)
salt
pepper
Note: I would have definitely used the chopped cilantro and the fresh lime juice had I not decided to make these at the last minute and had to use whatever I had in my cabinets.
Directions:
Preheat oven to 400 degrees and place sweet potatoes (pierced several times with a fork) on a baking sheet. Bake for about 40 minutes or until tender.
In the meantime, bring quinoa and chicken broth to a boil in a medium saucepan, and then reduce heat to low and cover. Simmer for 15 minutes or until fluffy.
Heat oil in a skillet over medium heat and add onion and zucchini, sauteing until tender or for about 4 minutes. If using frozen corn, add this in as well. Add the garlic during the last 30 seconds. Add the mixture to the cooked quinoa, along with the black beans, paprika, lime juice (if you decide to use this), and honey. Season with salt and pepper to taste.
Slice cooked potatoes in half and scoop out some of the sweet potato to make room for the quinoa mixture. Fill sweet potatoes with quinoa mixture and top with cheese. Transfer to oven and broil on high until cheese has melted (make sure you keep an eye on them so they don't burn!). Garnish with cilantro and sour cream and serve warm.
These were so good and super healthy! We ate them as a main dish with some salad but you could probably use them as a side dish as well.
Happy Friday! Have a great weekend and thanks for stopping by!!
❤Britt