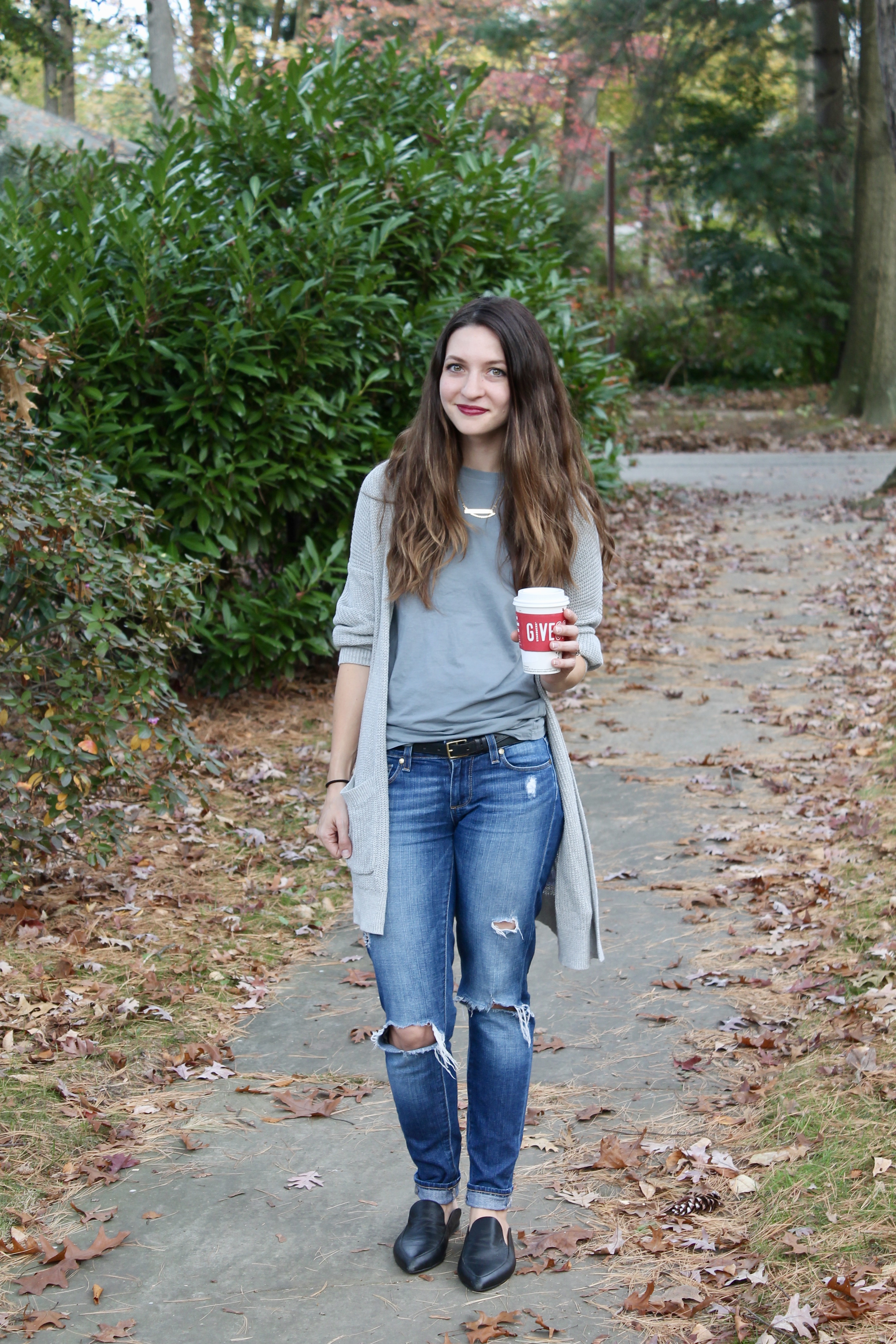 As I'm writing this, I'm finishing up with my whitening treatments by Smile Brilliant (interestingly enough, these photos were taken the day I took my before photos) and I'm really excited to show you all the results! I've been kind of MIA on here (and Instagram) because this past month/month and a half has been a bit of a doozy for our little family! At least one of us has been sick since mid-October! I can't even believe it but it's the truth. Also, Amelia is getting her 3rd tube on Wednesday so we've been really laying low and keeping her somewhat isolated to minimize the risk of picking up anymore germs. She really needs this surgery- her hearing has gotten so bad with all the fluid in her ear and I feel so bad for her!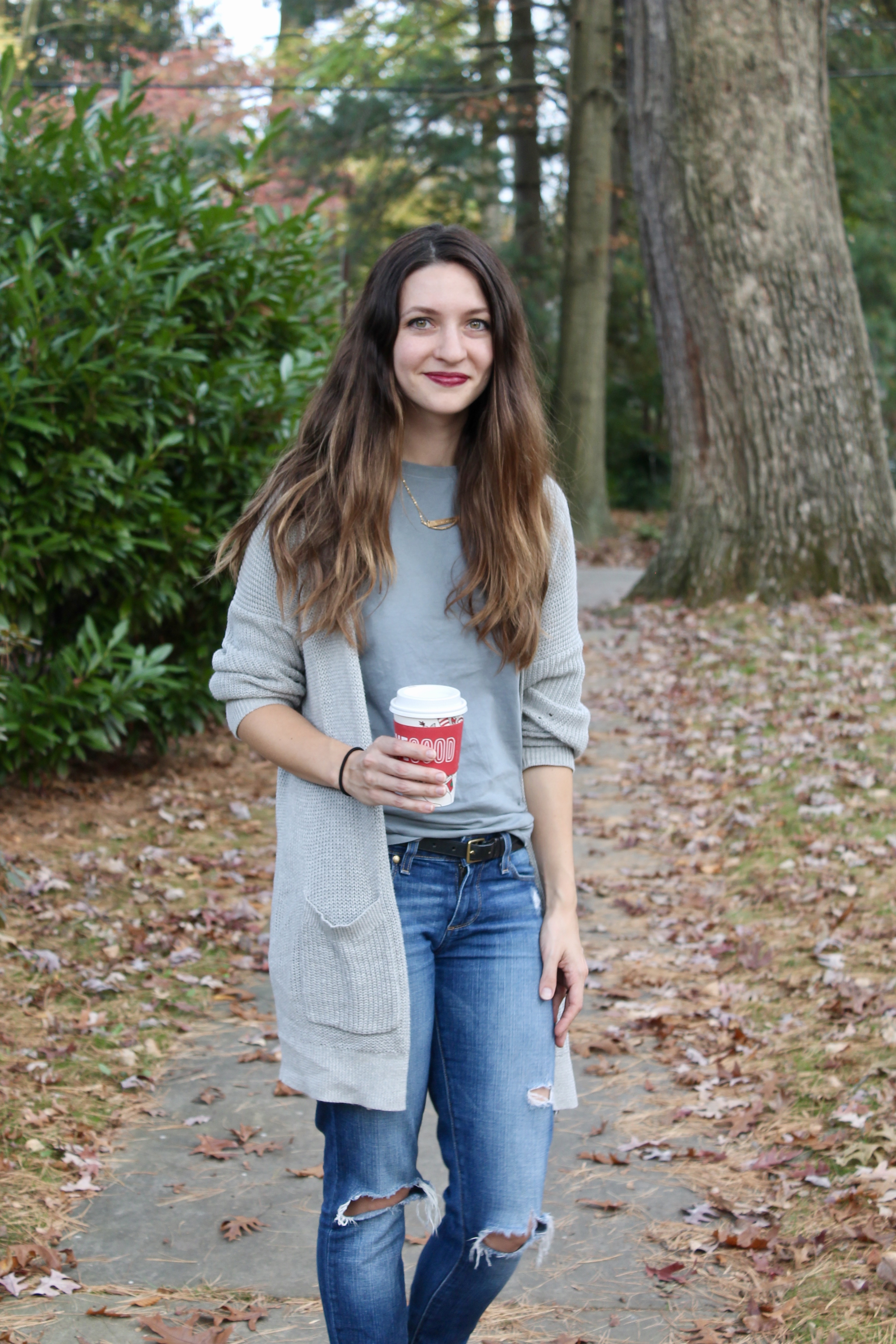 BUT if you haven't checked my SHOP section already, I've been adding curated pages so you can still shop my looks and picks even if I don't have a current post up. I recently added "Holiday Glam," "Cozy Chic," and "Gifts Under $50" (includes stocking stuffers and inexpensive gifts up to $50), and I plan to add "Gifts for Him," Gifts for the Beauty Queen," "Gifts for the Homebody," and "Gifts for Kids" at the least so keep checking back if you still need shopping ideas!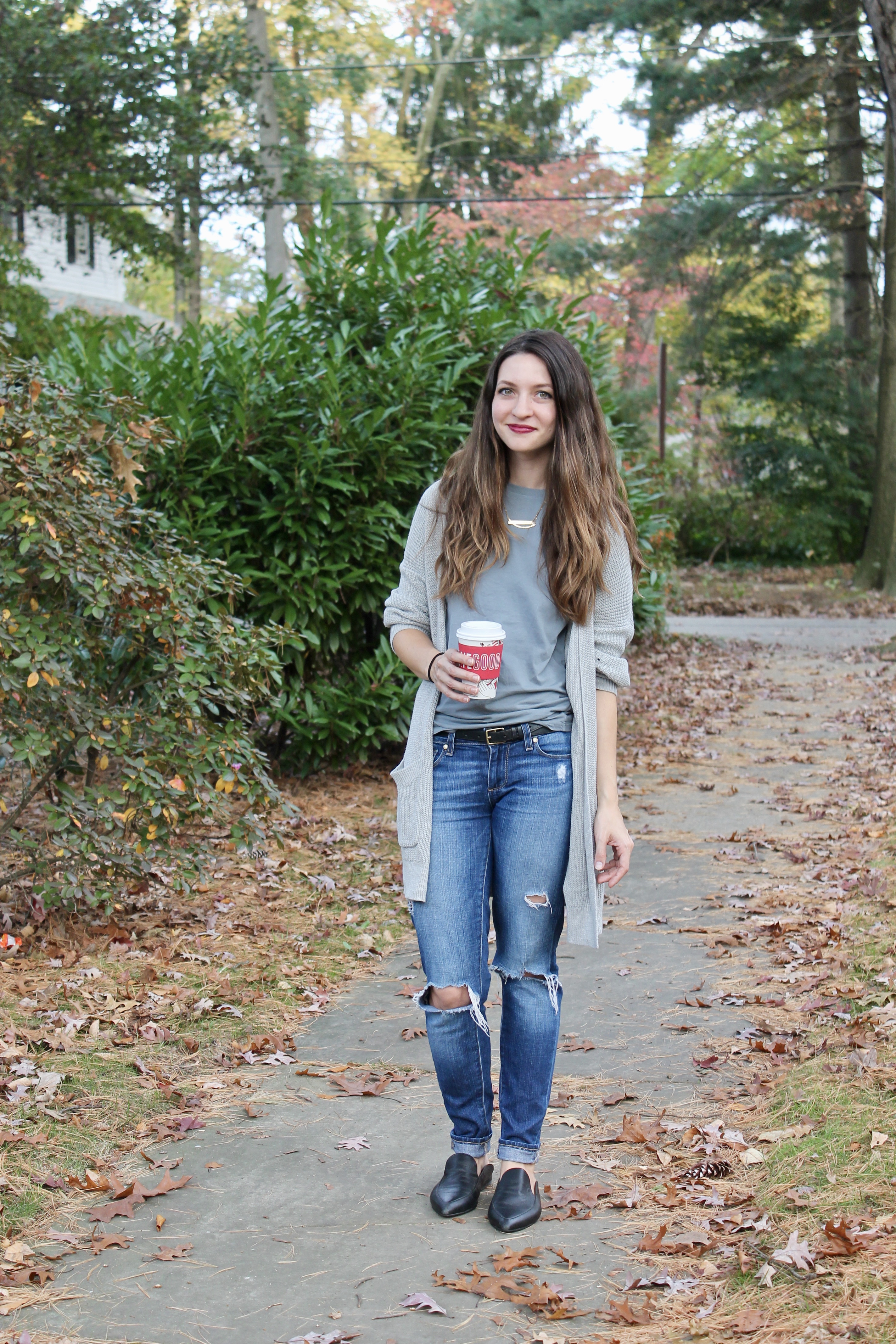 I actually think I wore this outfit to her last ENT visit and in all honestly haven't gotten dressed all that much since then and have only done one outfit photoshoot since this one. I think it's a combination of it getting darker earlier (tougher/less time to get out and take pictures, especially if we're not already out or going out early in the day) and everyone being sick. I'm really looking forward to picking back up with the holiday season and kicking it into gear in 2018! I'm also planning to start BBG so maybe I'll use this space to hold myself accountable!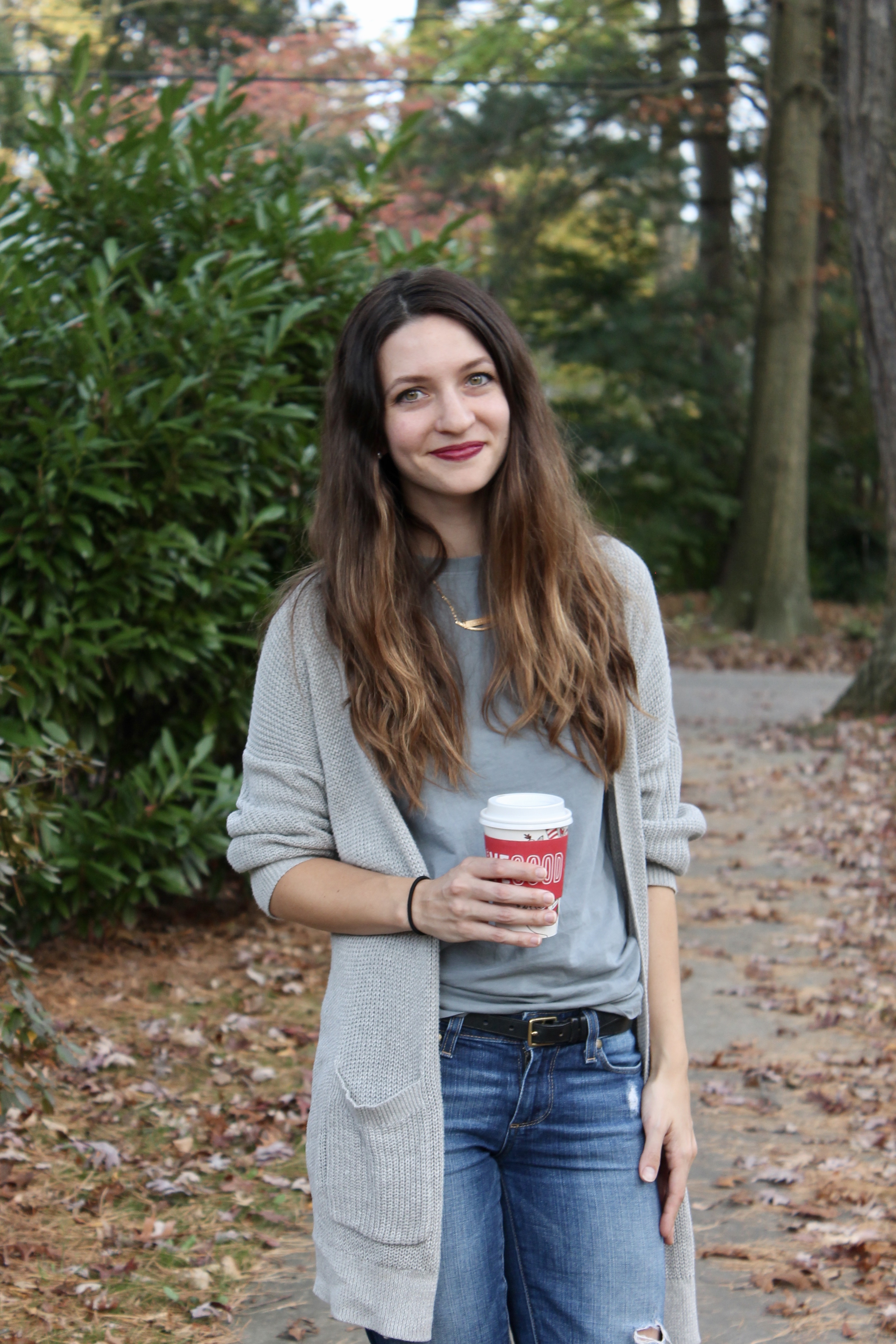 This is another of my favorite tees from Everlane. I've been really into greens, pinks (particularly rose and blush), and light blues (think powder blue or dusty blue) these past few months. Another color I'm loving right now is a really dark teal… and deep wine! Does your favorite color change with the seasons?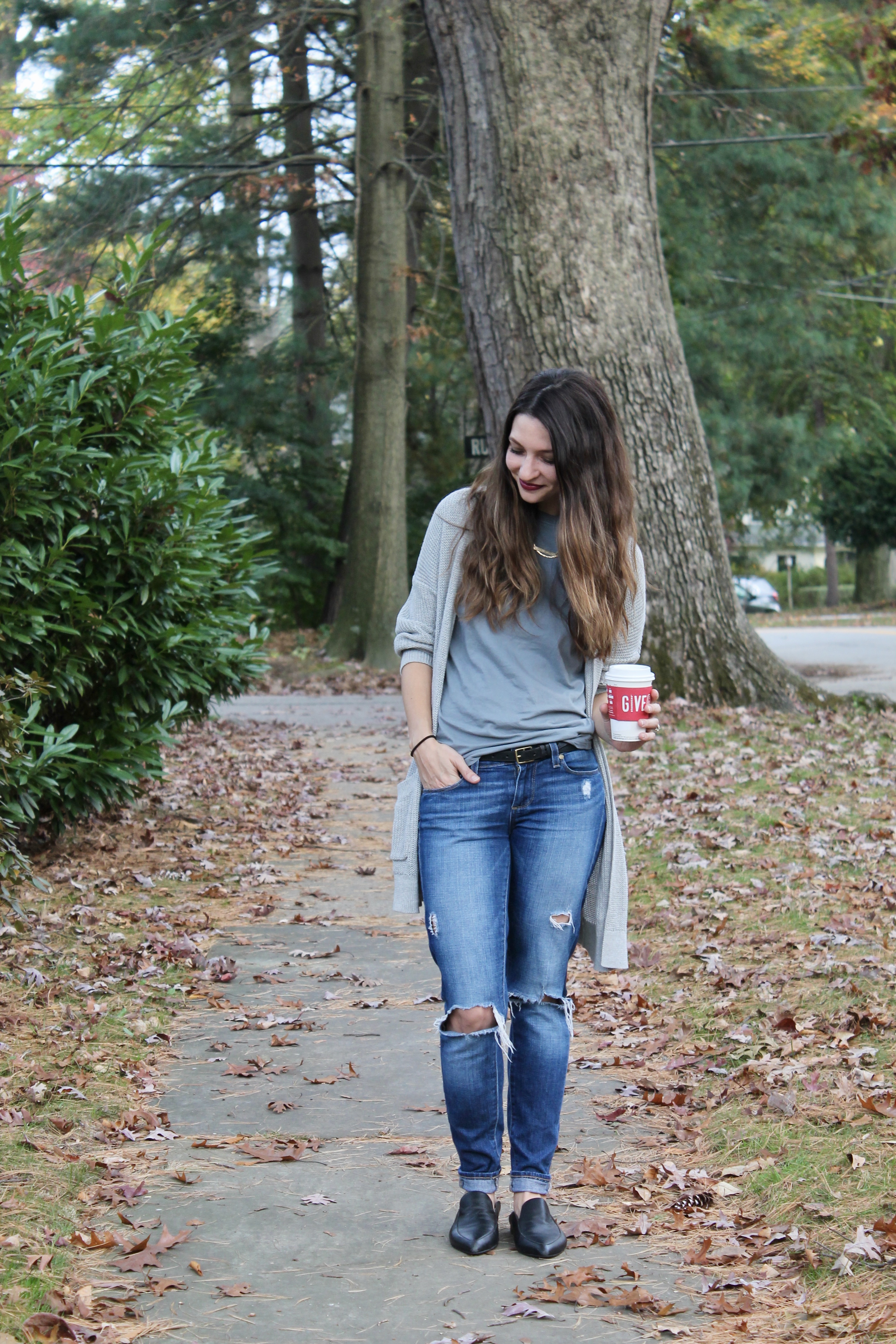 Mules have also been my go to shoe recently. I have three pairs (these tassel mules, these bow ones, and the ones I'm wearing here) and I really want to add more to my collection! Aside from booties, I think they're my favorite shoe style. They're just so easy to slip on and they go with pretty much everything!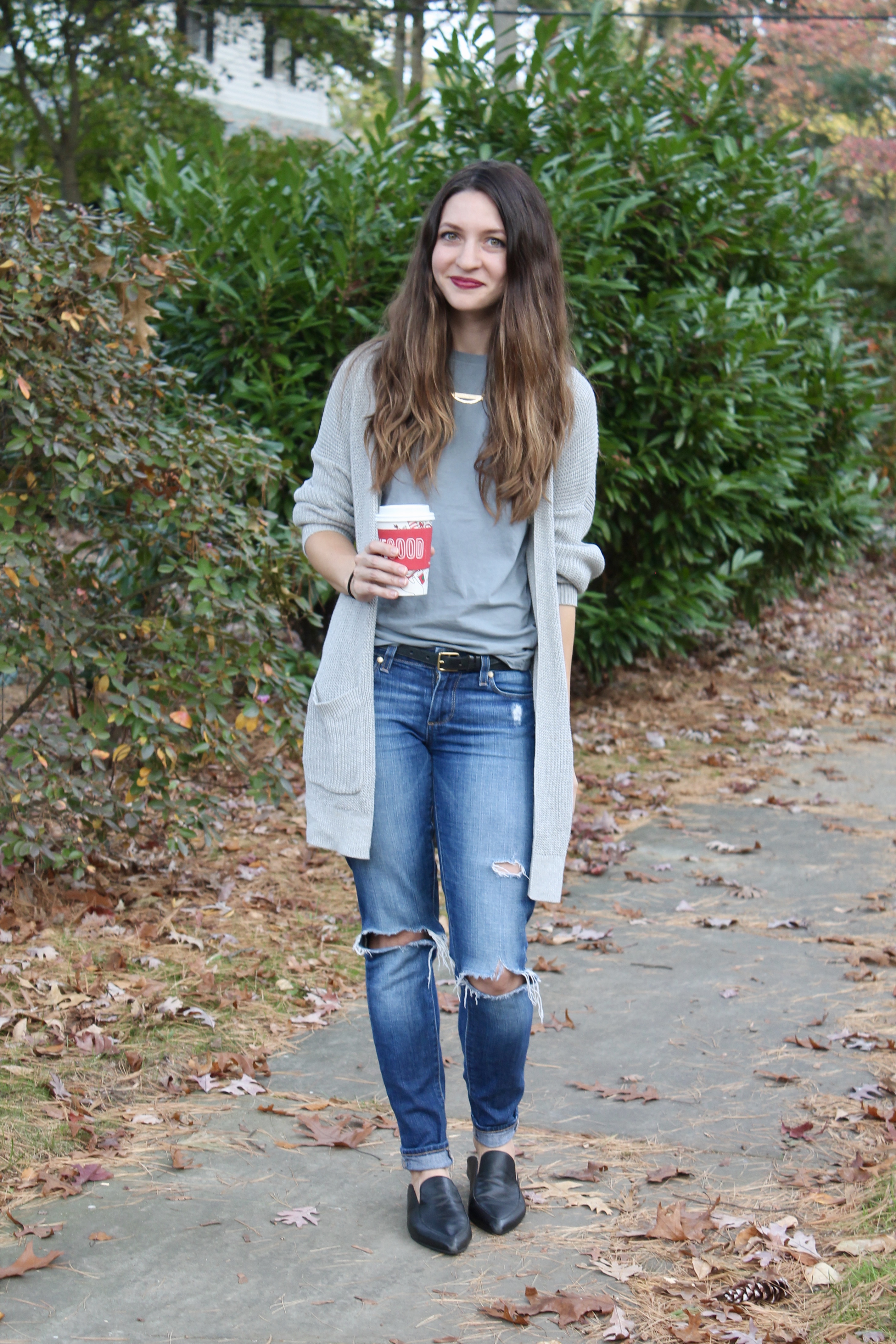 tee: Everlane, cardigan: Nordstrom, jeans: Paige, mules: Kristen Cavallari, belt: J.Crew, lips: Bobbi Brown in crushed plum
I hope you all have a great day! Have you signed up for my mailing list? If you don't stop by daily, it's a great way to keep up with whether or not I've posted that day! You can follow along on Instagram for more frequent updates and a peek into our daily lives!