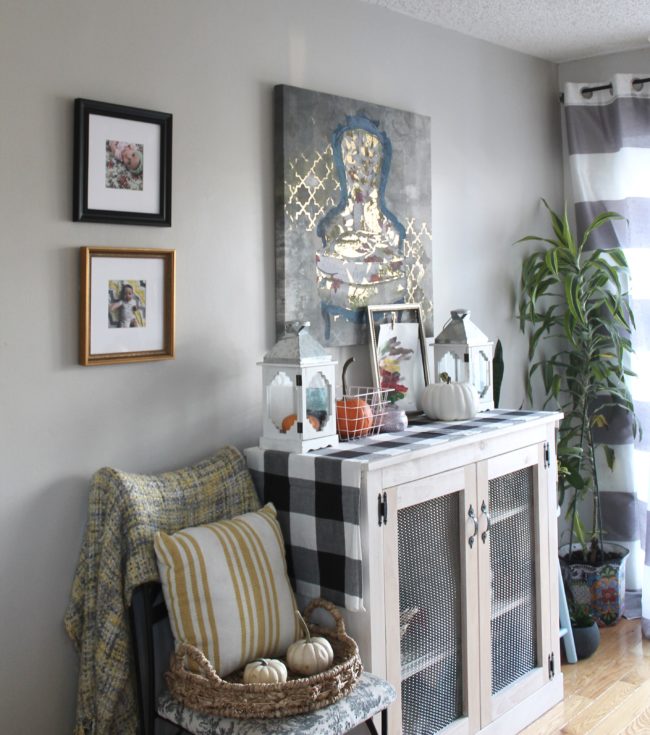 As excited as I am for Christmas, I really do love Thanksgiving (also, I still had a ton of pumpkins from Halloween and I wasn't ready to throw them out!)! I don't always decorate much for Thanksgiving but this year I wanted to make more of an effort and keep our fall decor up a little longer, particularly in our dining room which is typically the only clean room in our house! Though I don't host dinner, I thought it would be fun to create a festive Thanksgiving tablescape. I only used items that I already had in my house and didn't buy one thing for this particular post (I mean in order to create the post, obviously I bought many of the pieces featured).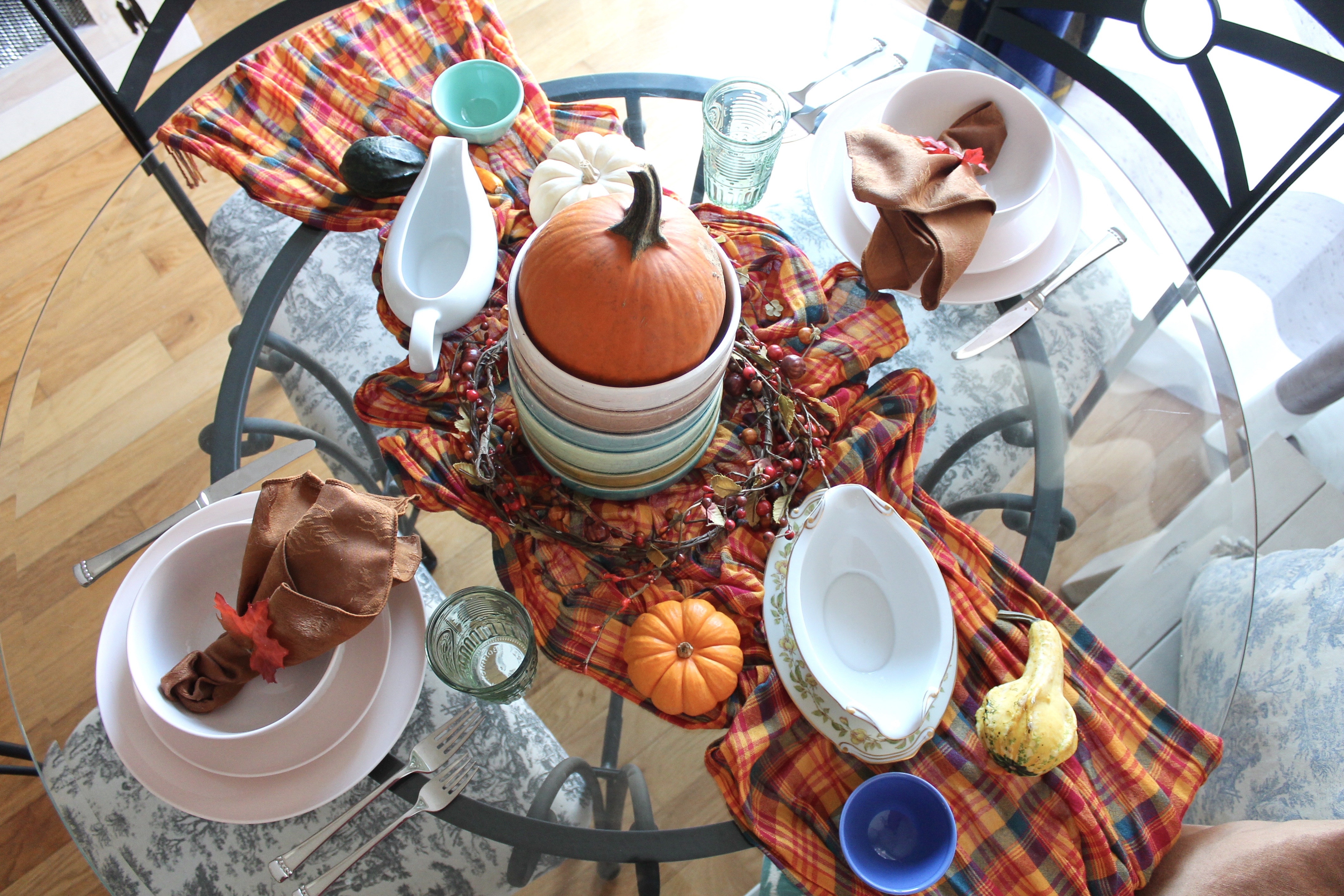 The table runner on my dining room table is actually an old scarf. I got the idea for this in Pottery Barn's fall catalog- they sell table scarves (or they did, I don't see them on their site anymore but see the inspiration here) but I felt like using an old cotton scarf works just as well and didn't cost anything!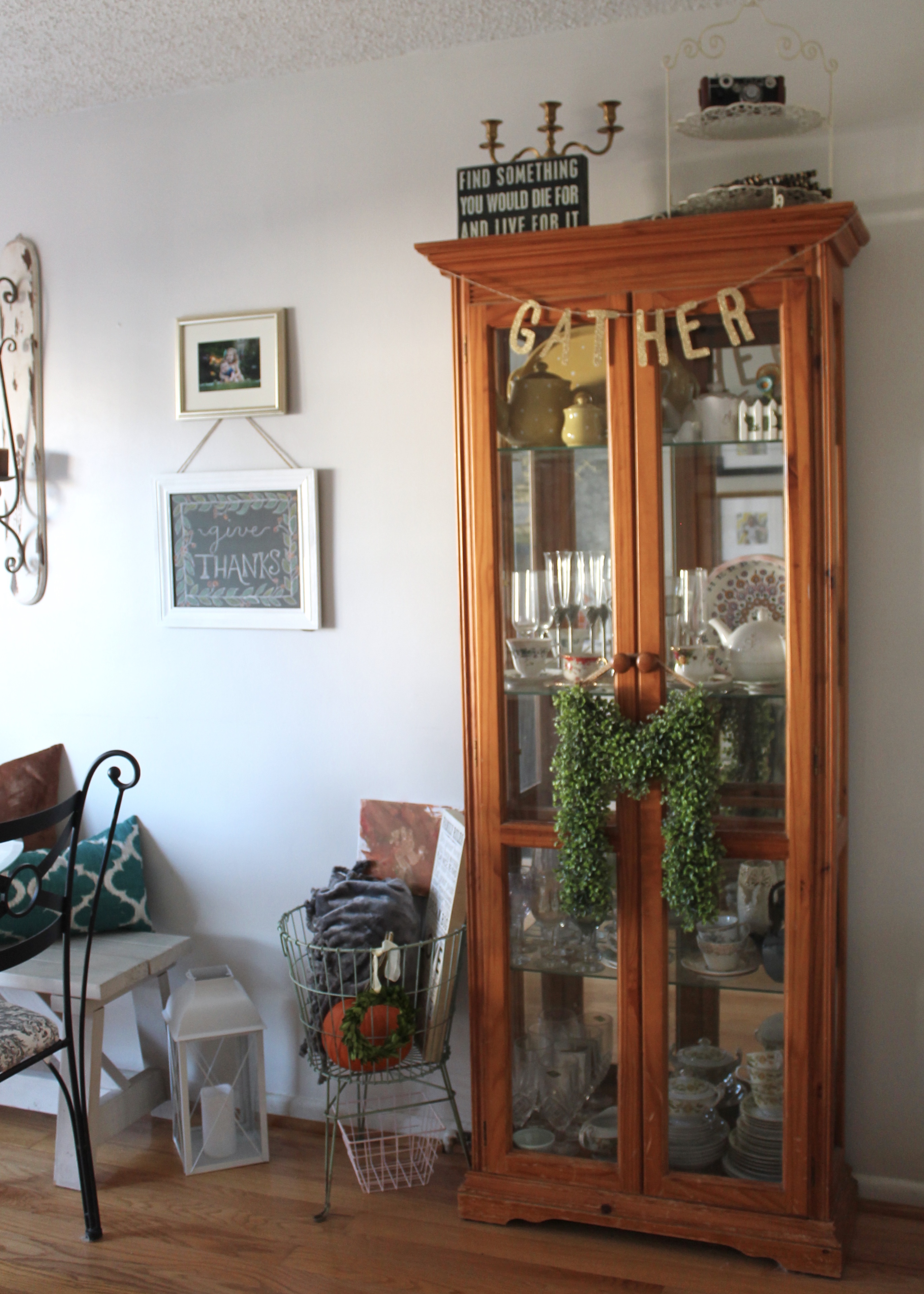 This curio cabinet is actually my Mom's from when we were younger. She loved it and used to keep her collection of Disney dishes here so it really makes me happy to have it in my home now. I keep my collection of assorted china as well as special glasses and tea items in here. This "Gather" sign is from Target's Dollar Spot! The chalkboard is one of my other favorite things in here- I change out the design from season to season and for the holidays and it's fun to look up new ideas and put my own spin on whatever I choose.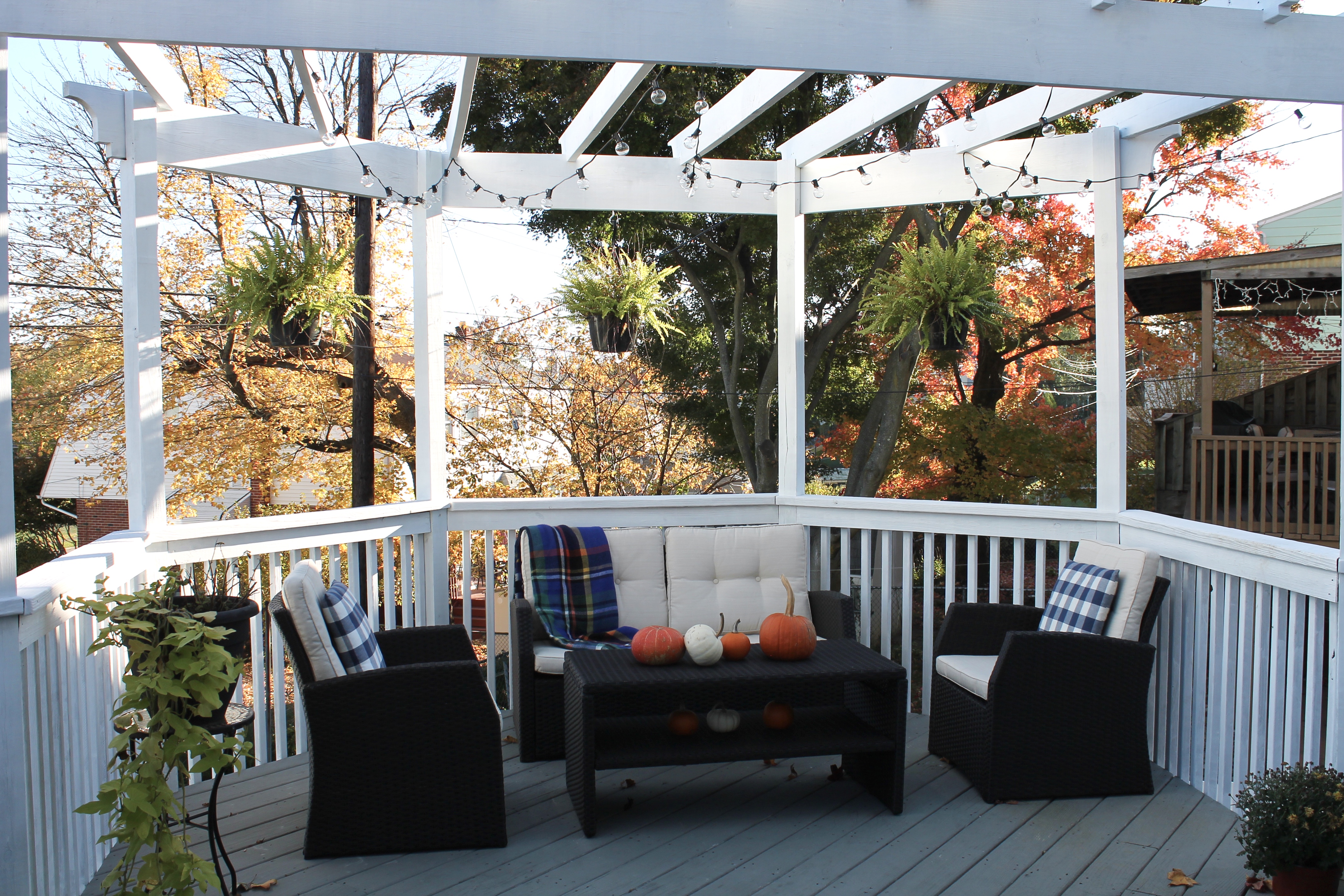 We've been working on our outdoor space for a while now (and it's still not done- we're only 3/4 of the way done staining the deck and fence! You just can't tell in these pictures!) and I'm really happy with how it's coming along. I love the gray and white and the contrast of the dark furniture. In the summer, these ferns were the perfect pop of green and I wish we'd added these cafe lights sooner than just last week! If we ever move, this is one space that I will want to recreate to be almost exactly the same as it is now.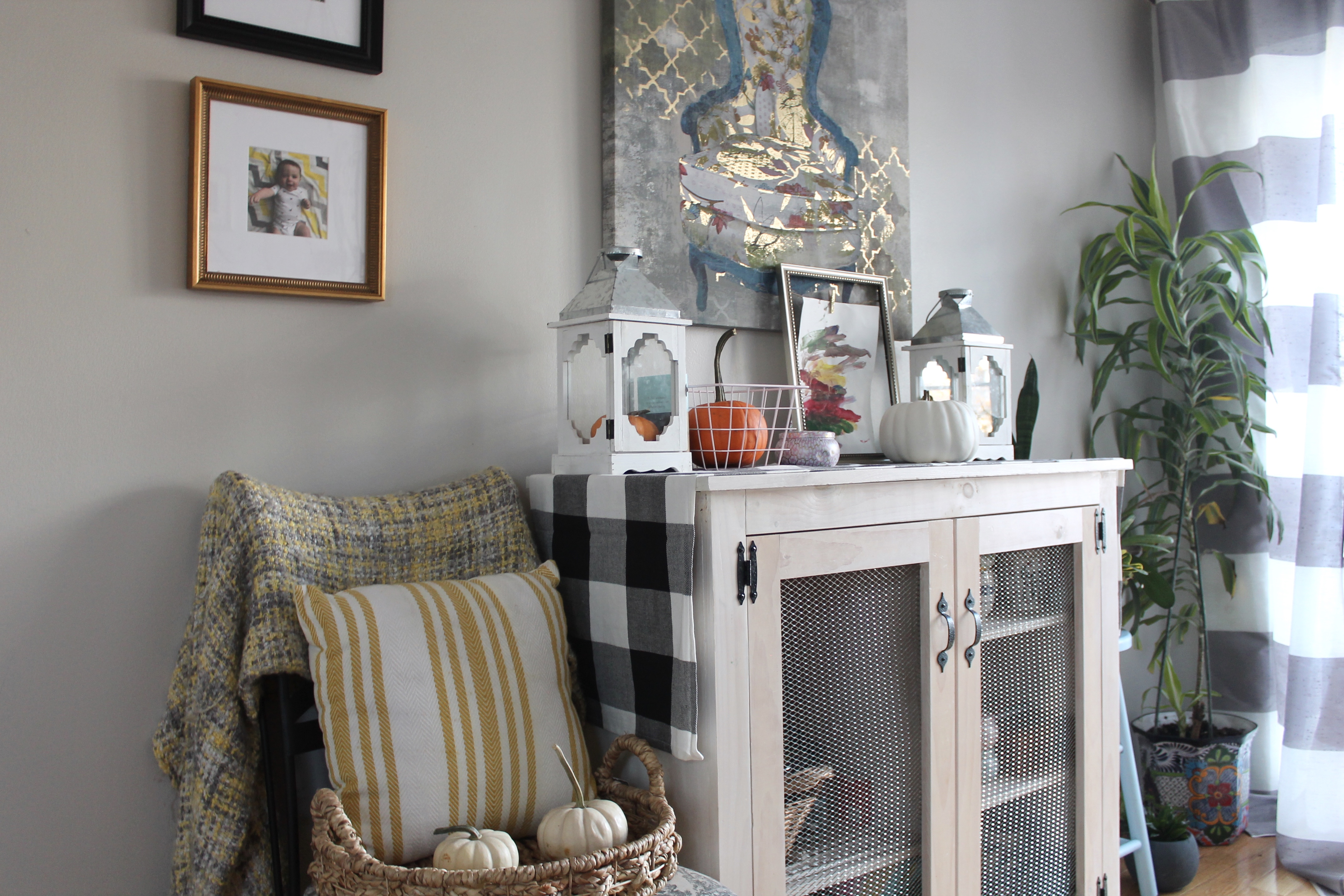 I really love how this buffalo check table runner transforms the space. Before adding it, this spot seemed so plain!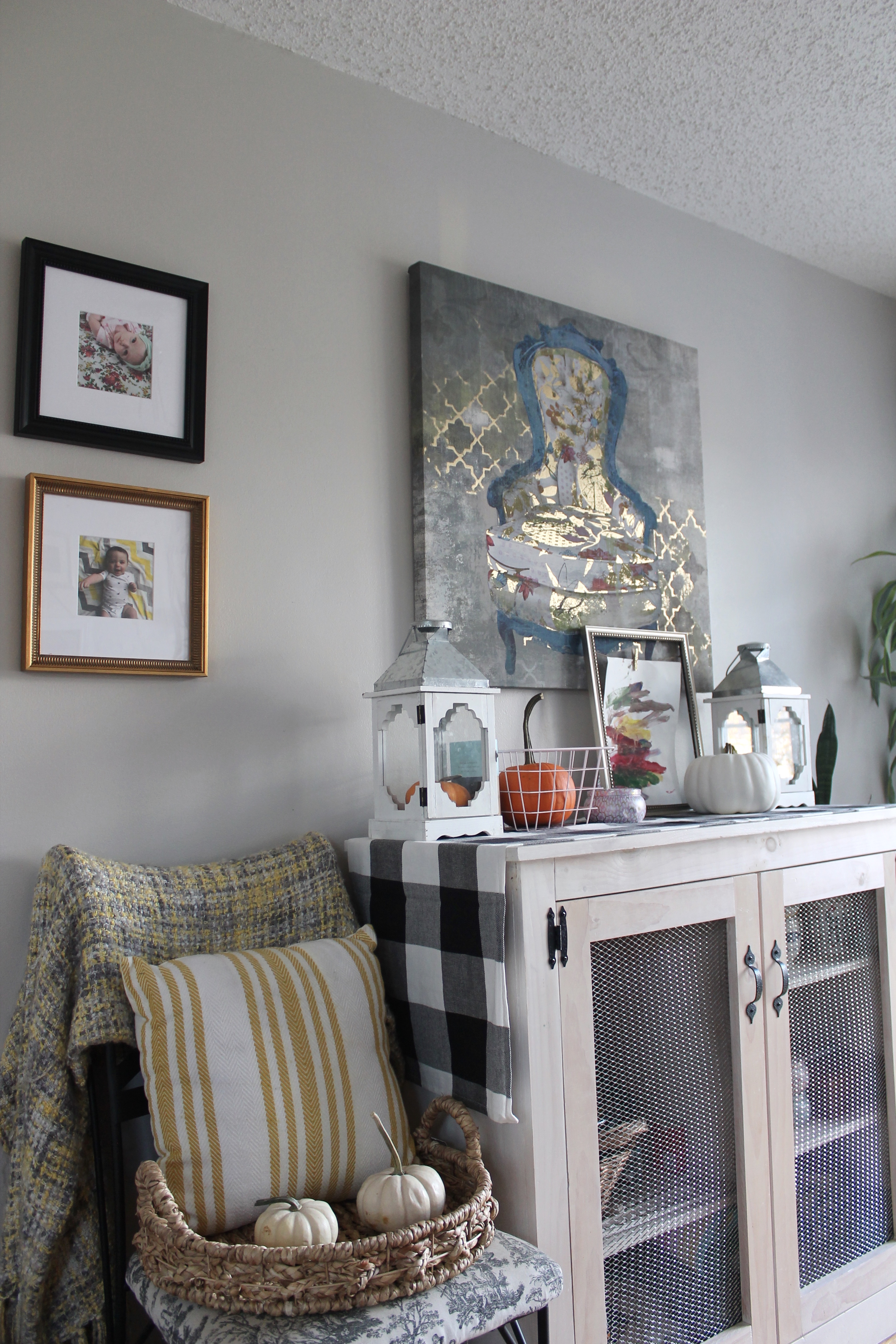 How cute did these pictures turn out?! They're from Framebridge and are actually photos from my Instagram feed! Amelia and Joseph are pretty much the same age in these pictures, about 5 months, and I really like how they look in this spot (I'd been trying to find a permanent home for them for months!). I also recently got this black and white buffalo check runner from Amazon and I'm obsessed! I really want pillows to match to put throughout the house!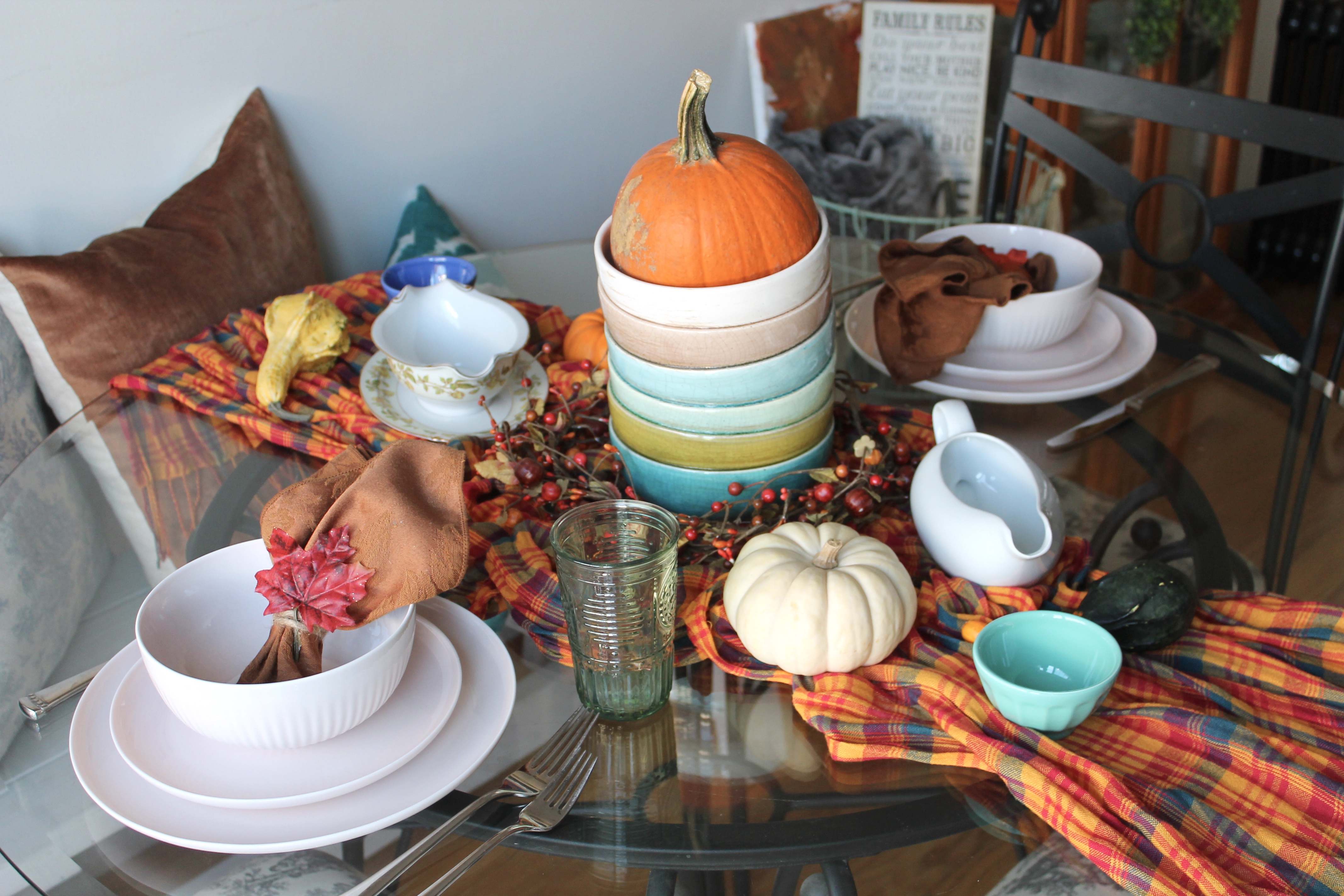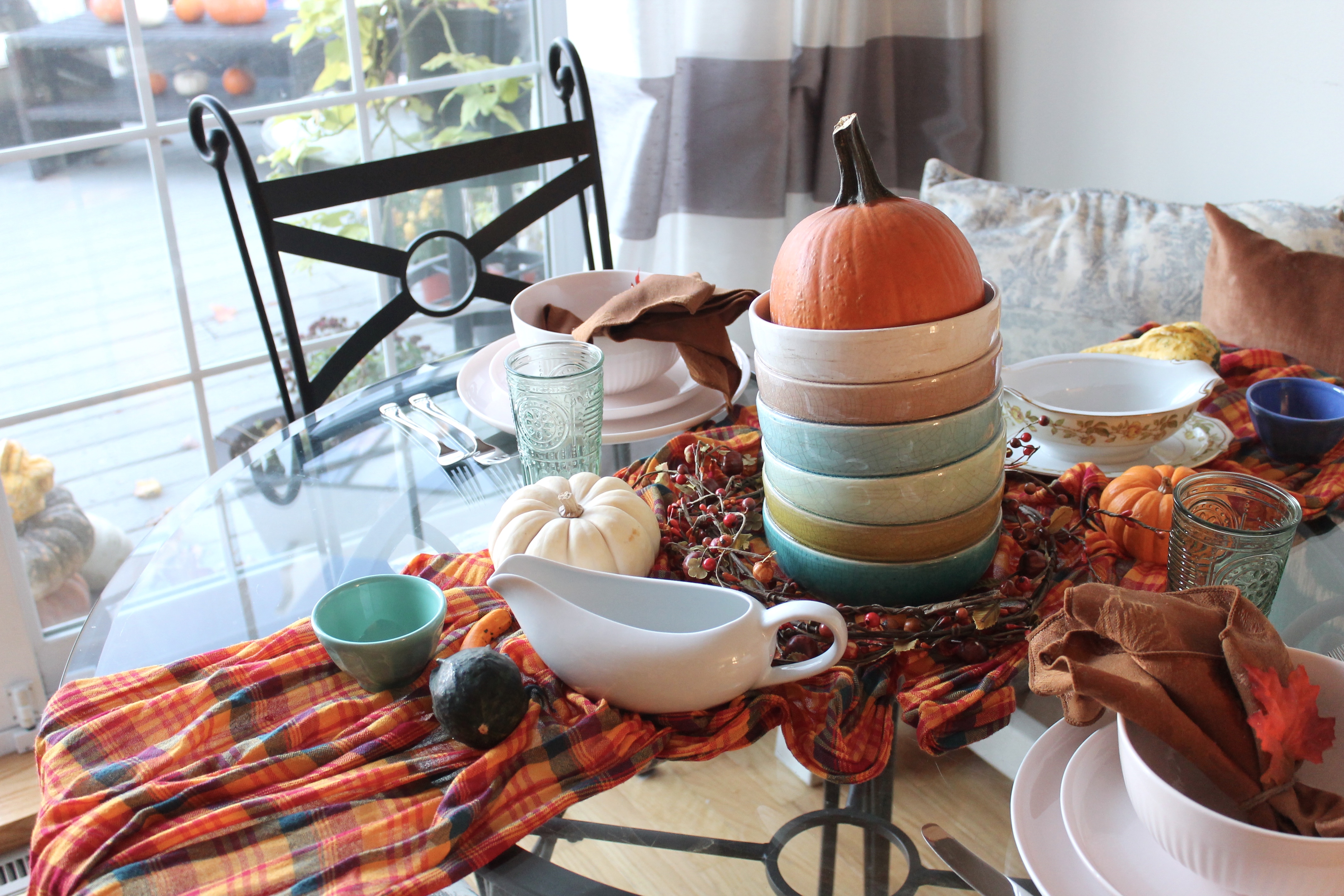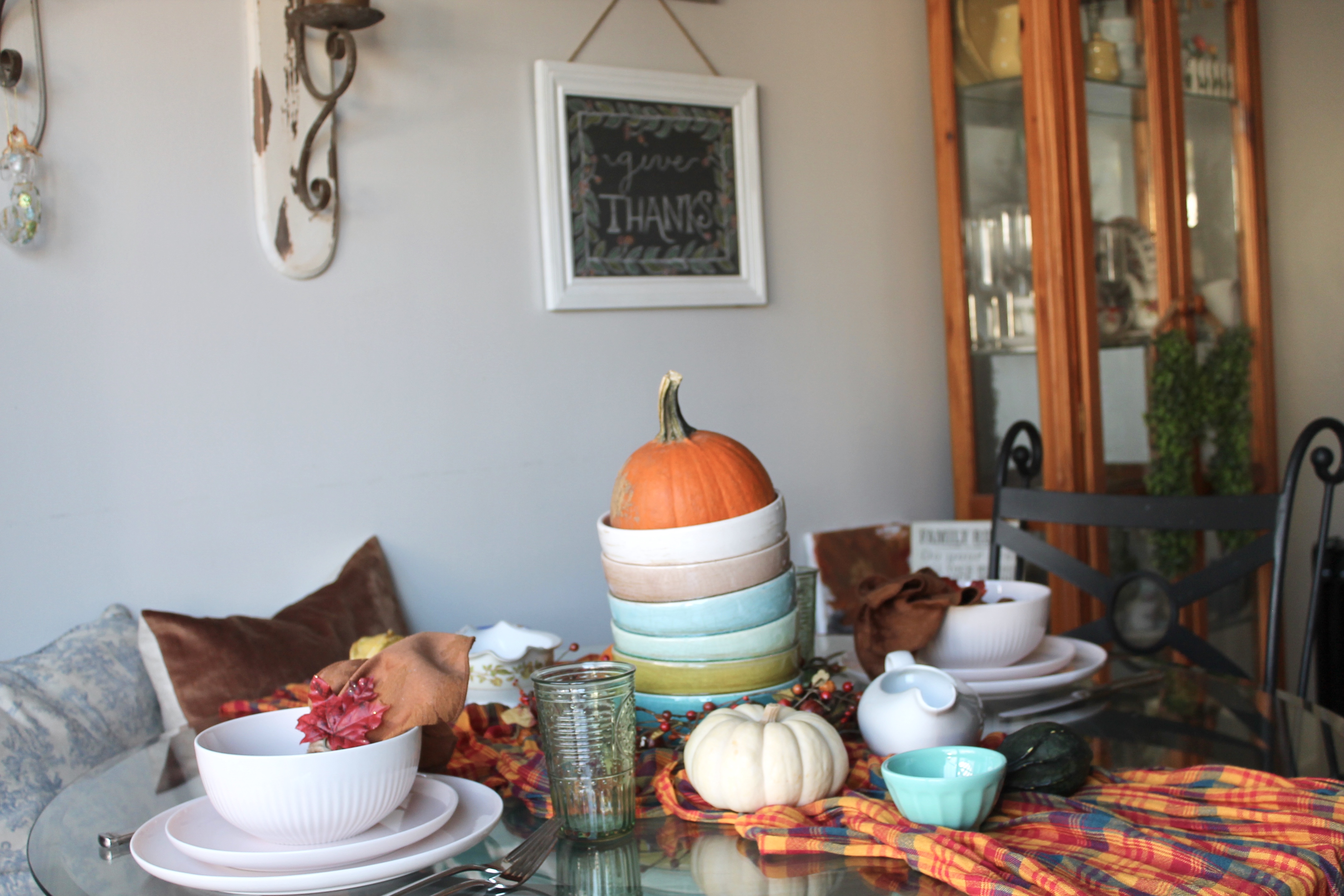 Dining Room: plaid table runner: Gap (old), dishes: Macy's (can't find the pink in stock), silverware: Crate & Barrel (old), glasses: Macy's, china: vintage (found at Goodwill), large lantern: Home Goods, standing basket: Antique Farmhouse c/o (not sure if it is still available), gray throw: Nordstrom (THE softest throw), buffalo check runner: Amazon, lanterns: Home Goods, frames: Framebridge c/o, yellow pillow: Target, brown pillow: Pier One, toile & lumbar pillows: Home Goods, boxwood "M": JoAnn Fabrics
Deck: seating set: Wayfair, lights: Amazon (we used two strands), pillows: Target, "blanket": Nordstrom (actually a scarf), rug: Home Goods
I hope you're all having a great week so far! Ours has been pretty low key but I'd like to say it's been more productive than it's actually been. I'm having one of those weeks where I can't get anything organized and feel like I have a million things to do. While I love the holidays, I definitely feel like they can have an overwhelming effect sometimes. Also, with Joe's work schedule lately, I've only had him home 3 days out of the past 6 weekend days so I'm sure that's adding to my stress level, too. With any luck, I'll get my head sorted while Amelia is at school this morning. *
On a lighter note, my aunt recently taught me to crochet and I love it! Have you picked up any new hobbies lately? Read any good books? Sometimes it's nice to have something to distract you from real life 😉 Also, if you have a minute, check out my. latest "What to Wear for Thanksgiving" post!
*Amelia was at school yesterday morning which is also when this post was supposed to go live. Clearly I did not get my head sorted.