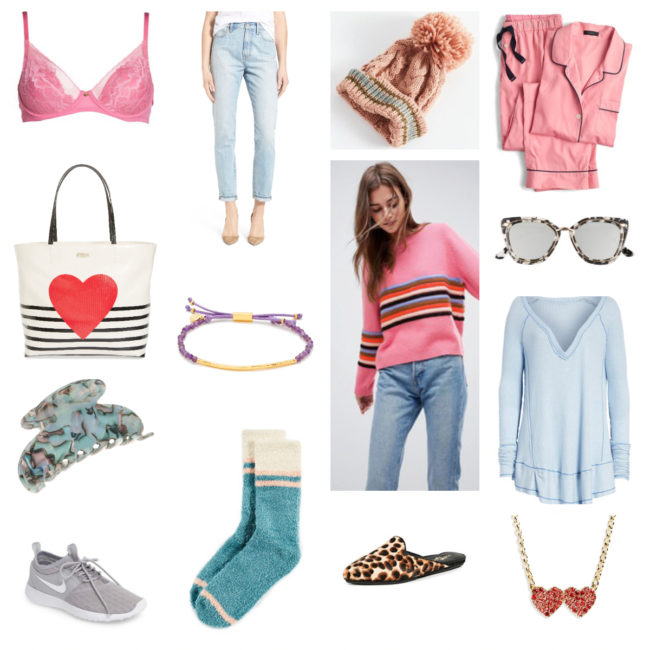 bra, tote, clip, sneakers, jeans, bracelet, socks, hat, sweater, mules, pajamas, sunglasses, tee, necklace
Around this time every year I really start to crave color, probably because it's so dreary outside and it seems like it has been for so long. Also, I've been seriously stocking up on spring and summer essentials since Christmas! I'm really trying to give myself some things to look forward to because it's been a long fall/winter with the kids being sick so much and Joe traveling, etc. Needless to say, I need to relax a little bit! I'm hoping to plan a staycation with the kids soon and I also keep telling Joe I just want to see the ocean! I've been thinking about taking at least day trip to the beach but it's been too cold to consider taking the kids the past few weekends.
I've been loving everything bubblegum pink lately and have also been wanting some red pieces, too! I've been saying it for a while but I've been really trying to stick with a color palette of sorts when it comes to my wardrobe and house (think blush/rose, greens, blues, and shades of red with black, gray, brown, gold, and cream) and it's actually helped me narrow down my personal style. Basically anything that reminds me of the ocean, looks vintage, or of roses and lavender (so, anything botanical) and I'm sold. Have you found that you've developed a color palette as you've gotten older? I definitely used to be all over the place but have noticed a huge difference in the past couple of years!
I've been on a shoe kick lately and am still obsessed with mules. They are just so easy to slip on and they work with pretty much everything! I actually got my first pair of mules when I was in high school (like Freshman year)! My mom took us shopping and we found this really great pair of pointed black mules with a kitten heel at Coach that she bought for me. I loved them and wore them all the time!
Happy Friday! Sorry about the late post but yesterday was a long day (I talked about it on Instagram, in case you missed it) and Amelia's sick AGAIN :/ so this morning was a wash. Do you have any fun plans for the weekend? I'm hoping Amelia is better and that Joseph doesn't get sick so we can at least do something on Sunday (Joe has something tomorrow). Hope you all have a great weekend!