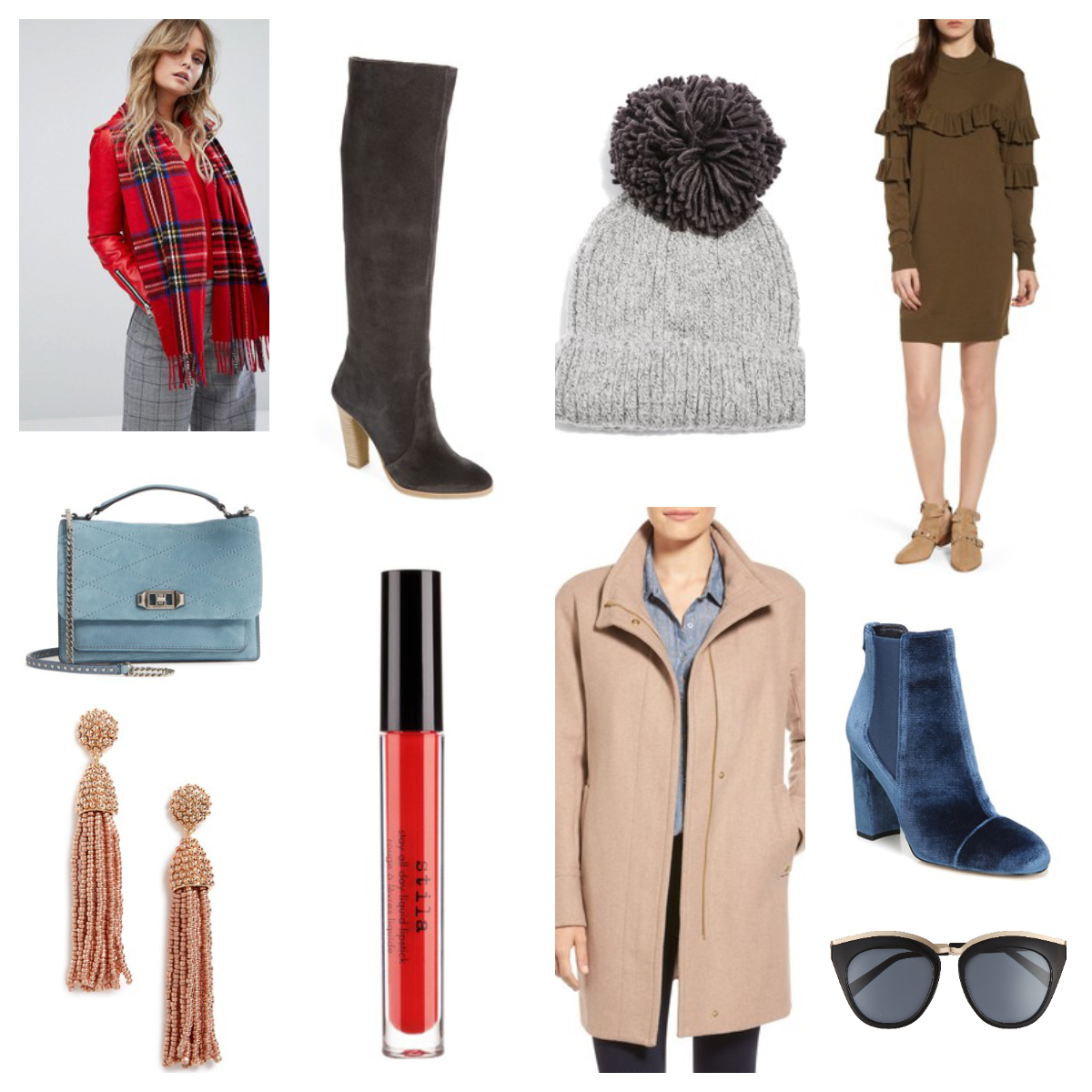 scarf, bag, earrings, boots, lipstick, hat, coat, dress, booties, sunglasses
I decided to switch out my typical monthly wish list (which I may end up doing anyway) with an inspiration list for what to wear for Thanksgiving. I know we're all pretty much thinking about the holidays now, even if we don't want to admit yet that we have Christmas on our minds, so I thought I'd ease into it with some ideas for Thanksgiving. I like to add something unexpected to my holiday looks since everyone is typically wearing similar colors and pieces and this year I've been really into blues and pinks (well, more so than usual). They're a nice pop of color to add because they work with pretty much any other color and will take you through the seasons effortlessly, as they're not particularly tied to any one season.
I like to wear something comfortable, especially on Thanksgiving, because of all of the eating and travel. I've also moved to most often wearing boots and booties because I'm not quite adept at chasing around two kids in heels. This dress would be perfect to wear for our Thanksgiving festivities, plus it could be dressed down for weekend errands and dressed up again for a night out!
If you haven't already seen it, I've been adding more specified pages to my SHOP tab at the top of the page. I've added Holiday Glam (for that special piece to add some glitz to your holiday look… think Christmas parties, New Years Eve, etc.) and Cozy Chic (think comfortable and warm but still cute enough to leave the house) to highlight specific winter styles and I plan on adding a few more gift idea pages. Is there anything in particular you'd like to see? I was thinking "Gifts Under $50," "Gifts for Him," and "Gifts for Kids." I may also add an "Ultimate Wish List for Her" with fun, practical, and luxury gifts at various price points. Send anything else you'd like to see curated on here my way and I'll work on creating it for you!