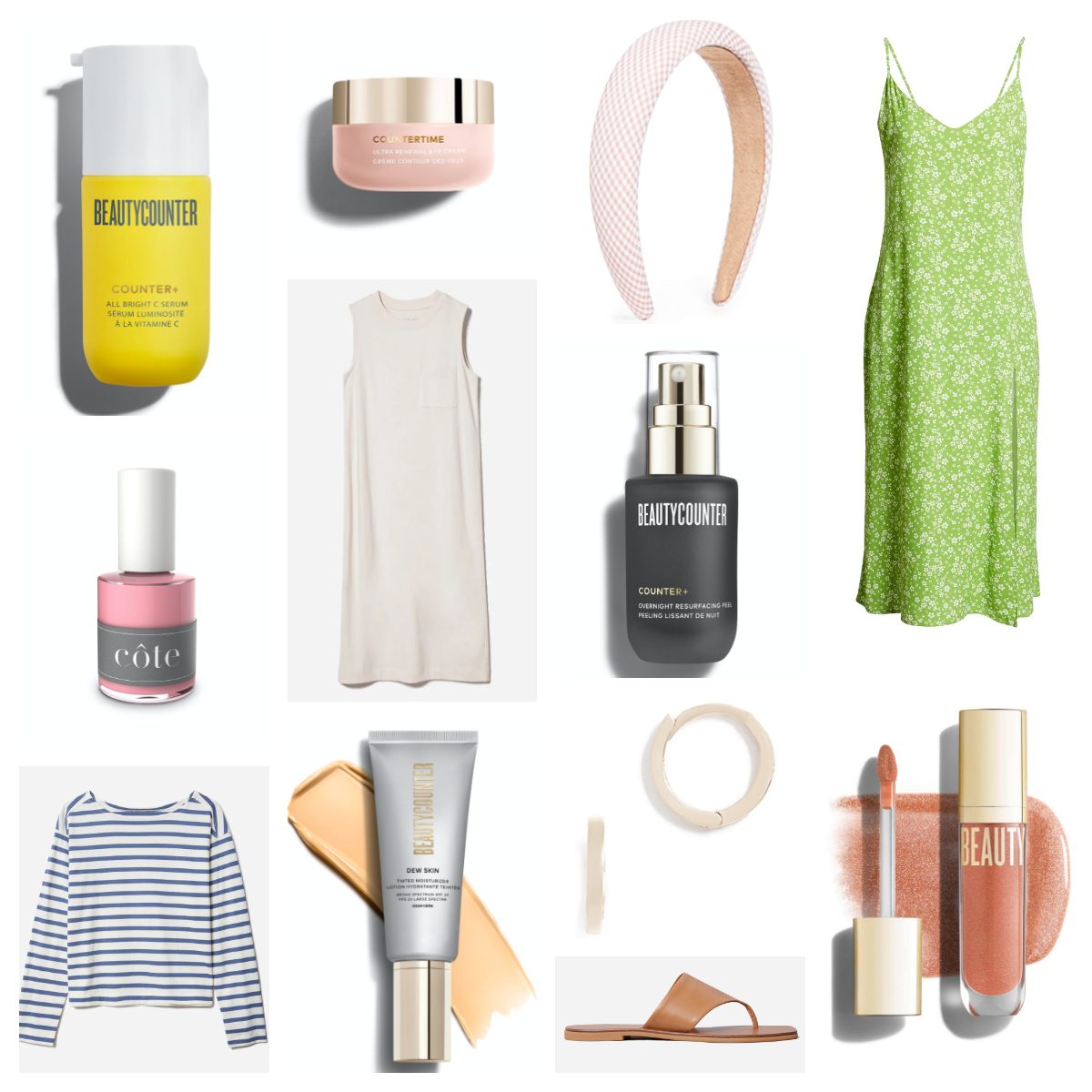 serum, nail polish, tee, eye cream, tank dress, tinted moisturizer, headband, resurfacing peel, huggies, sandals, dress, lip gloss
In honor of today being Beautycounter's new lip products (pictured here is their new Beyond Gloss in Spice. I also bought Sheer Genius lipstick in Rosewood and LOVE it!), I thought I'd share some of  my summer favorites. If you've been around for a while, you know that I'm really passionate about the environment and living a more sustainable lifestyle as well as finding the best clean products I can (all brands featured here meet some or all of those requirements for me to purchase and/or promote!) and Beautycounter is definitely one of the top clean beauty brands I've found. Plus, they're passionate about making sure we all have access to safer beauty products but pushing for reform in the beauty industry. They've banned over 1800 chemicals from their products (only 30 have been banned or restricted in the US), use ethically sourced ingredients, and their product really work! They're truly all about safer, #betterbeauty and I think that's something we can all get behind!
I've also been gravitating towards dresses more and more frequently. I love how easy they are to throw on, no matching or thought required (how pretty is this sage green dress?!)! They also make me feel much more put together than my typical shorts and a tee or tank and you just can't beat the ease! They're so easy to add layers (I'm obsessing over this striped long sleeve tee) to for cooler summer nights and crisp fall days and look just as good with sandals (or barefoot, even) as they do with boots and booties. I've been loving softer, muted shades of my favorite colors lately (blues, greens, pinks) and have been pairing them with all things neutral (these sandals are definitely one of my must-haves!) as opposed to my usual proclivity for brighter colors in the warmer months.
What are you loving right now? Is there something (a habit, a favorite beauty product, a pretty dress) that's helping to cheer you up on your low days? For me it's been washing my face, putting on a dress, and a swipe of lipstick… especially on days when we're spending most of our time at home!