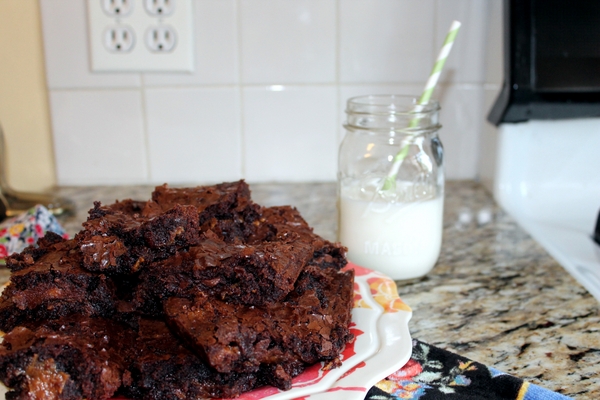 I made these brownies last weekend for an end of summer barbecue and they were delicious! They were super simple to make (cue boxed brownie mix) and didn't take long at all. Although these were a great dessert to bring to a party, they'd also be awesome enjoyed at home on your couch with a cold glass of milk (or with coffee for breakfast… because who doesn't love dessert for breakfast?!)!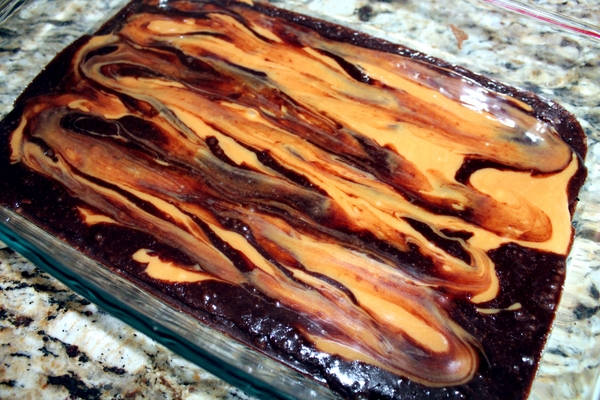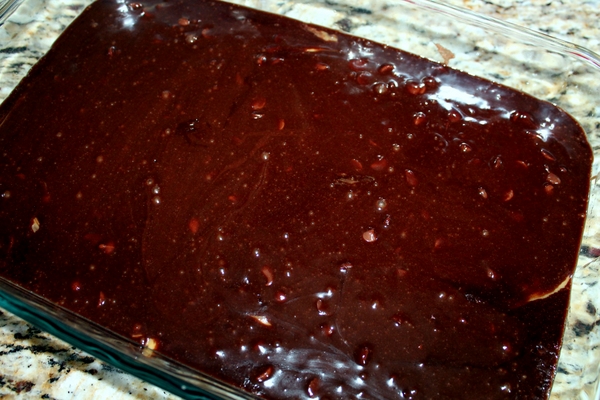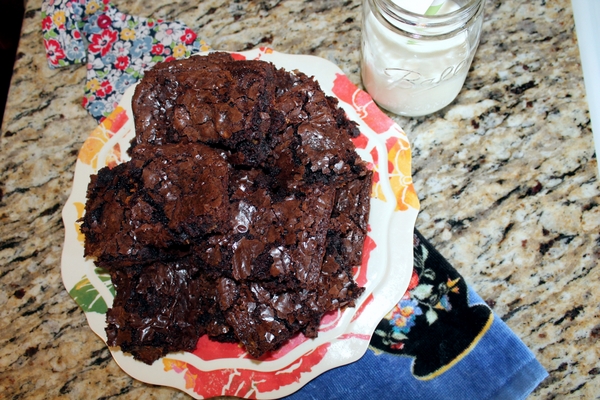 recipe from I Heart Naptime (don't we all?!)
Ingredients:
1 box fudge brownie mix (+ the ingredients the box calls for: mine called for 2/3 cup oil, 1/4 cup water, and 2 eggs)
1/4 cup sweetened condensed milk
1 cup milk chocolate chips
1 (11oz) package wrapped caramels
1/3 cup sweetened condensed milk
Directions:
Preheat oven to 350 degrees. Grease (or line with foil) a 9×13 pan and set aside. In a large bowl, make the brownie mix according to the directions on the box. Add 1/4 cup sweetened condensed milk and the chocolate chips and mix.
In a separate bowl, combine the caramels and 1/3 cup sweetened condensed milk and heat in the microwave for 30 seconds at a time, stirring occasionally (you can also heat the caramels & milk in a saucepan over medium heat). Meanwhile, pour half of the brownie batter into the pan and bake for 8 to 10 minutes. The pour the melted caramel mixture over top of the bottom layer and cover with the remaining brownie batter. Continue to bake for about 25 to 30 minutes (I took mine out after 25 minutes), or until a toothpick comes out clean. Remove the pan from the oven and allow to cool before cutting (otherwise the melted caramel will be a mess! I definitely cut mine too soon!).
Enjoy!
Happy Friday! I hope you all have a wonderful weekend!
❤Britt
Shop my favorite Labor Day sales here:
J.Crew (30% off your purchase of $125 with code GETSHOPPING):


Banana Republic (40% off your purchase with code BRFALL):


The Loft (30% off new arrivals & 50% off summer sale styles):