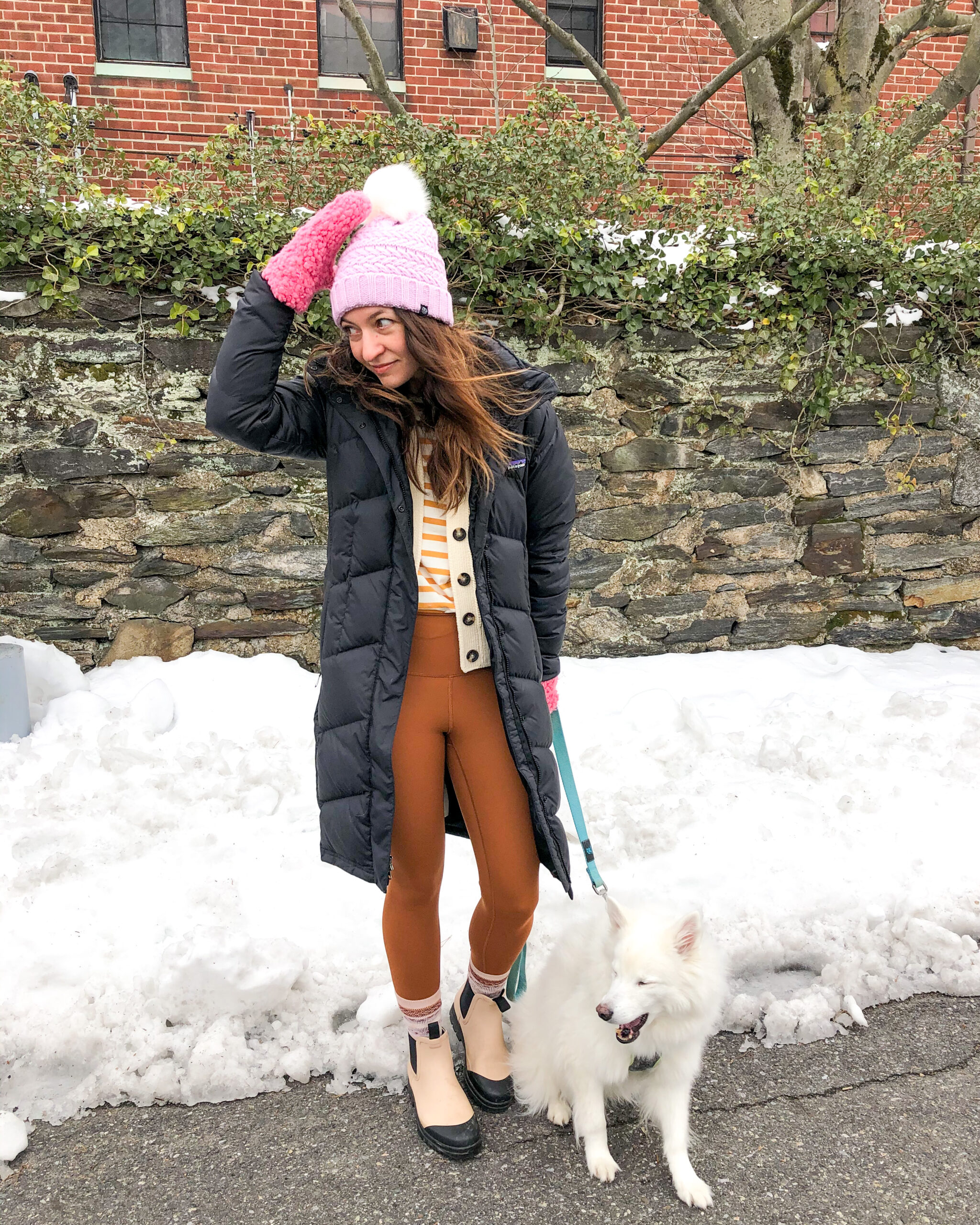 leggings, tee, cardigan, boots, socks (old), coat, hat (old), mittens (old)
This coat is hands down one of the best winter purchases I've ever made. Before this, my "winter coat" was either a wool coat or this light puffer and once I started wearing this one, I'll never go back! I actually didn't wear any of my wool coats once this year… thinking it may be time to clean out my closet again. These leggings are also a favorite and I actually had a lady I met at the post office tell me that she bought these low cut rain boots after seeing me wear them!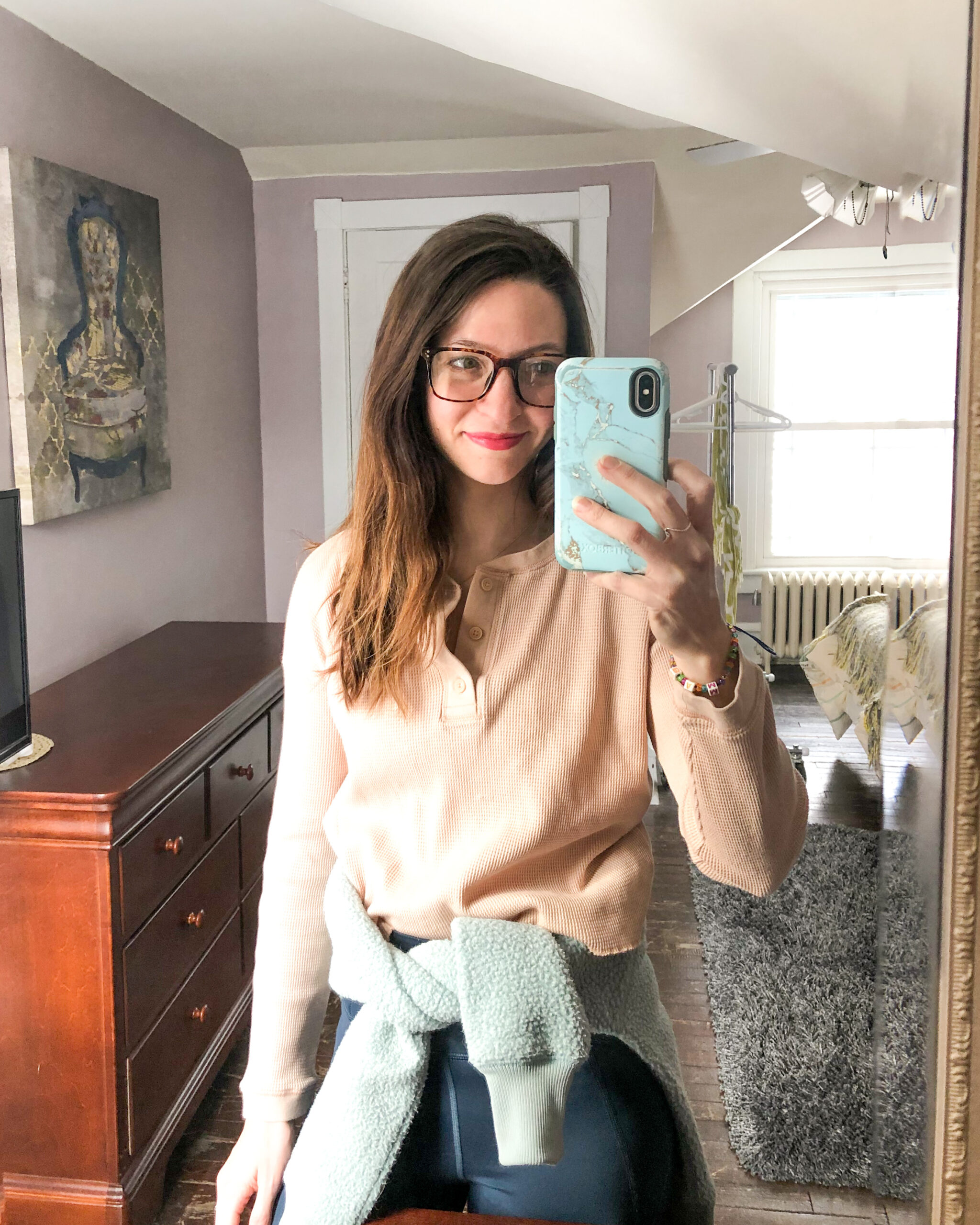 henley, sweatshirt, leggings, glasses, lipstick
Pretty much wear some variation of this every day.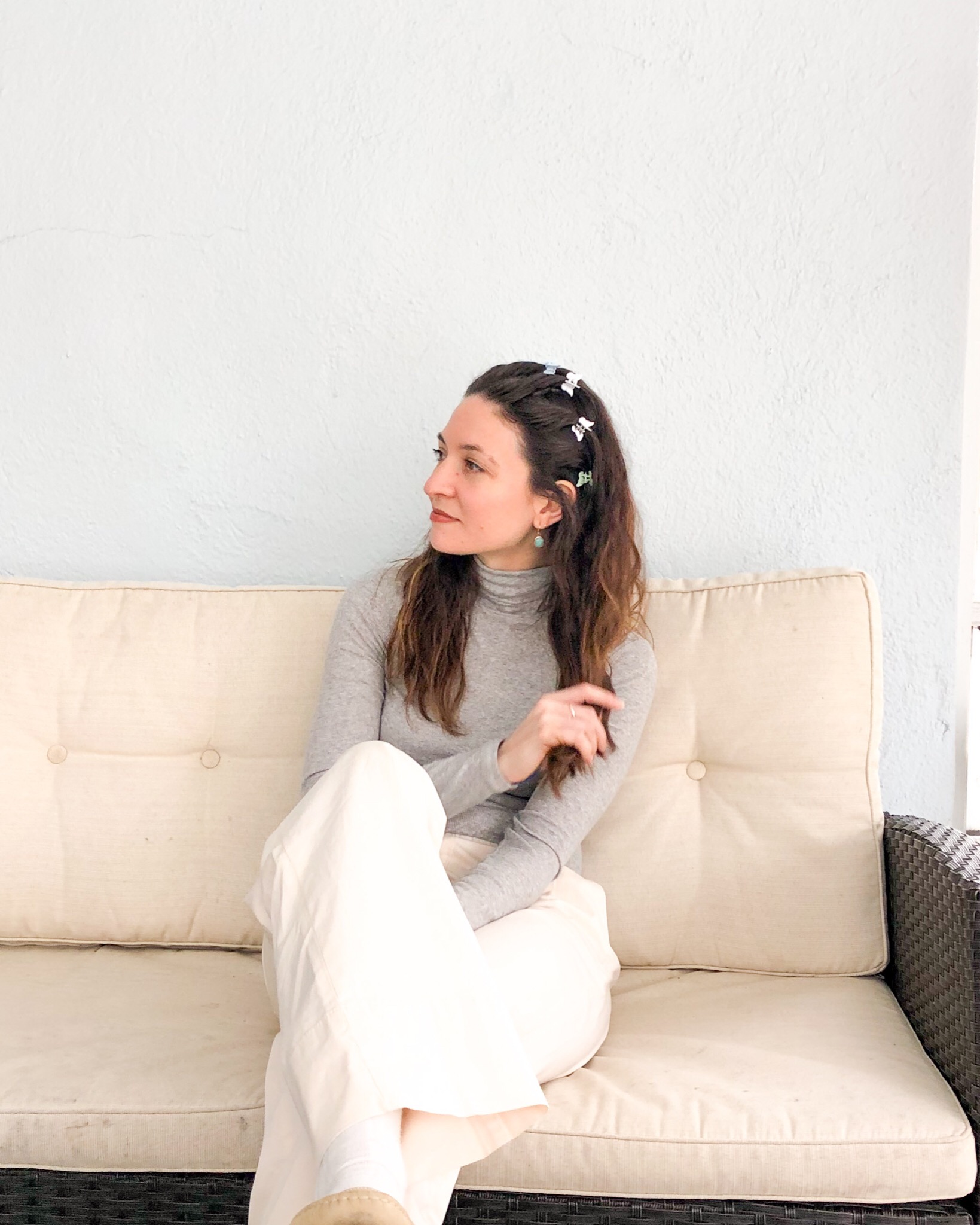 turtleneck, pants, butterfly clips, flats (similar)
Have you seen that butterfly clips are back?! My mom and sister got a pack for Amelia for her birthday and I was so excited to see them! These pull on pants are so nice because they just pull on and are very comfortable. They make you feel put together but also like you're wearing loungewear at the same time! They are perfect for spring and come in a few colors.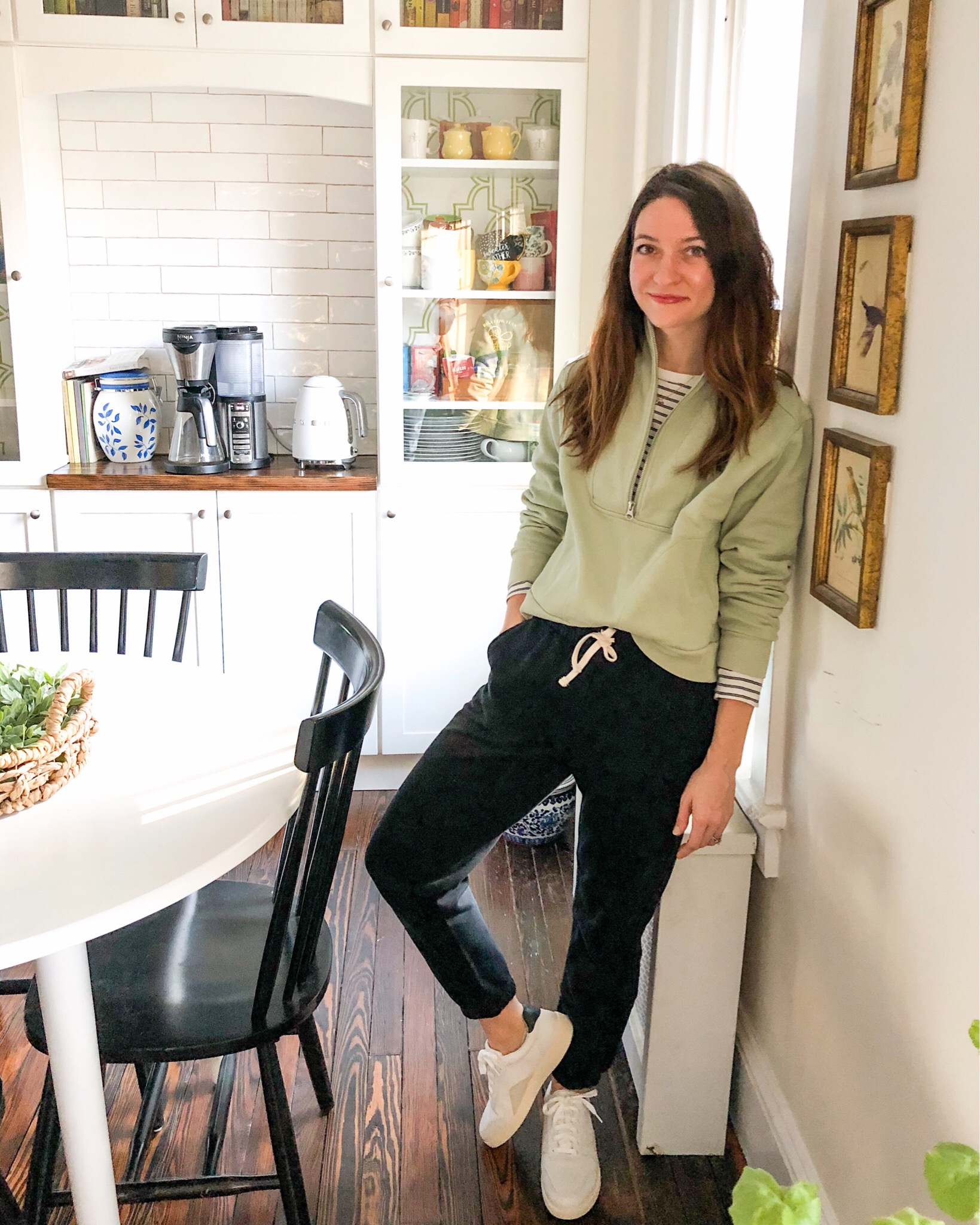 sweatshirt, joggers, sneakers, tee
I know this picture is a bit blurry but these joggers are too good to be left out of this post! I've been wearing them all through the last month or two & plan on wearing them well into spring, too! While I love leggings for every day, if I'm just lounging around, I would much prefer sweats. Bonus: these are polished enough to wear on our walks into town or even to run to the store! I'll just swap out my sneakers for sandals and my sweatshirt for a tee as it starts to get warmer.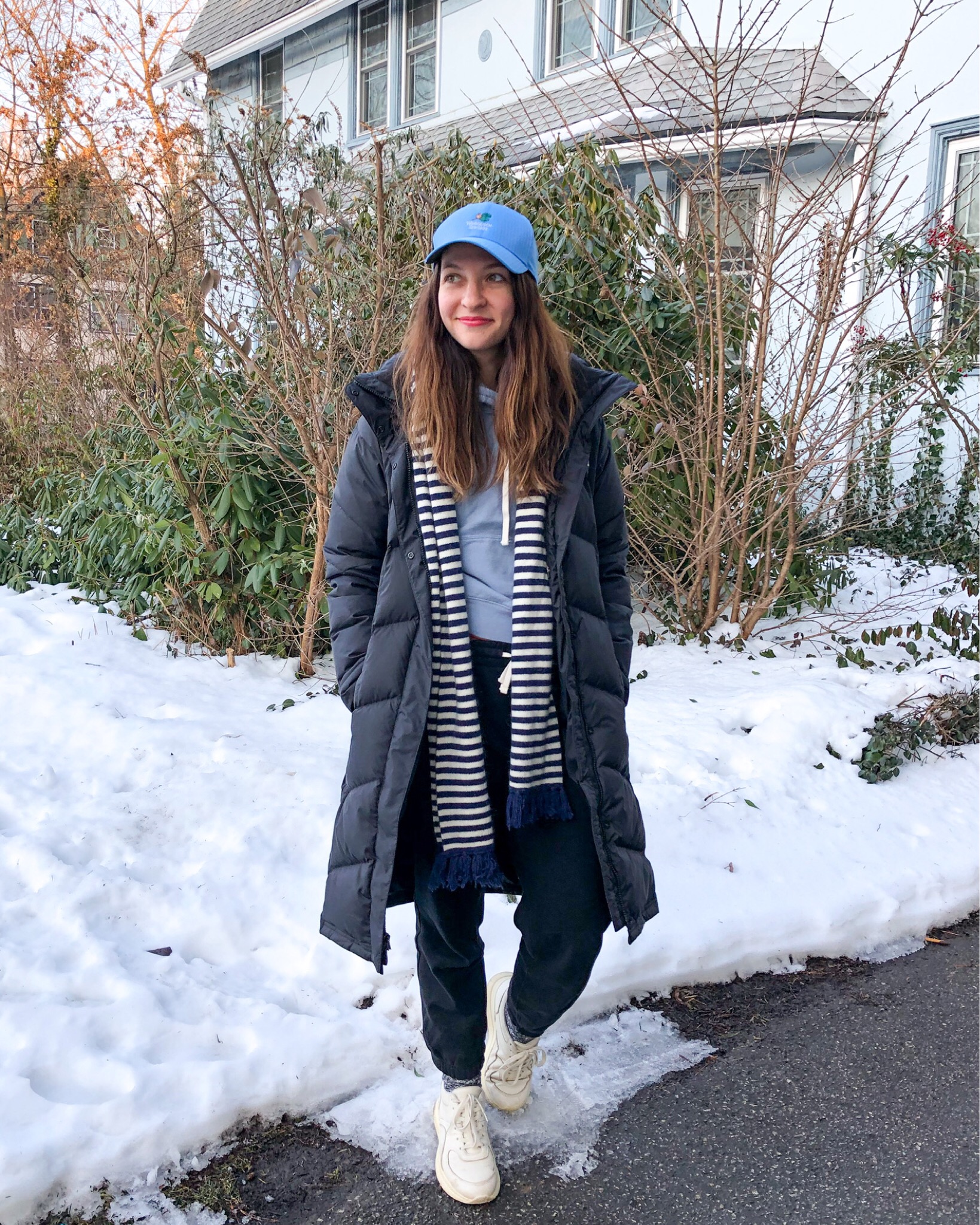 joggers, sweatshirt (old, similar), sneakers, coat, scarf (Vineyard Vines)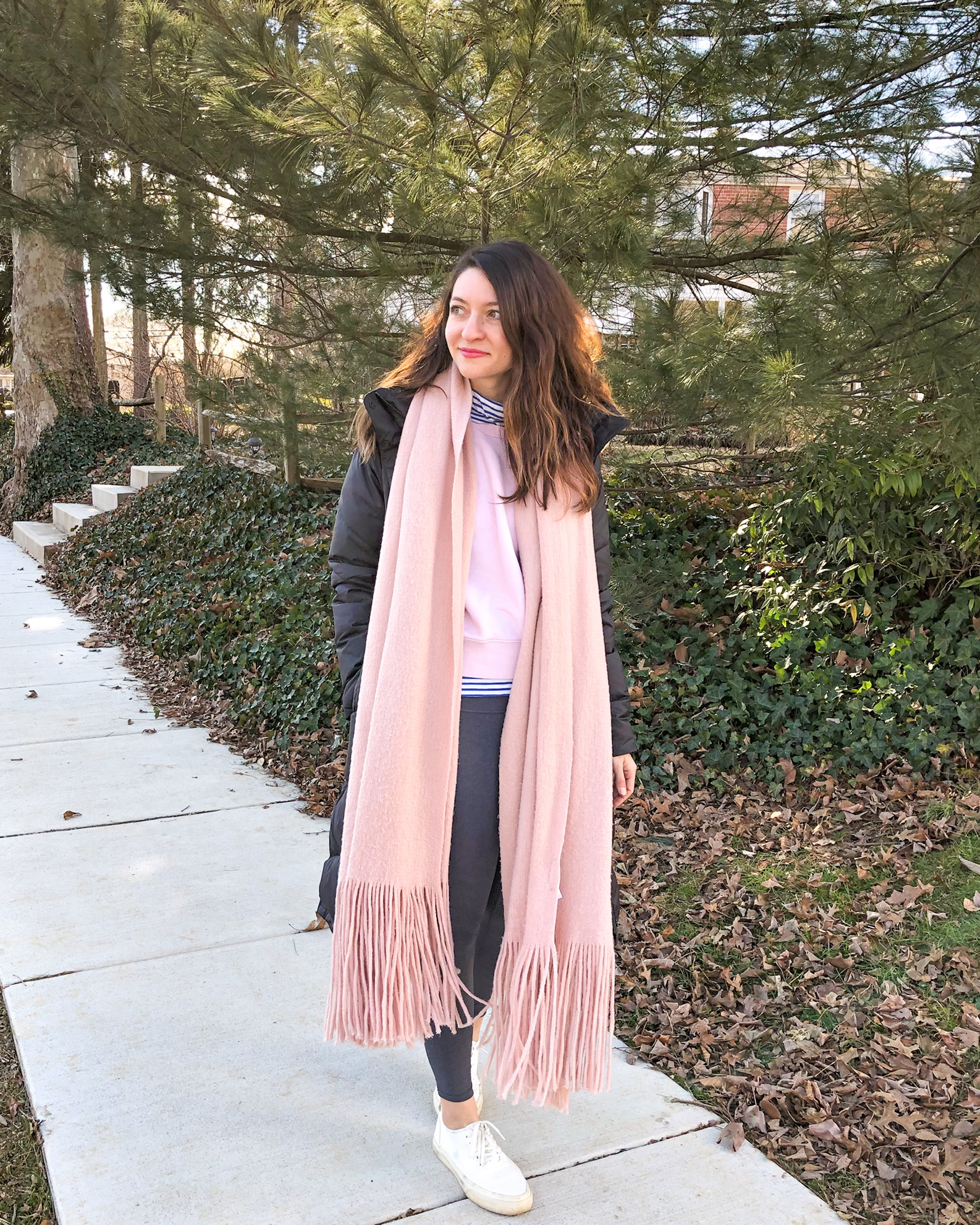 leggings, turtlneck, sweatshirt (similar), sneakers, coat, scarf
Honestly, this outfit minus the coat is going to take me well into the warmer months. I'll trade in the turtleneck for a tee under a sweatshirt but keep the leggings and white sneakers! I don't know about you but I wear my sweatshirts and leggings year-round.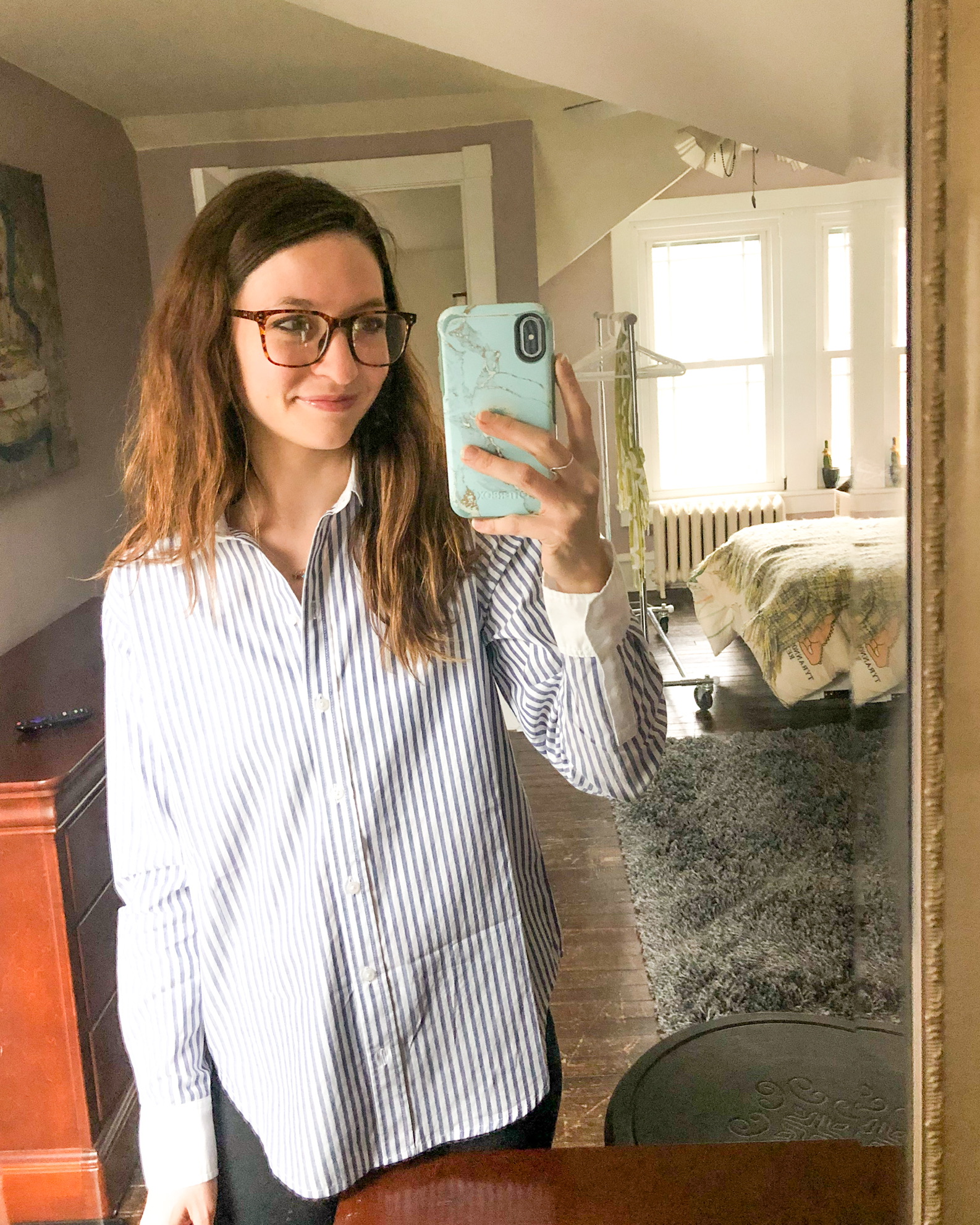 I envision this striped button down also being thrown over a bathing suit for the beach or rolling up the sleeves to wear with shorts!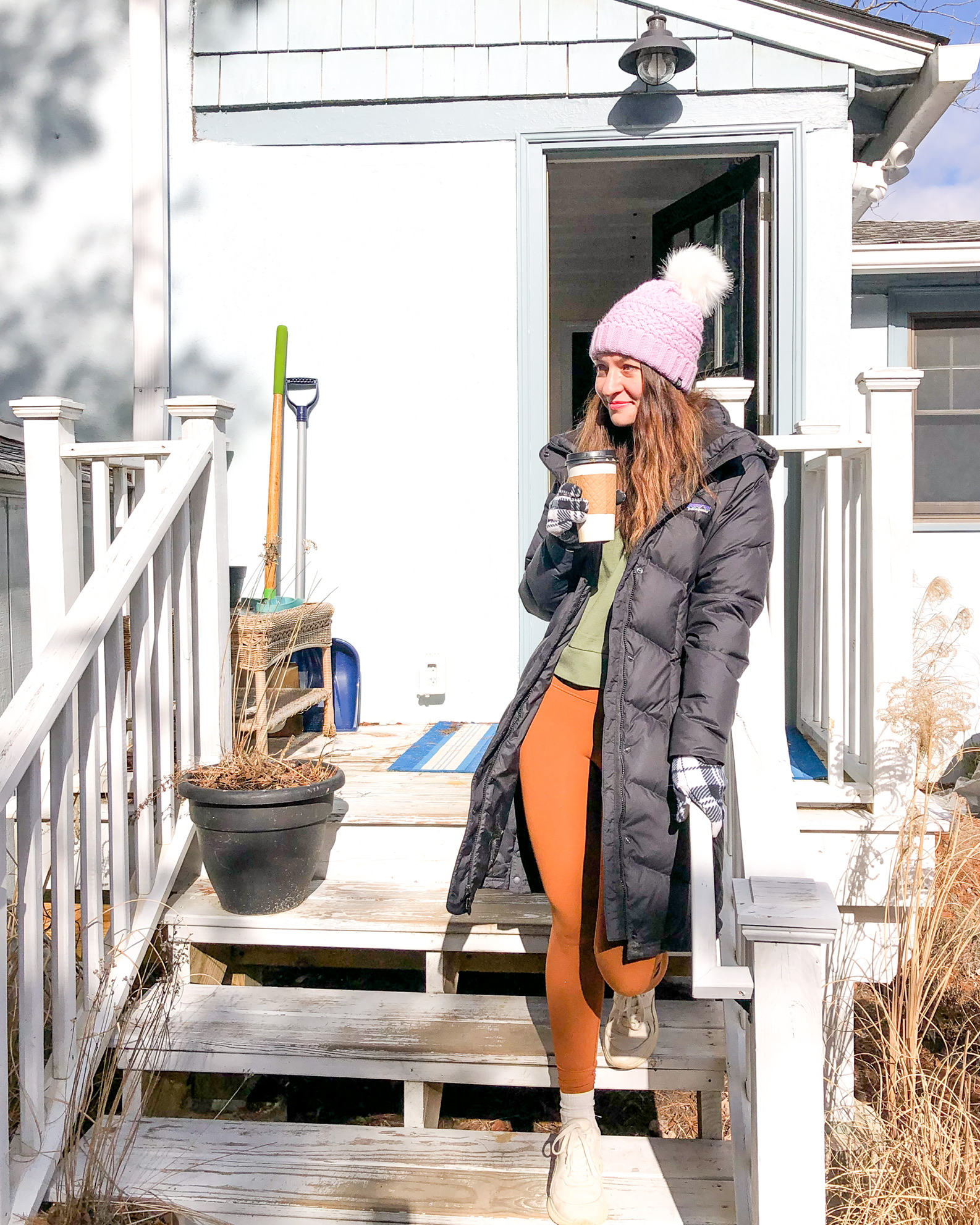 sweatshirt, leggings, sneakers, coat, gloves (old), hat (old)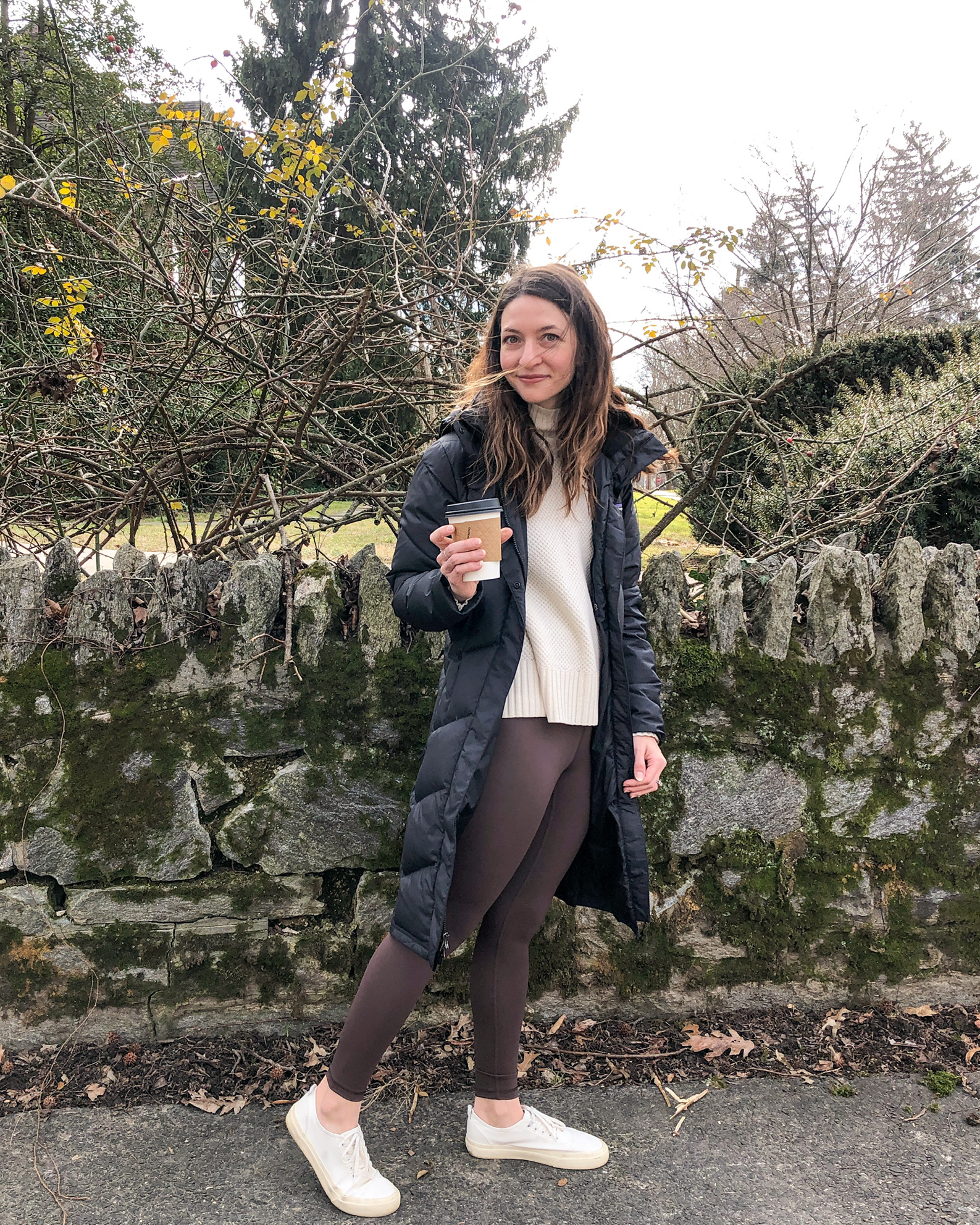 leggings, sweater, sneakers, coat
Again, my favorite leggings! This sweater is also incredibly soft and probably one of the nicest, or the nicest, sweaters I own.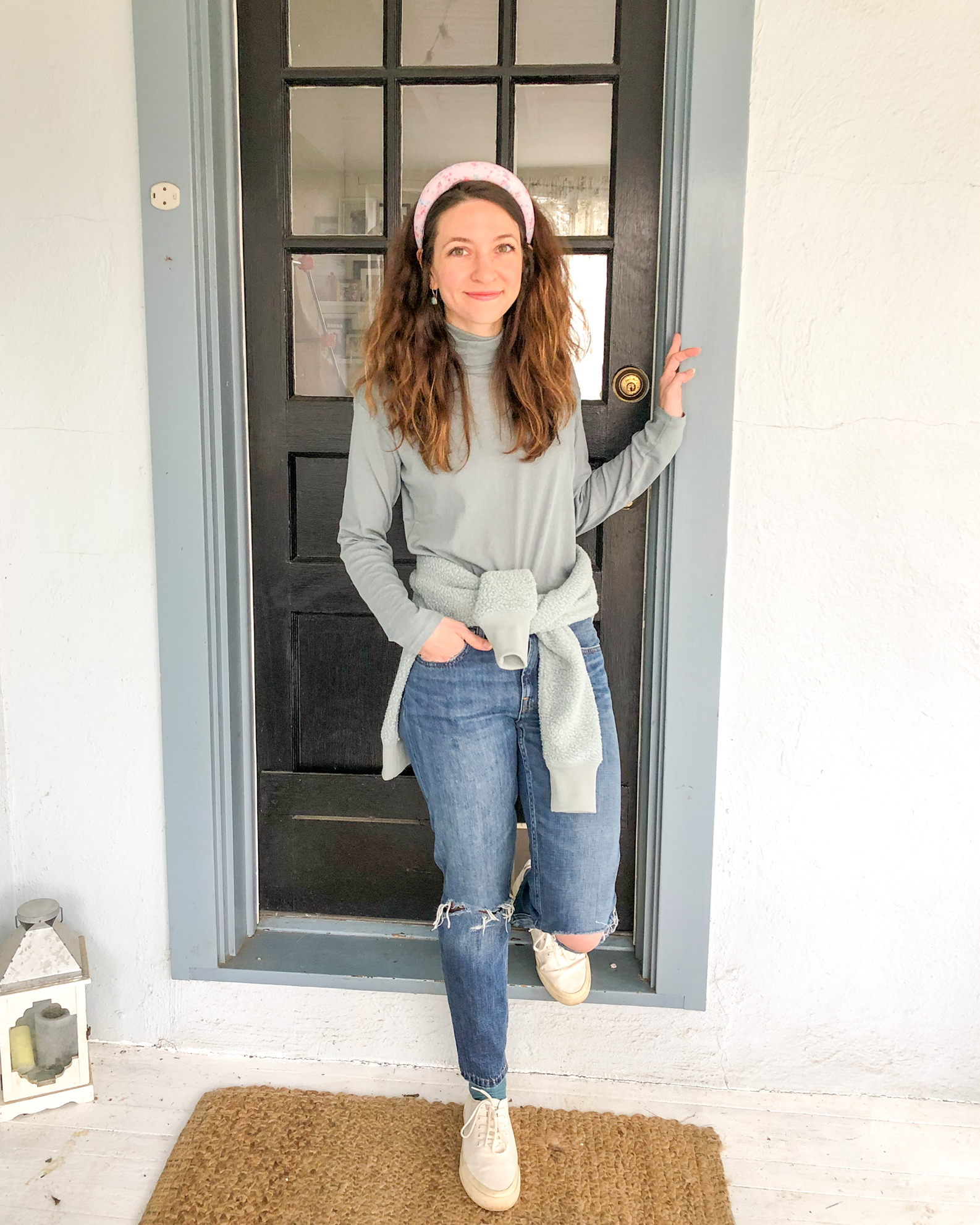 jeans, turtleneck, sweatshirt, sneakers, headband (Lele Sadoughi), makeup
My favorite weather is when it's still cool enough to wear layers but warm enough that you can remove most of them by the afternoon and it's almost HERE.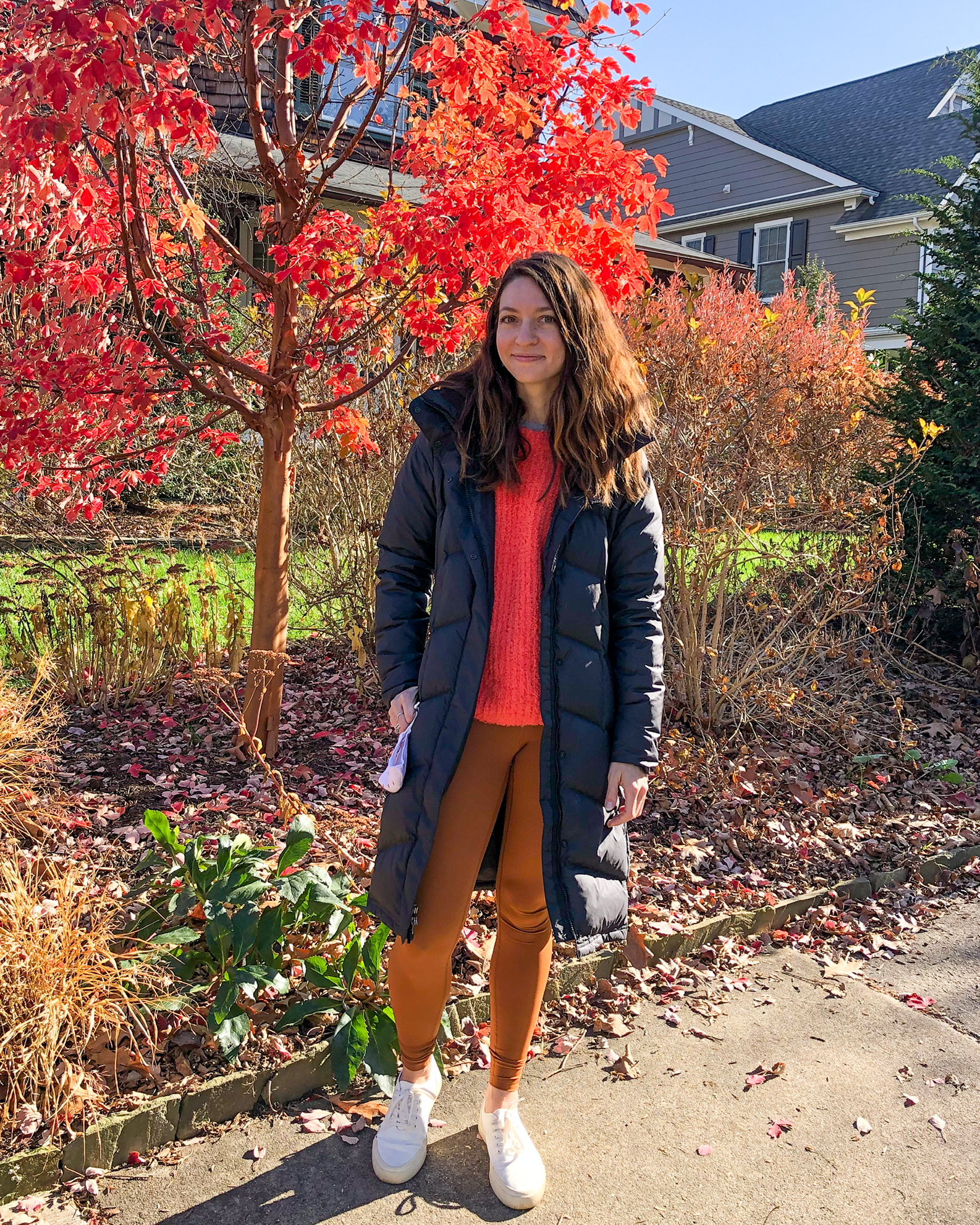 leggings, sweater (last year, love this red sweatshirt, too!), sneakers, coat
I hope you're having a great week so far! It's been a while since I've posted something here and I'm a little embarrassed to admit how long I've been putting this post together (I was aiming for publishing it in early March!). I've been really focusing on posting more on LiketoKnow.it, Instagram, and on working my Beautycounter business this winter but my spring goal is to get back to the blog and finally get a newsletter going. I'm trying to decide if I want to mix Beautycounter and my blog or just have two separate lists and I really just need to spend some time working out the logistics of what makes the most sense. I truly love creating and posting here so I want to make sure I dedicate I give it some time and love, too! I just need to get organized so send me all of your tips!
*All Everlane items shown are a mix of gifted and purchased