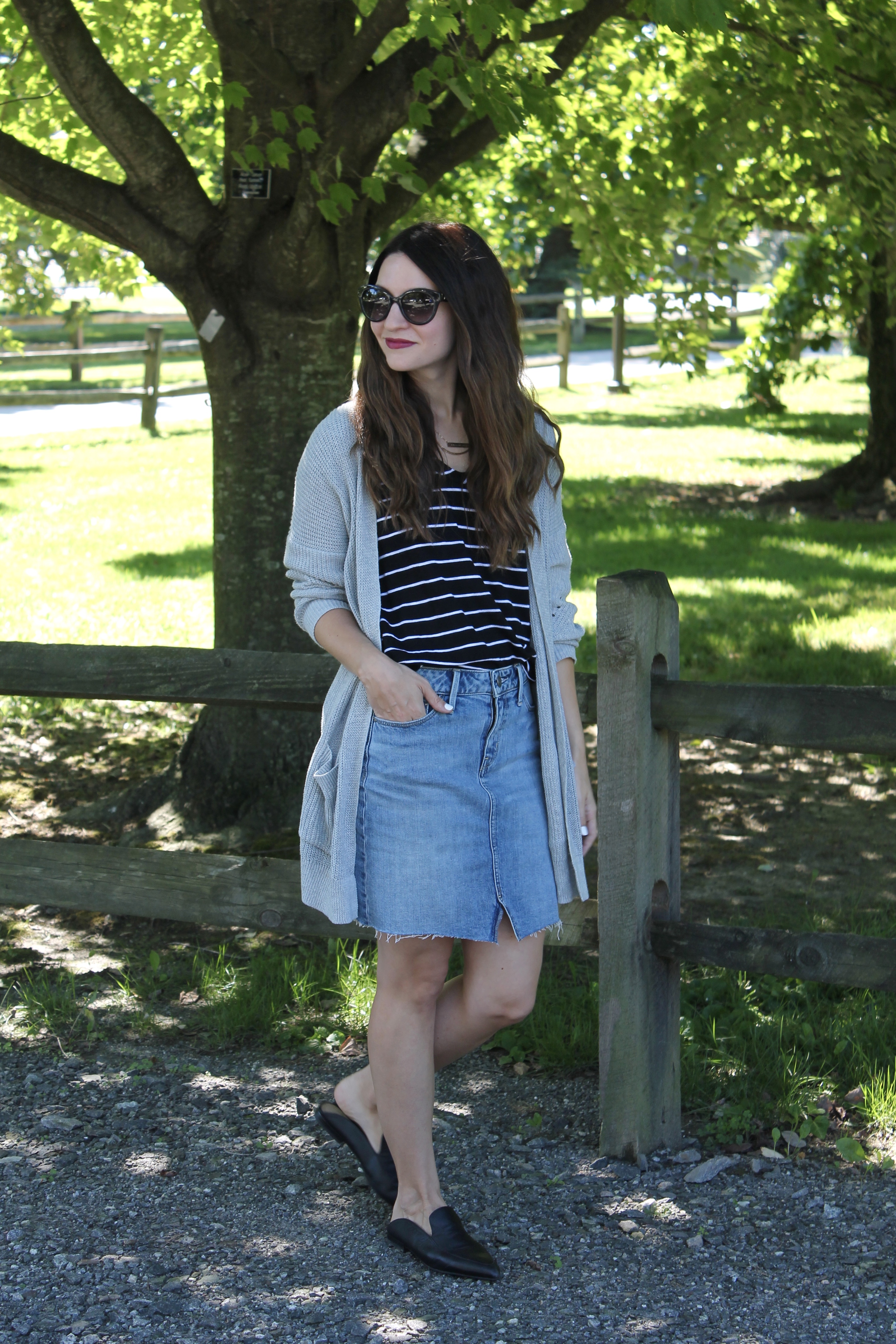 Ok, I don't think I've worn a denim skirt since high school (so, circa 2005) but they're back in full swing! And I have to say, I kind of like it! I like the laid back feel the tee and cardigan lend to the look and they also add a transitional feel (take off the cardigan and it works for warm weather, too!). I'm looking forward to styling this denim skirt with booties and a chunky knit sweater, too, now that it's getting a bit cooler here! Also, I want to mention that the length of this skirt is perfect! I still feel stylish (it's not too long) but I can also bend down to pick up my kids without being worried about anyone seeing anything that they shouldn't. The length gives it more of a classic feel but the frayed hem puts it right on trend!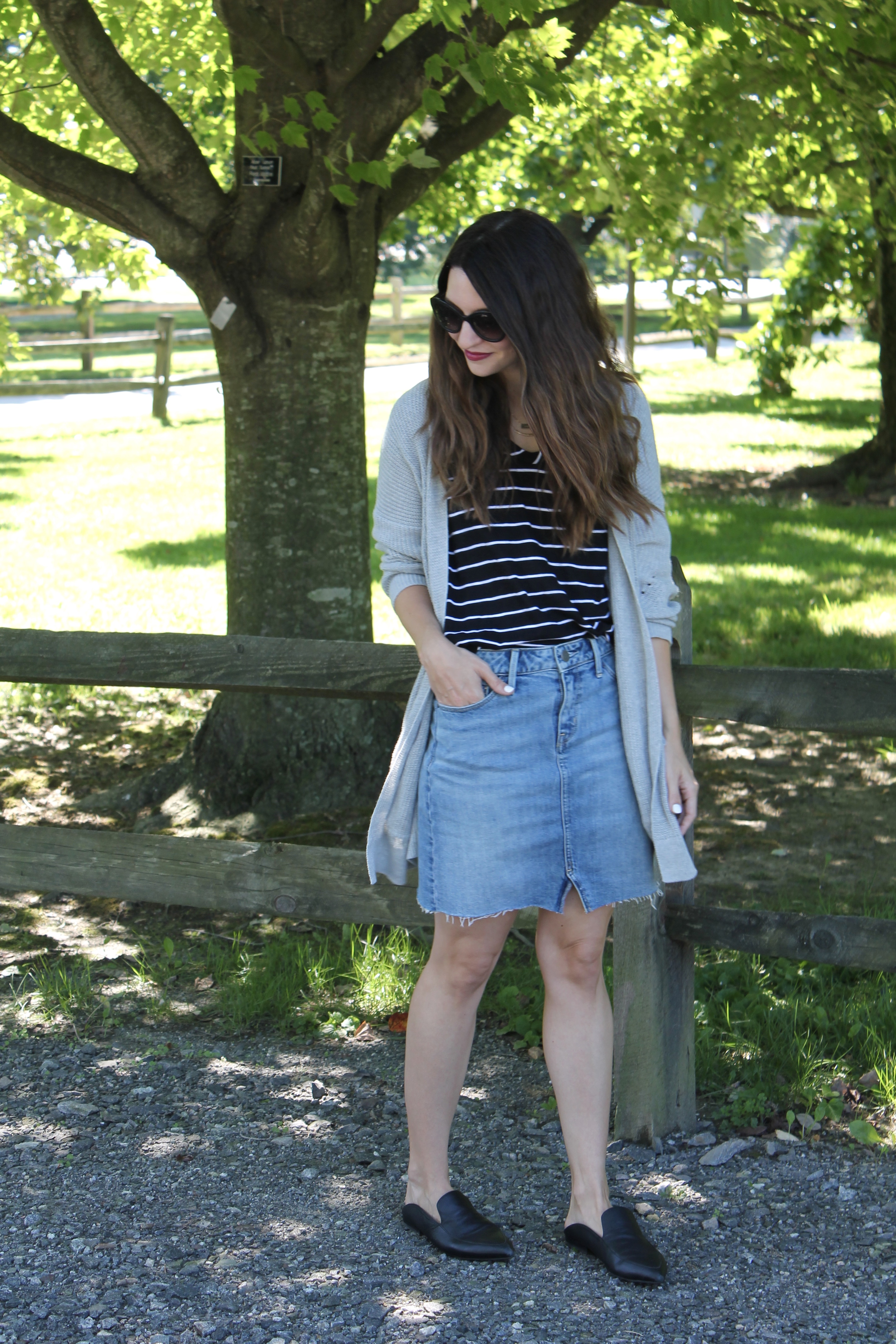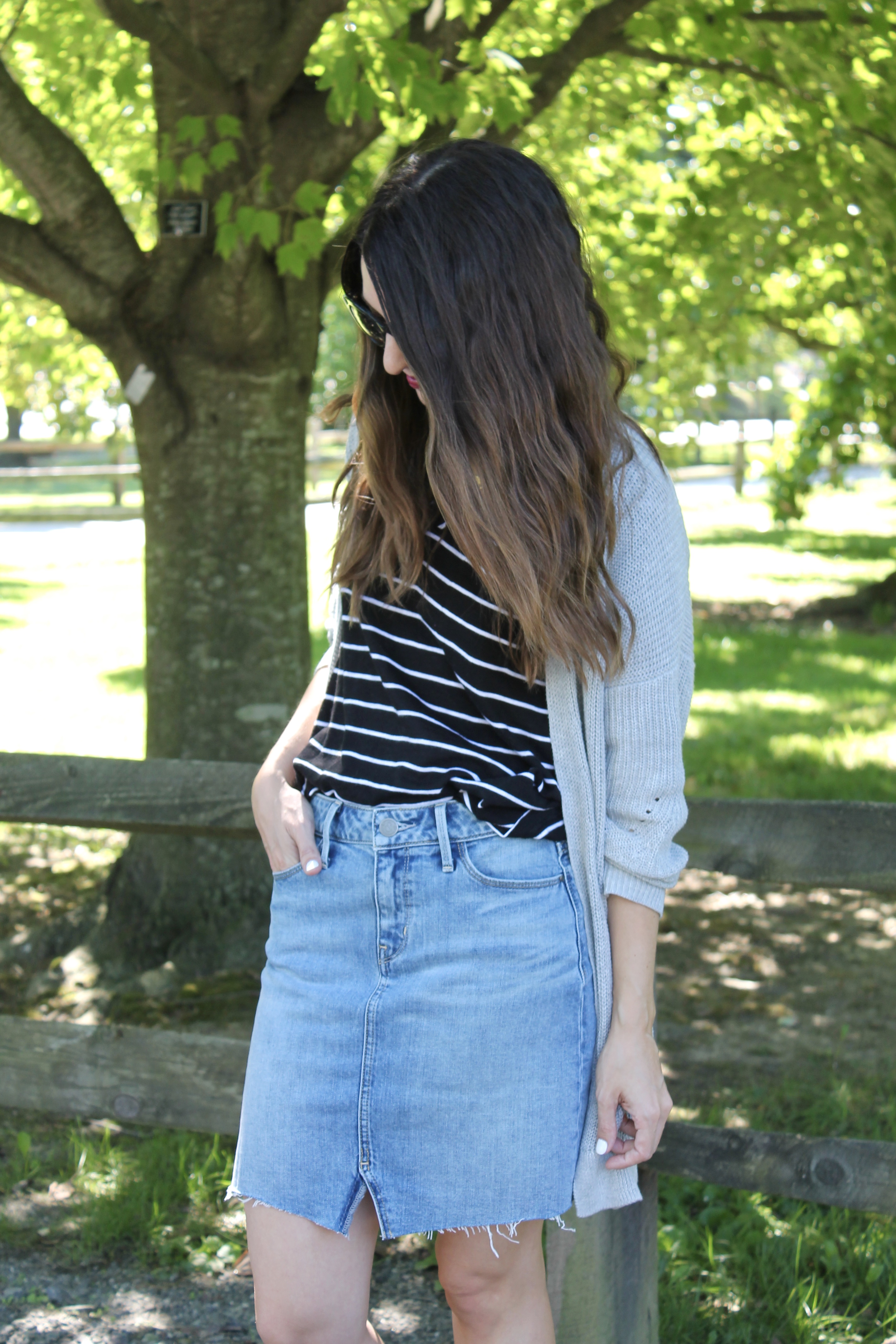 These slides are actually pretty comfortable and I love how sleek they look and they come in 5 additional colors. I've made a big shift in my personal style over the last few years (definitely since having Amelia) and one of the areas where the transition is really evident is my shoe collection. Almost every pair of shoes I've bought over the last two years has been neutral and I'm obsessed! I like knowing that at any given time I could pair almost any shoe in my closet with what I'm wearing. It makes getting dressed so much easier. Also, I feel like they'll go "out of style" less often.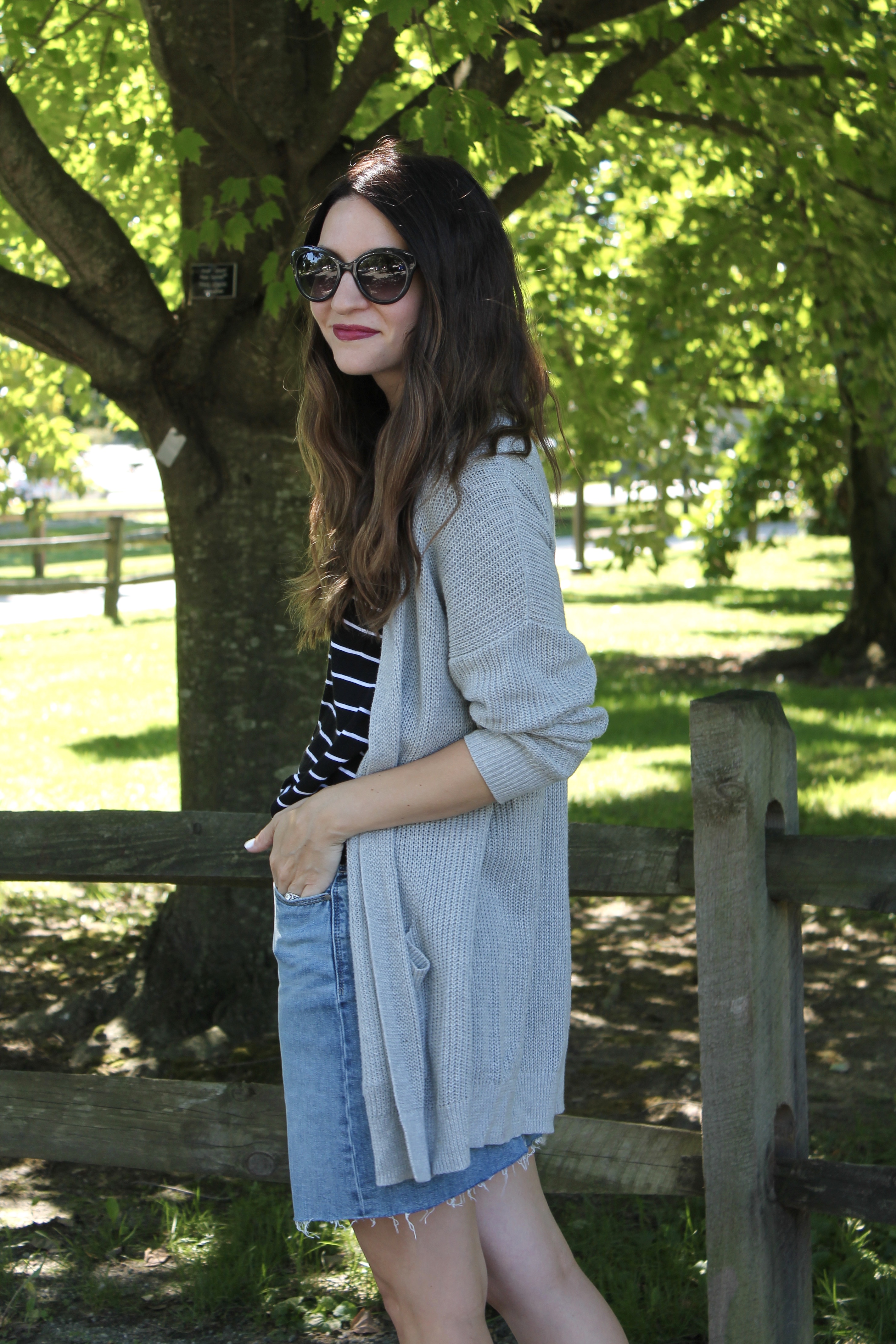 Don't get me wrong, I still love a good pop of color, hence the bright lip. It just made sense for me to transition to a more classic style wardrobe and stick to basics since I have less time to plan outfits and even less events to attend anymore. But I did pick up a really fun bright pink sweater for the fall and winter! I actually love bright colors in the winter- it makes everything seem so much less dreary.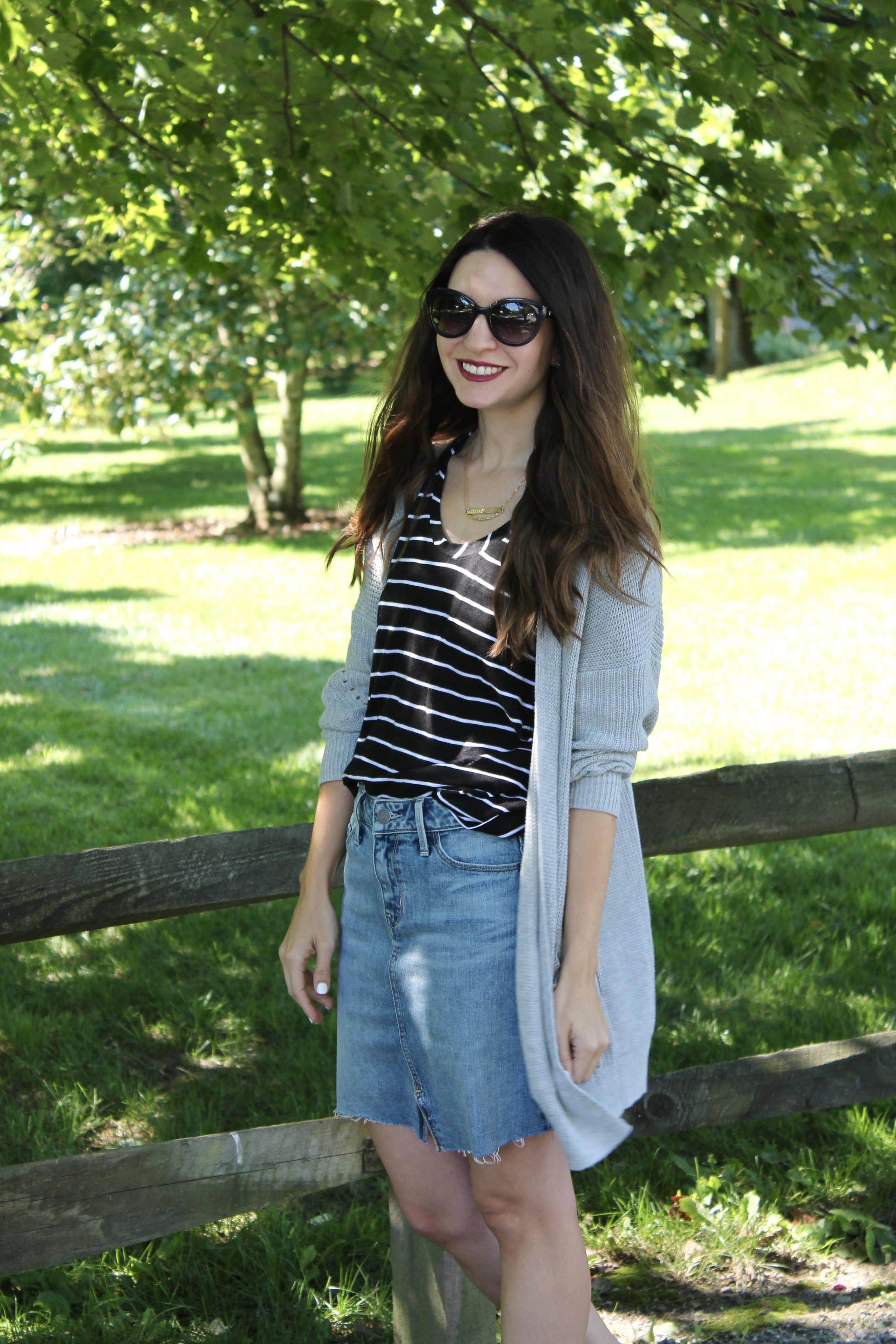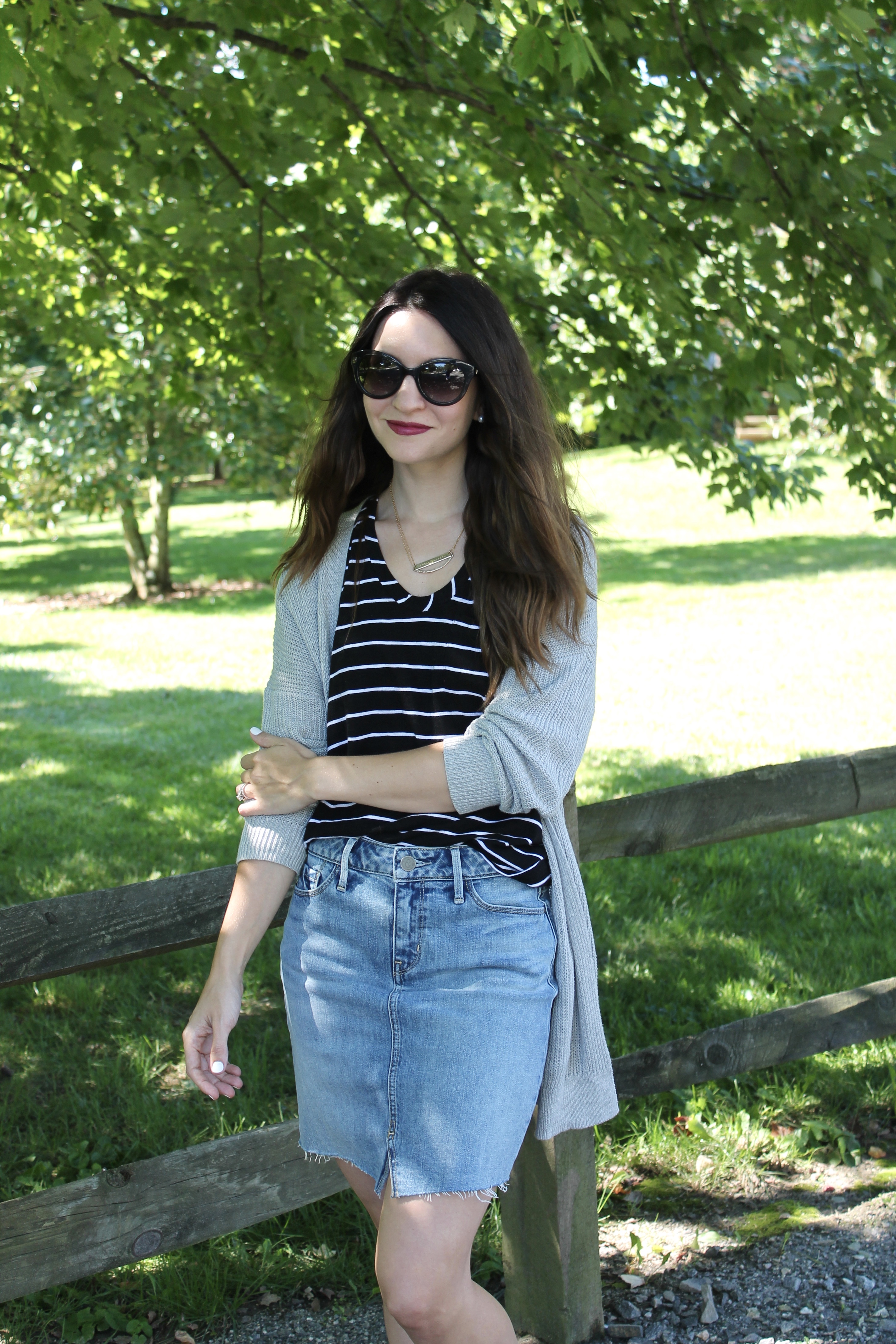 tee: Nordstrom, cardigan: Nordstrom, skirt: Treasure & Bond (I think this is sold out but I linked some of my other favorites below), mules: Kristin Cavallari, sunglasses: Kate Spade (old), necklaces: Made by Mary c/o
I hope you all have a great day! I'm late on this post because we went to have Amelia's hearing tested this morning (sort of unofficially, not at CHOP) to get a baseline idea of how she's hearing right now with all the extra fluid she has. She really didn't do as well as I thought she would considering that she "seems" to hear ok at home most of the time but she has started saying "what" a lot more recently so I knew she's been having more trouble than usual, at least. Now it sounds like we'll start to talk about having her fitted for a trial BAHA (hearing aid) as she did much better with one on. I gave myself a minute after talking about it with her teacher of the deaf last week to feel "all the feels" and let all the "poor Amelia" thoughts rush in and then let it all go. As much as I wish she didn't always have to be such a trooper, I never want her to feel sorry for herself, and this is just a small piece of what she'll have to deal with moving forward. But especially after waking up to yesterday's news, I know that nothing could ever be too bad as long as I have my family.

SaveSave
SaveSave