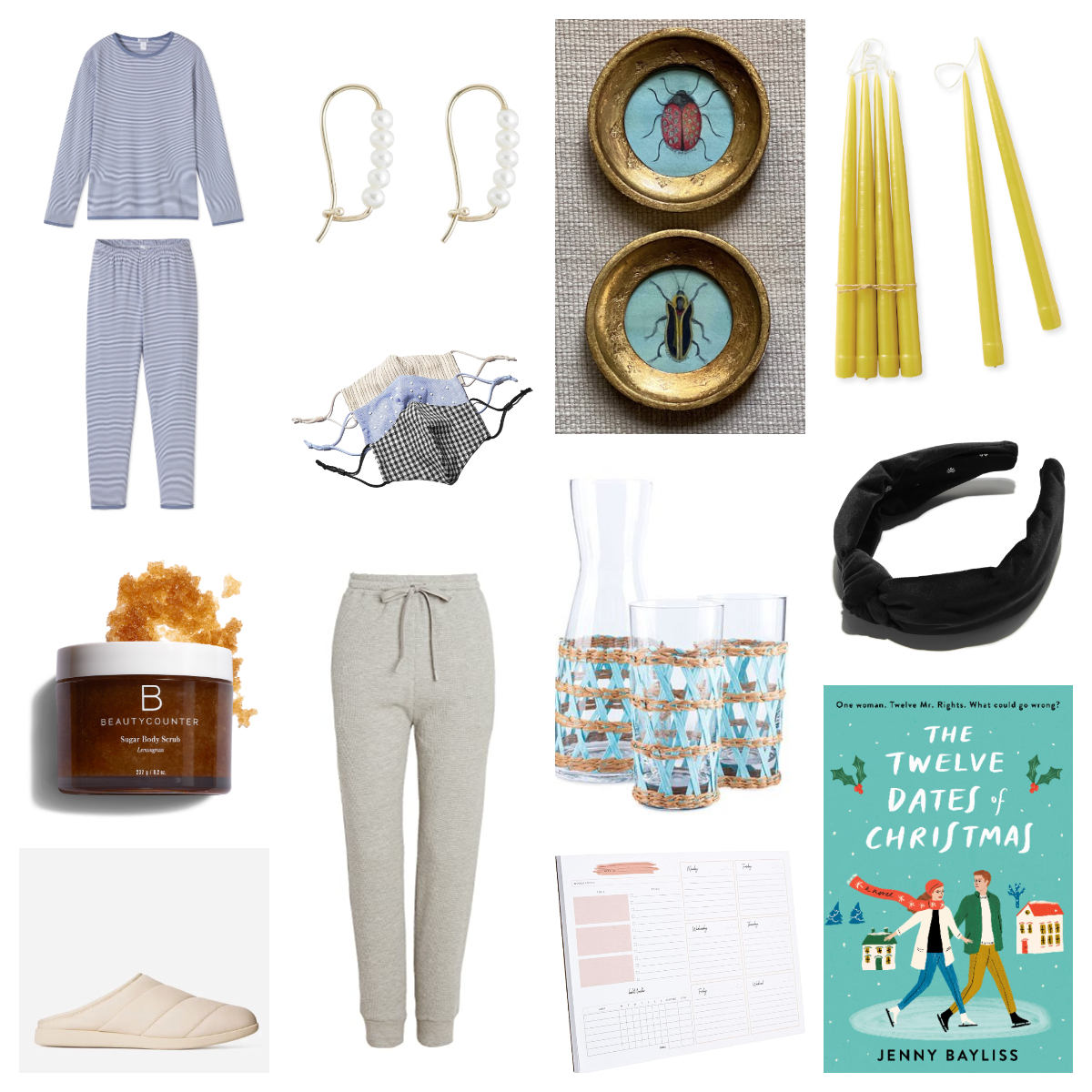 Pajamas (pretty sure Joe got me these already- the best pajamas!), Sugar Body Scrub (order under Brittany Monroe & "Black Friday Sale" Pop Up at checkout to be entered into a giveaway!), Slippers (THESE!!), earrings (I have a few of her pieces & I love each piece so much!), masks (I got these for myself because they are my favorite masks), joggers (also love these and these!), art (I love all her pieces, especially her boats, flowers, birds, & anything coastal!), glasses (& these!), weekly calendar, taper candles (also love the navy!), headband, book (just bought this for myself but sent Joe this one to get me!)
This year looks so different for all of us and there's honestly not much that I want. Since becoming a Beautycounter consultant, I've been keeping up with my skincare routine way more than I used to and therefore, there aren't as many beauty products on my list… not to mention I've been wearing way less makeup this year! However, I also love to indulge in any kind of self care so while there isn't anything that I need, clean beauty and/or makeup always have a place on my list! Also, if you're interested, in honor of #GivingTuesday, I am donating 50% of my commissions from December 1-11 to Child Life at CHOP, plus Joe and I will match the donation up to $200. Please consider purchasing from me and supporting my small business as well as donating to our favorite children's hospital! Also, if you order by tomorrow under my "Black Friday Sale" Pop Up at checkout, you'll be entered into a giveaway for your choice of 1 of 4 products!
Shop clean beauty:

I do have a good bit of home items on my wish list. There are also many items that I actually need such as new cookware (but I'm being super picky about it- it has to be safe stainless steel and NOT nonstick!), dishes, towels, baskets for our bathroom upstairs for storage purposes, etc. Also, we have been doing a ton of research on air purifiers recently and I think we may get a good one for our first floor and that will be a big part of my gift. I meant to buy these taper candles during the Cyber Monday sale but I didn't get to it… but I just think they're beautiful!
Shop home:

I still love all things blue & white and rattan or wicker and I almost certainly will love anything green. And I've been getting more and more into art these last few years and love the idea of starting a collection. I'm already compiling a list of favorite artists (Blakely Made, Clare Elsaesser, Mary Maguire) and though I currently don't have any originals, I've been at least trying to make sure I get high quality prints and purchase directly from the artist because #smallbusinesslove.
And I LIVE in lounge clothes so they are always on my list. And pretty dresses, which I LOVE but don't wear nearly as often as I'd like. I really love Everlane (per my usual) for their thoughtful, quality, and sustainable gifts for men and women and Reformation for sweats and gorgeous floral pieces. I need a new pair of joggers (also love these French Terry joggers!) so I may be making that purchase sooner rather than later.
Shop sustainable clothing:

Also, I just discovered this morning that our tea kettle is rusted (which is lovely because I have no idea how long we've been using it like this- the inside of the spout is rusted so it's very hard to see!) so looks like a new tea kettle is on my list now. I typically like a stovetop one but recently read that an electric tea kettle actually saves electricity so, maybe one of each?!