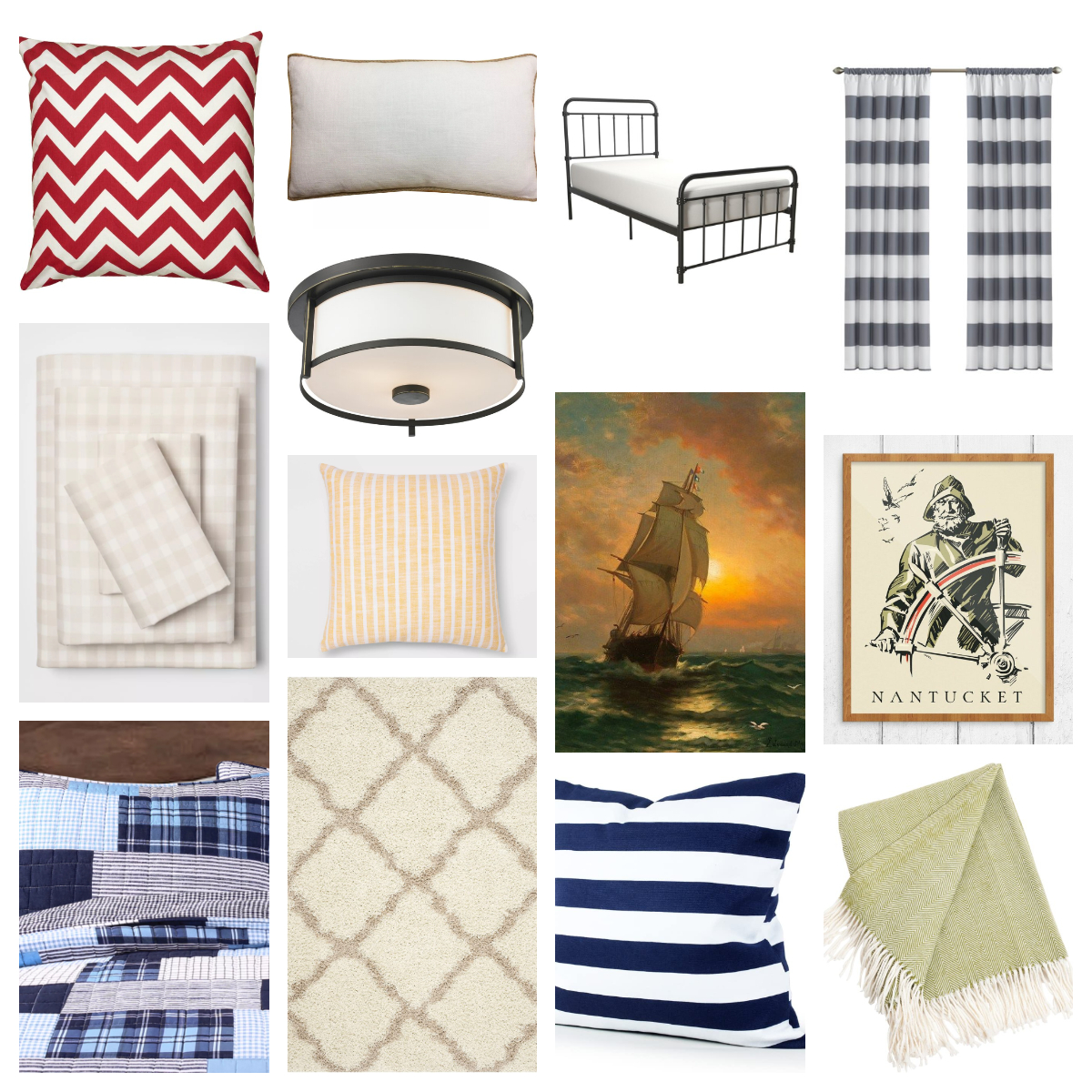 red chevron pillow, gingham sheets, madras quilt, white pillow, flush mount light, yellow striped pillow, rug, metal bed frame, ship picture, navy striped pillow, striped curtains, captain picture, throw blanket
I've been meaning to transition Joseph to a big boy bed for a while now but as he still sleeps really well in his crib, it hasn't exactly been a pressing need. However, he told Joe the other night that he didn't like the "holes" (slats) in his bed (crib) anymore and wanted a big bed like Amelia… so, I think it's time. He's our wild one and though he gets up much less at night than Amelia and he has been able to climb out of his crib for a very long time now (probably almost 2 years), he doesn't do so very often and I worry a little that he'll get up and move around more once he's in a bed with less restrictions. But, I guess it has to happen sometime! We transitioned Amelia to a toddler bed somewhere between 18 and 20 months because we gave her crib to Joseph and she did really well so I'm hoping Joseph does, too (even though he'll be a full year and a half older than she was!)!
Some of these items are actually already in his room like the light fixture, the navy striped pillow, the gray striped curtains (I got ours at Home Goods about 4 years ago but these ones look very similar!), the rug, and a similar ship picture that I actually trash picked when Joe and I first got married about 9 1/2 years ago- it's a very large canvas of what looks like a pirate ship (without a flag) at sunset with lots of oranges, yellows, greens, and blues. It's perfect for his room and has been there since we decorated his nursery so I've basically designed the rest of his room around it because I love it so much! I've also always envisioned a madras print quilt for his room for some reason. I wasn't able to find it in a baby quilt but I've found a few options for a full size and I think this blue one os my favorite. I also really love this multi-colored one. I like the idea of using throw pillows to add in some color so I would put the yellow striped one and the yellow chevron one on his bed with the white one in front to temper the bold hues. Then a green throw for good measure and to round out the primary color wheel… also, I just love green and he's got a lot of blues already- his walls are a very light blue. I like these neutral gingham sheets to ground everything and also to pull out the natural tones in the area rug and a black metal bed for a nice contrast (he has hardwood floors and I think the open design will make the room feel larger).