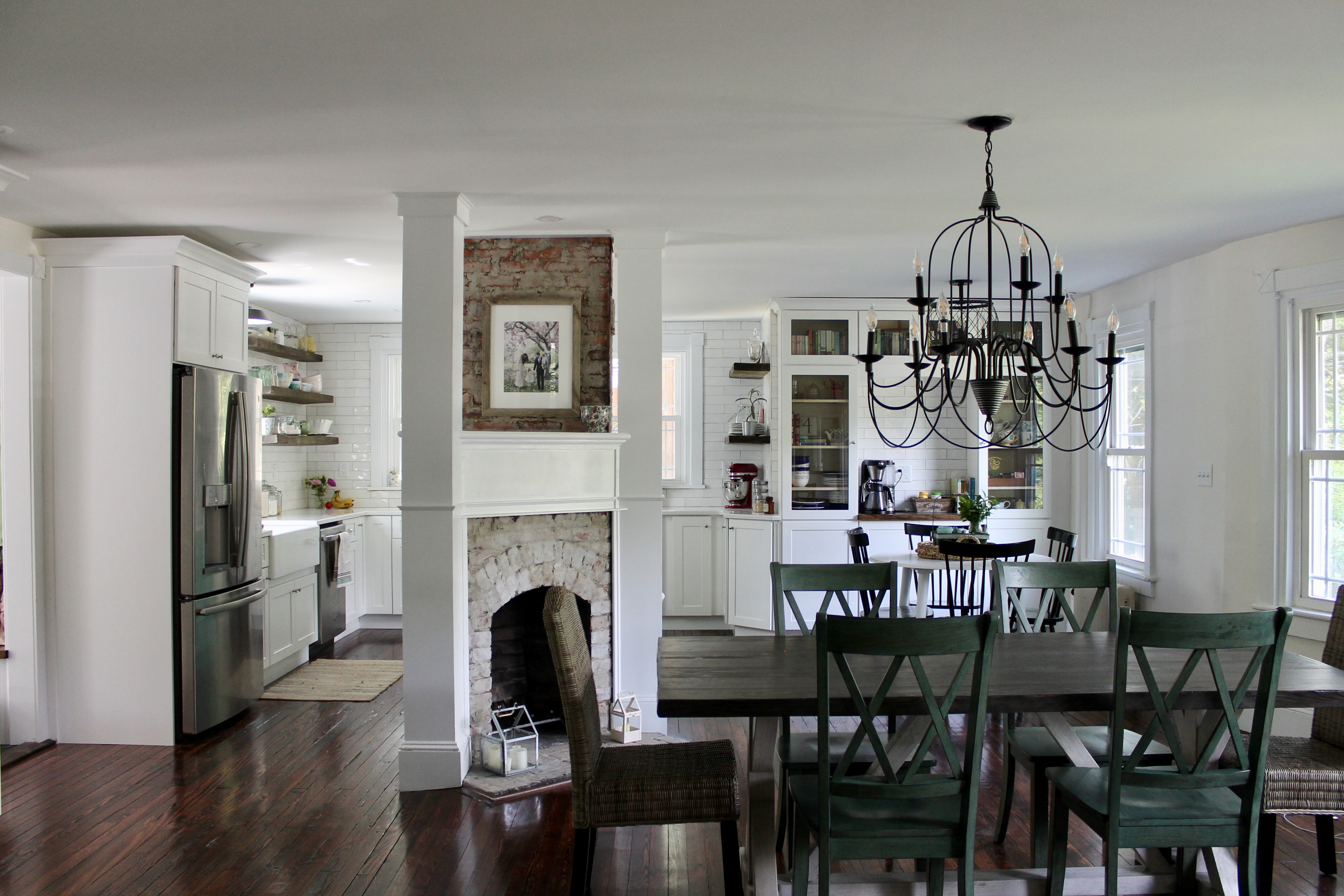 Welcome to our new and mostly open-concept kitchen and dining room! While this renovation took a little (almost a month) longer than we expected, it really was a very large-scale renovation and was totally worth it in every way! We designed everything ourselves with the help of our contractor and we were lucky enough to be able to work with Pfister Faucets,  Sinkology, and General Electric for this reno. Joe and I chose all of the finishings, paint, and furniture. Most of the decor you see here is old, though I'm sure I'll get some new pieces in time… or not as we still have to get a new electrical box, central air on the first floor, rewire the electric on the 2nd and 3rd floors, and renovate the 2nd and 3rd floor bathrooms! We stuck to clean lines and a simple white palette because we wanted a clean look that fit our 1922 home. Most of the trim is still original and we wanted the woodwork and original charm to stand out on it's own!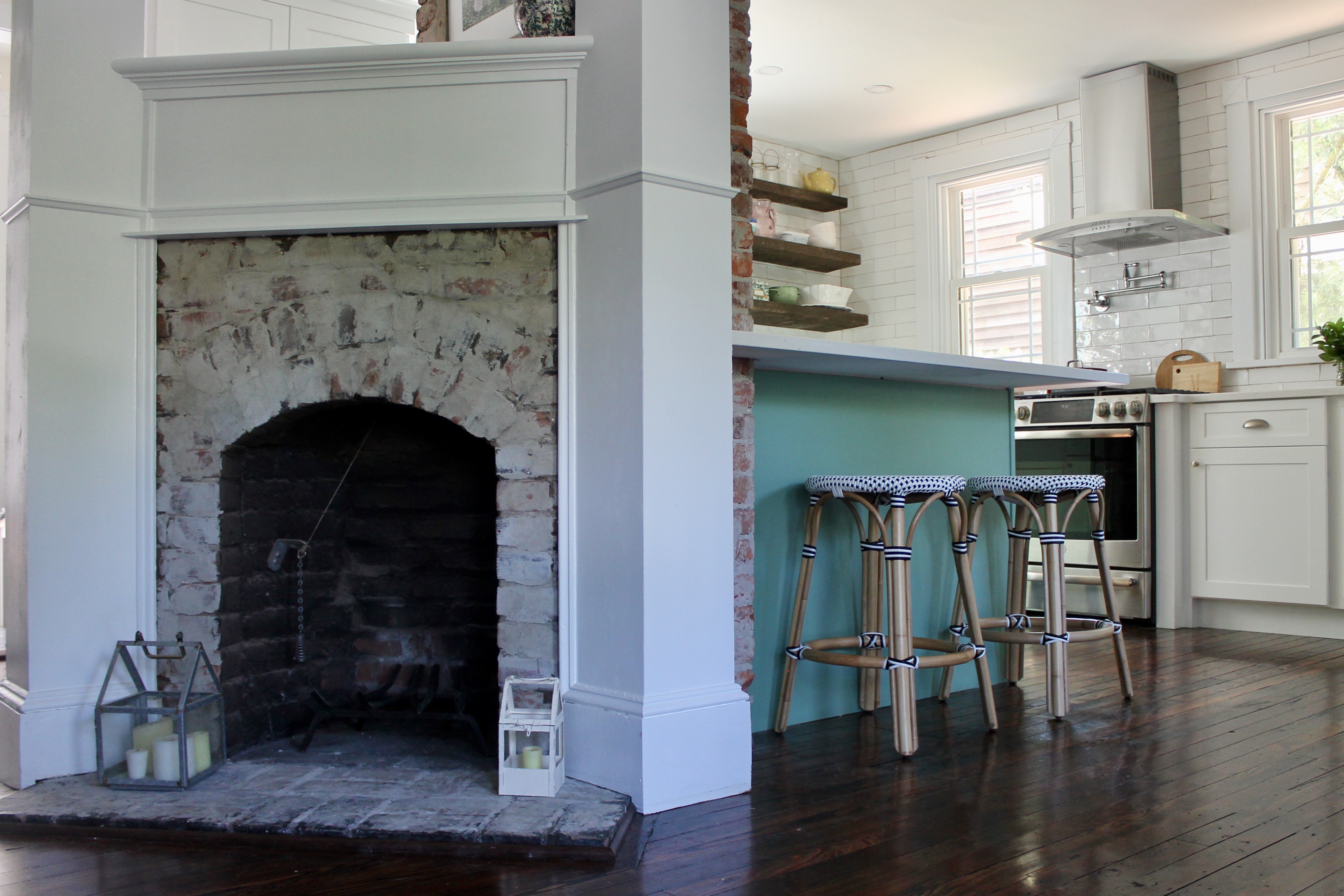 We chose to leave our original fireplace that used to be in the corner of the dining room in place as the centerpiece of these rooms. After demo, we discovered that it was a little different than we imagined it would be (we thought the stack would go straight up rather than the somewhat strange turn) and after some debate on how to make it work, we decided to keep it as is. We had to add the left column for support (there's a very large steel beam where the left wall used to be) so we added a secondary column for symmetry and I love how it turned out! Also, the photo from last spring that my aunt took of us fits perfectly!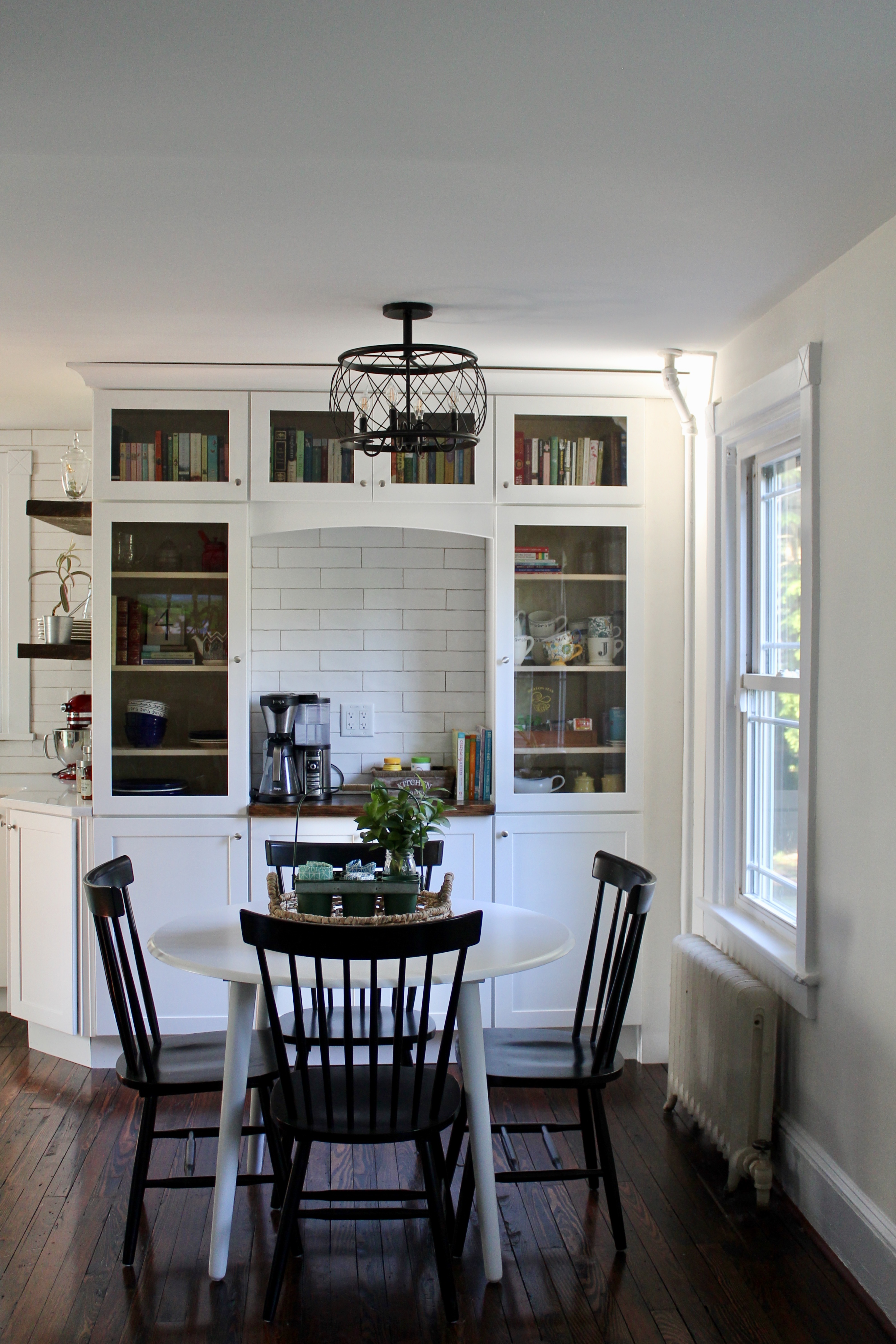 Here's our breakfast nook and coffee bar area. I originally wanted this light fixture in gold but I couldn't find a light for over the dining room table that would work with it so I switched to iron and I'm glad I did. It's more subtle and more my style and this way I can add gold accents elsewhere (I'm thinking some frames, maybe?) and it won't be overwhelming or too glam looking. I also love how it provides such a contrast to the all-white-everything-else. The insides of these cabinets were supposed to be white but they shipped incorrectly (and we didn't want to wait for new ones, though we could have) so now I'm either going to paint them white or maybe even a fun color (like a navy or dark green) to make them stand out! All of our cabinets were custom-made by Fabuwood and we're really happy with them!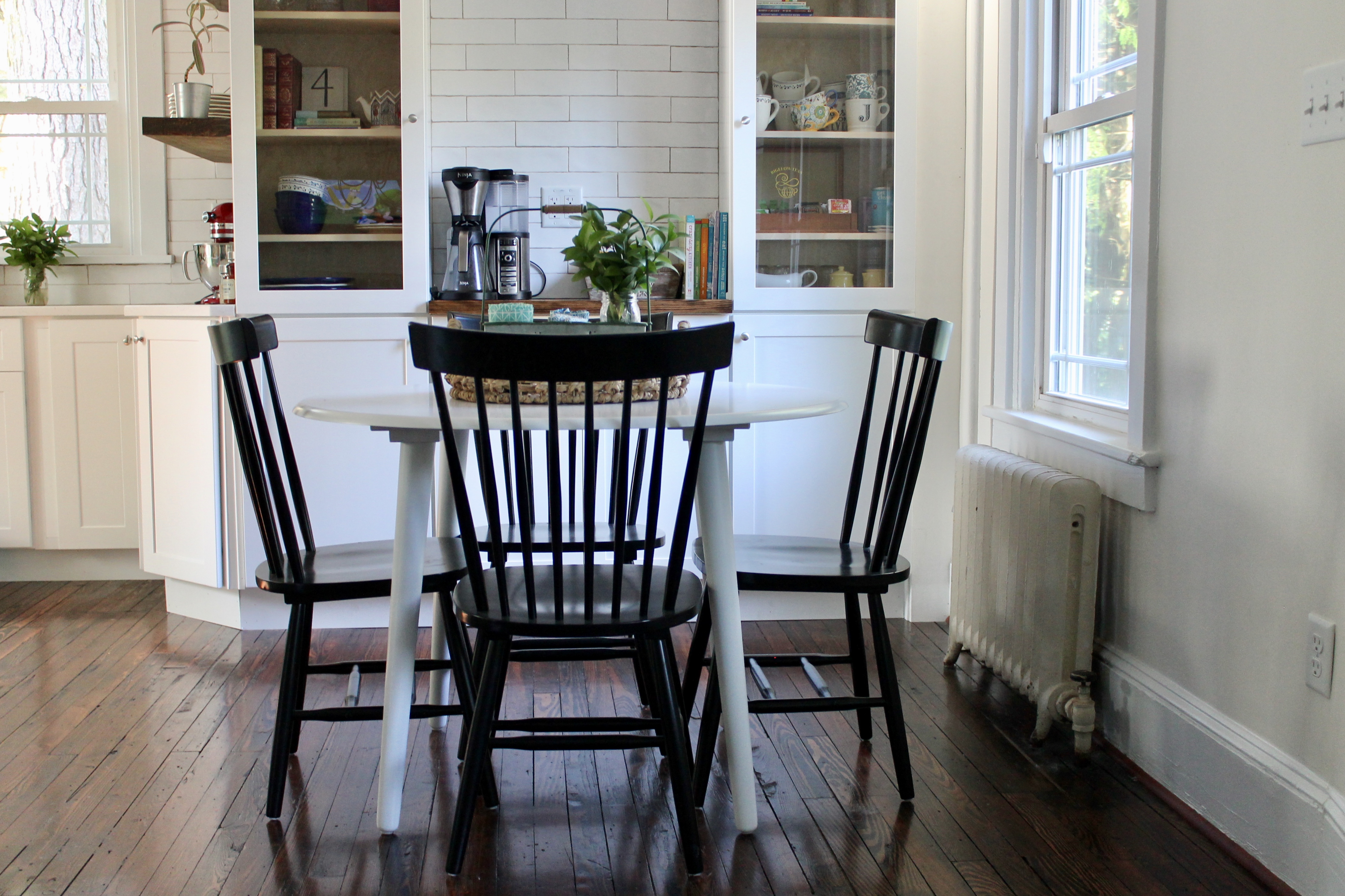 Because we lost our built in bookshelves and didn't have anywhere else to put them, I put some of my favorite books above the coffee bar. I love how they look and I like that they're readily available any time I want one. Books make me happy and I think they add comfort and more of a homey feel to a room. Plus, these add some much needed color! I chose a simple black and white table and chairs set so as to not overwhelm the space and to pull in the black and white from the bar stools.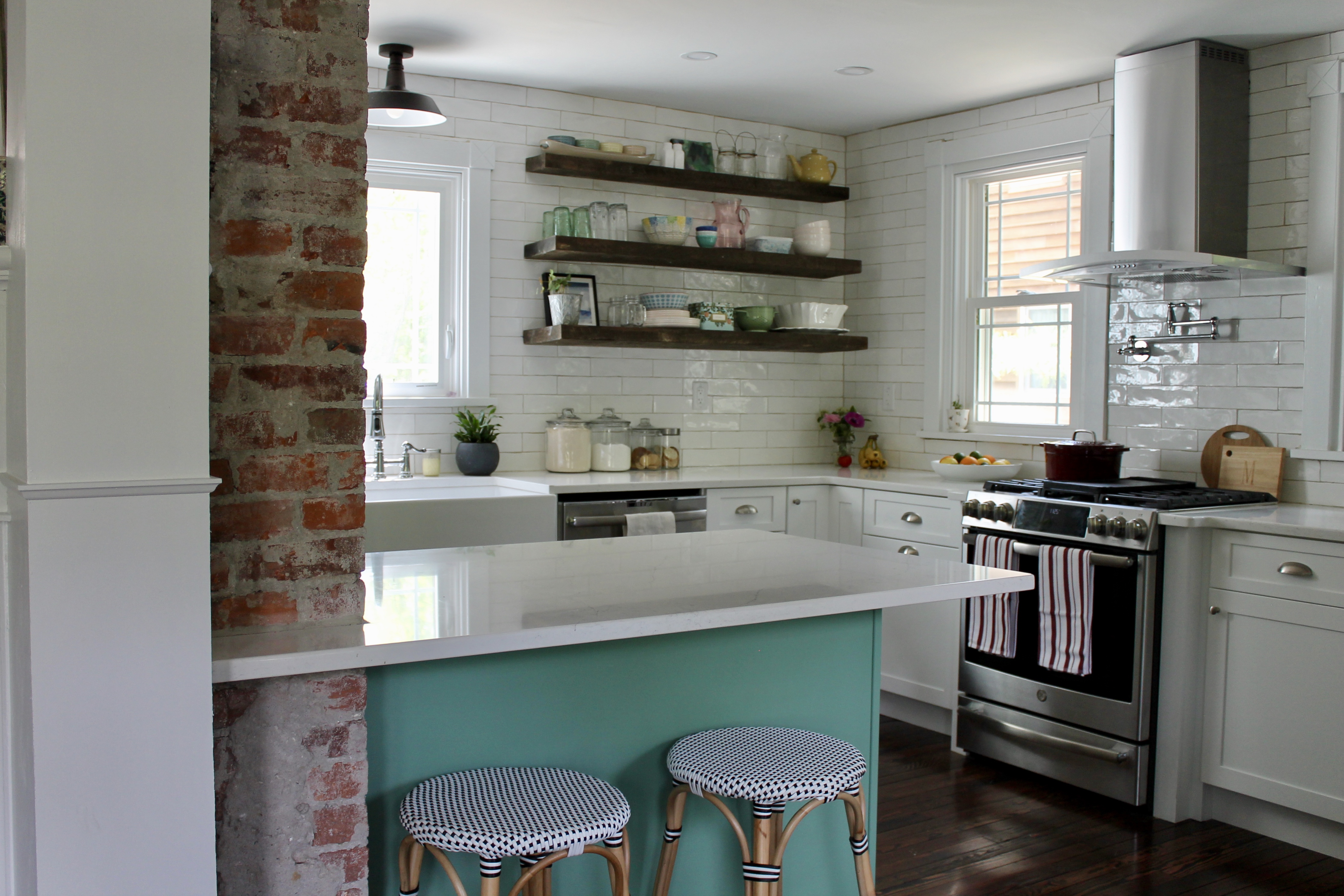 We went with GE appliances for all of our appliance needs and I couldn't be happier with the service, the look, or the ease of use and quality of the items. We chose from their Profile line and went with all stainless steel. We got a wine fridge, French door refrigerator, gas oven, hood, dishwasher, and microwave (which is not yet installed) and so far, we've loved everything! We even already dealt with their warranty department (one of our refrigerator drawers was broken) and they were incredible and sent a replacement out right away!
These black and white rattan bar stools were the first thing I bought for our kitchen and I basically designed everything else around them. I knew I wanted to pull in some black and white since we put those black and white cement tiles in our powder room and when I found these I was obsessed! I love the ones with the backs on the but couldn't stomach the price tag with everything else so I went with the seat-only version and am VERY happy with them.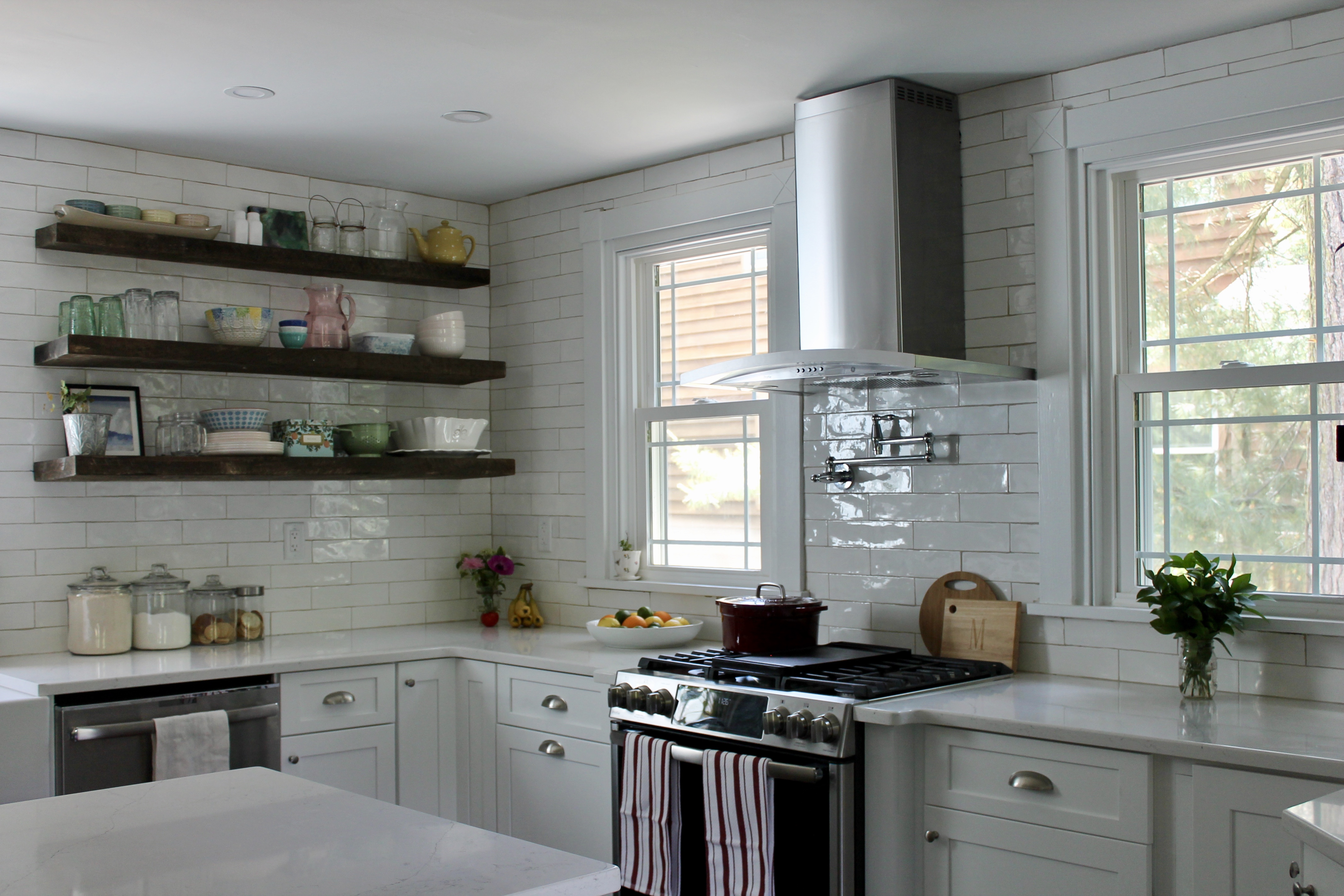 I have a lot of reds, greens, pinks, blues, and yellows all around my house so I just decided to use what I had to decorate the open shelves. Also, how pretty is this pot filler from Pfister Faucets?! It is the Port Haven in polished chrome and it really makes this part of the room a focal point and totally adds a wow factor to the kitchen! I decided to keep the cabinet hardware simple to keep true to the style of the house and went with a polished nickel so they didn't overpower the chrome faucets and stainless steel appliances.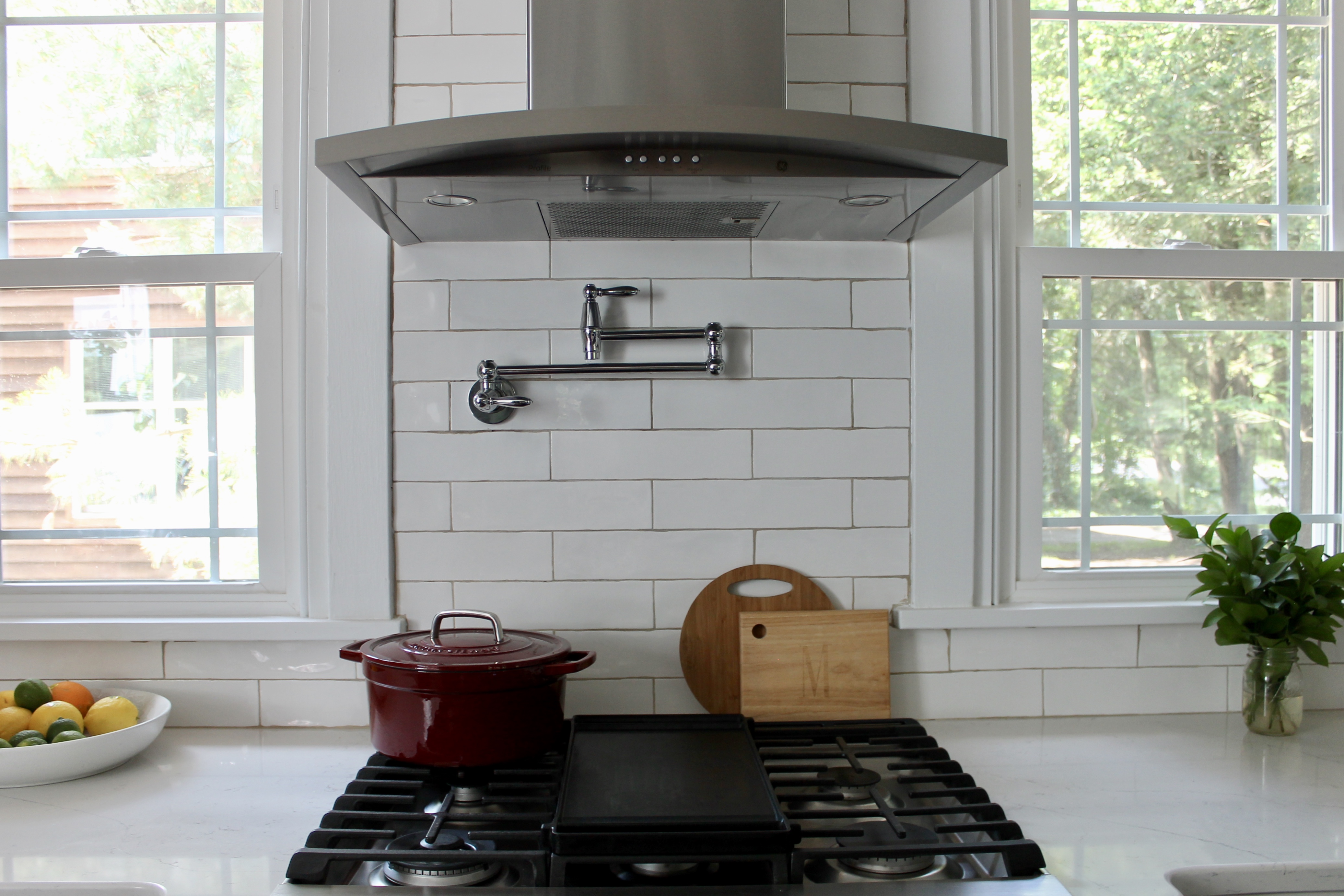 Here's a closer look at the pot filler!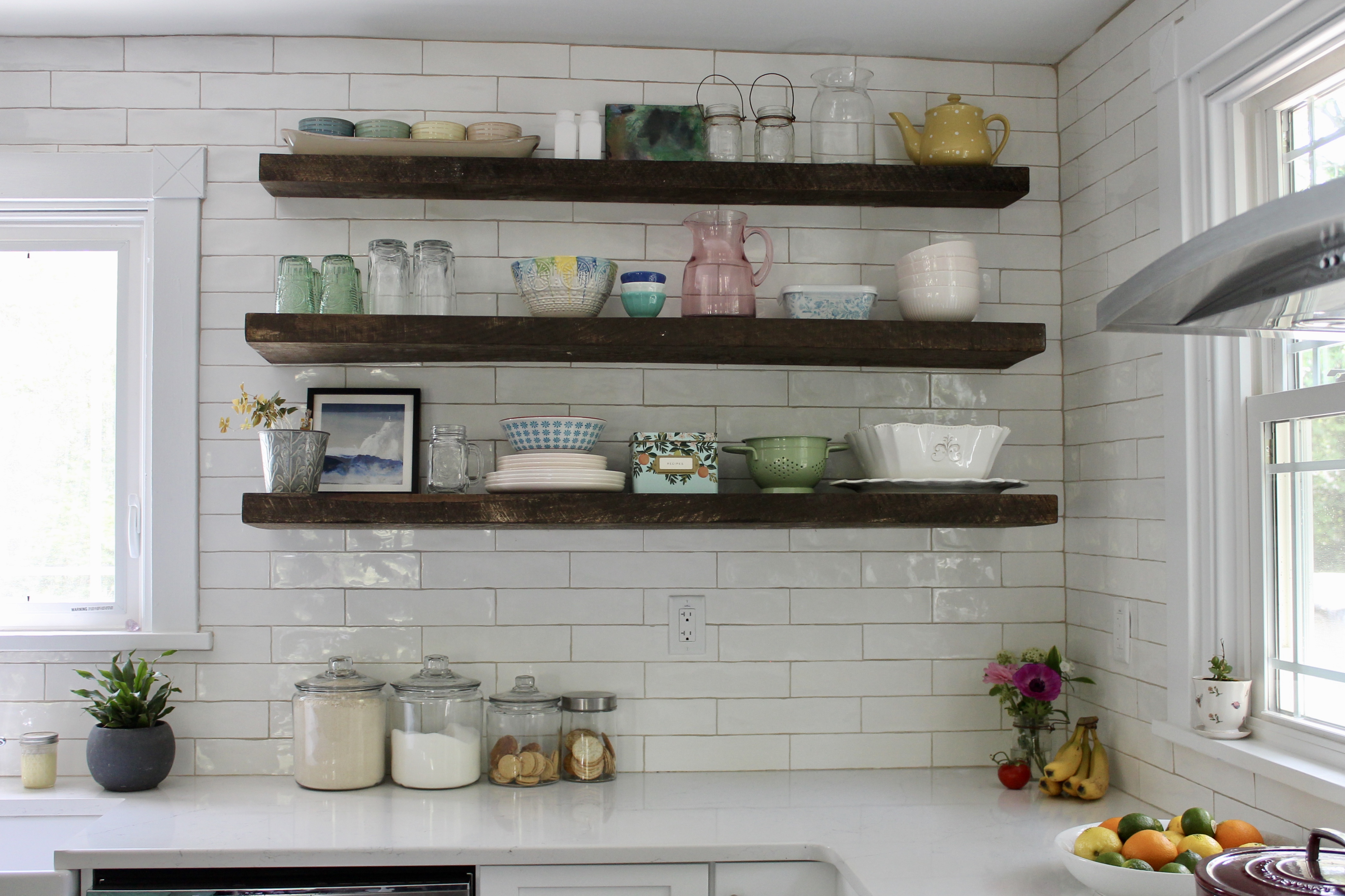 I really had to fight for all the open shelving that we have… and to keep the windows on either side of the stove! Joe wanted all uppers here and both he and our contractor wanted to take out the windows for more cabinet space. I'm really glad I won out because I can't imagine either space looking any different, plus all of the natural light is incredible! These are old (we think over a 100 years) pieces of wood from a barn up near Penn State. We thought it was pretty cool that the wood was relatively local and about the same age as our house. These glass jars are perfect for storing flour, sugar, cookies, and so much more and save me room in our smaller pantry while looking cute at the same time. The artwork on the top shelf was done by Amelia last summer 🙂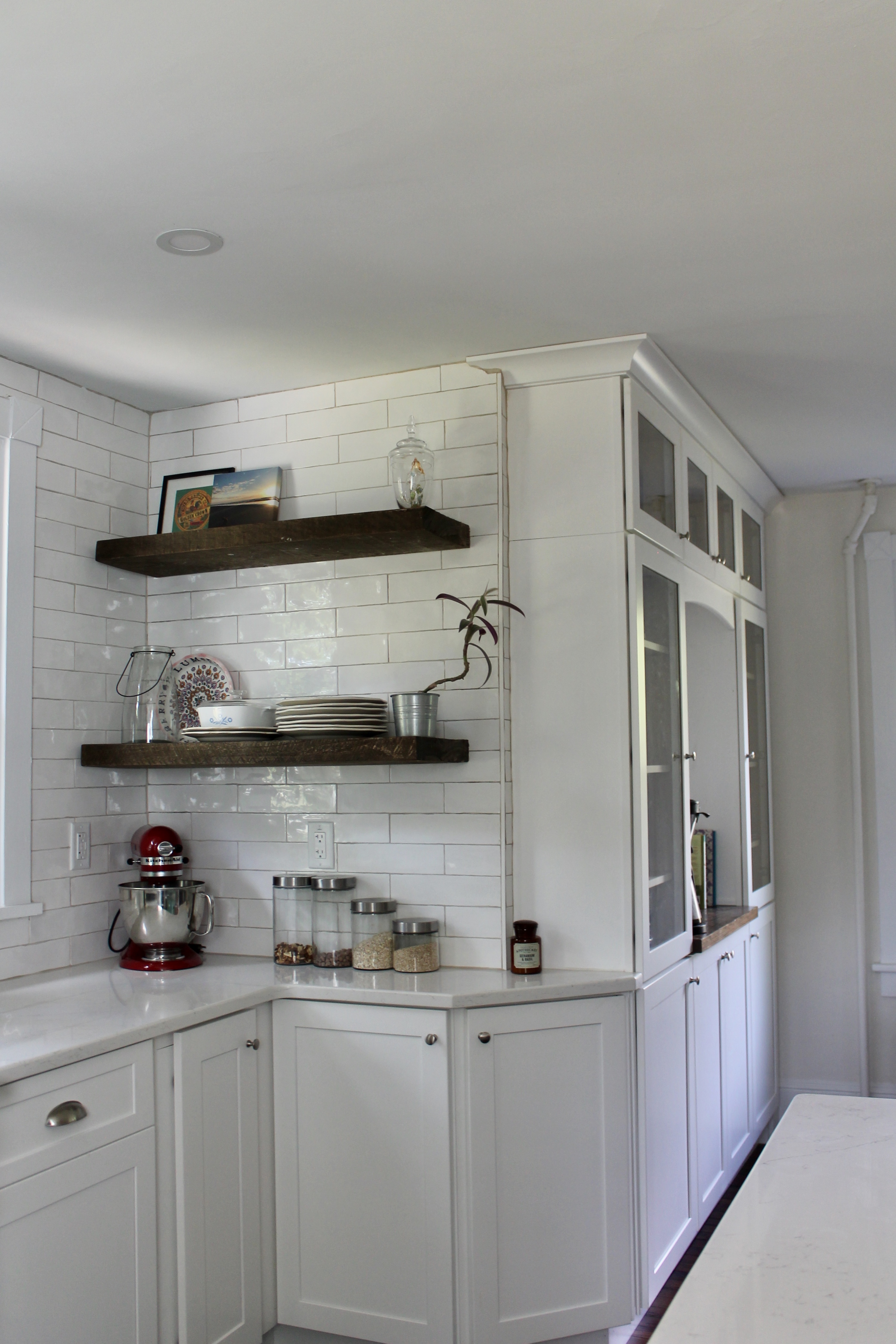 This is to the right of the oven. I'm still deciding on what exactly to do with the shelves on this side… it needs a little something more. Maybe some art? Or fun juice glasses or serve ware? I've been eyeing this piece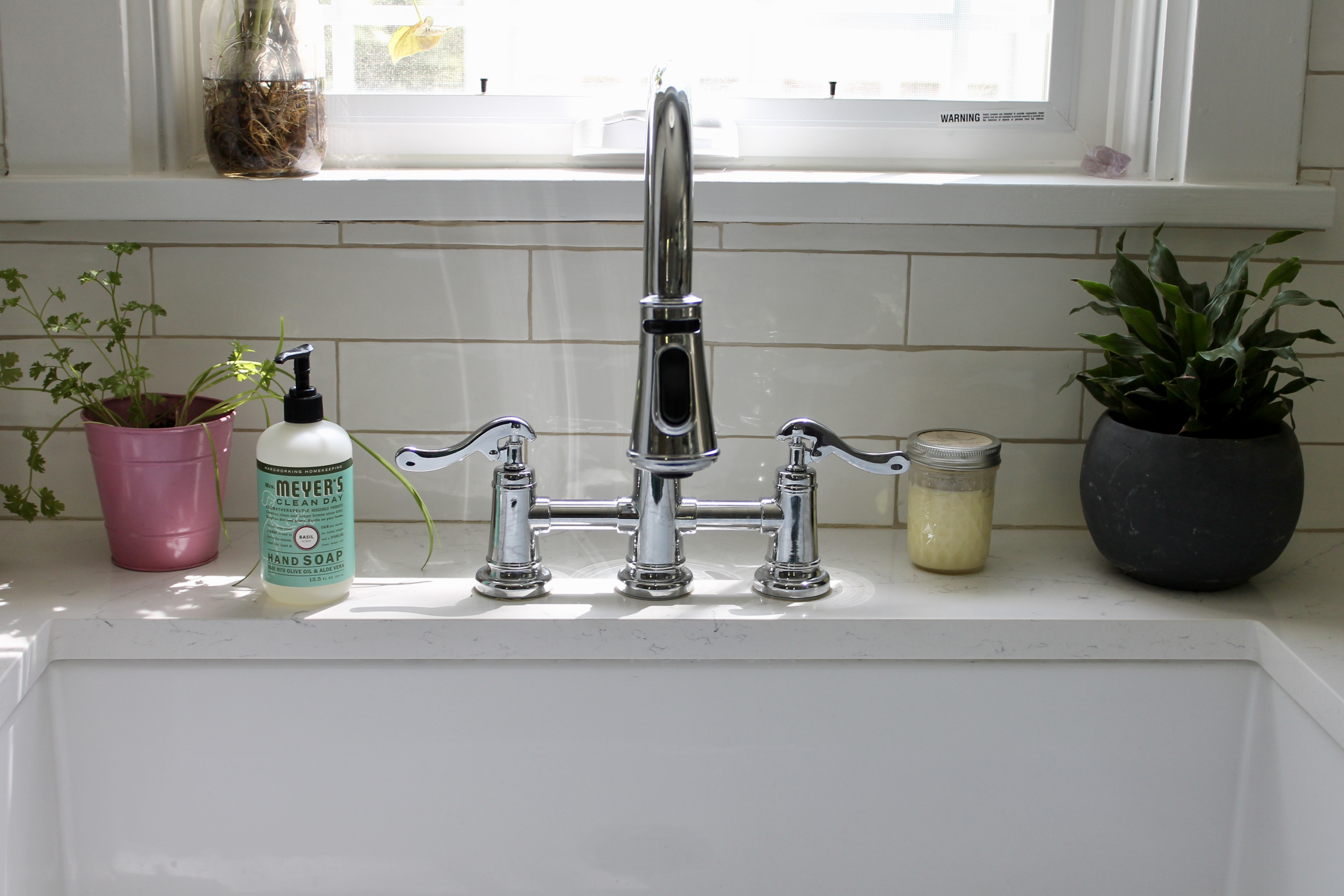 This faucet is also from Pfister Faucets and though it took me a while to decide on it, once I did, I couldn't fathom how I ever wanted anything else. The Ashfield is a vintage bridge-style but the polished chrome finish makes it look modern and the pull down faucet option makes it super convenient.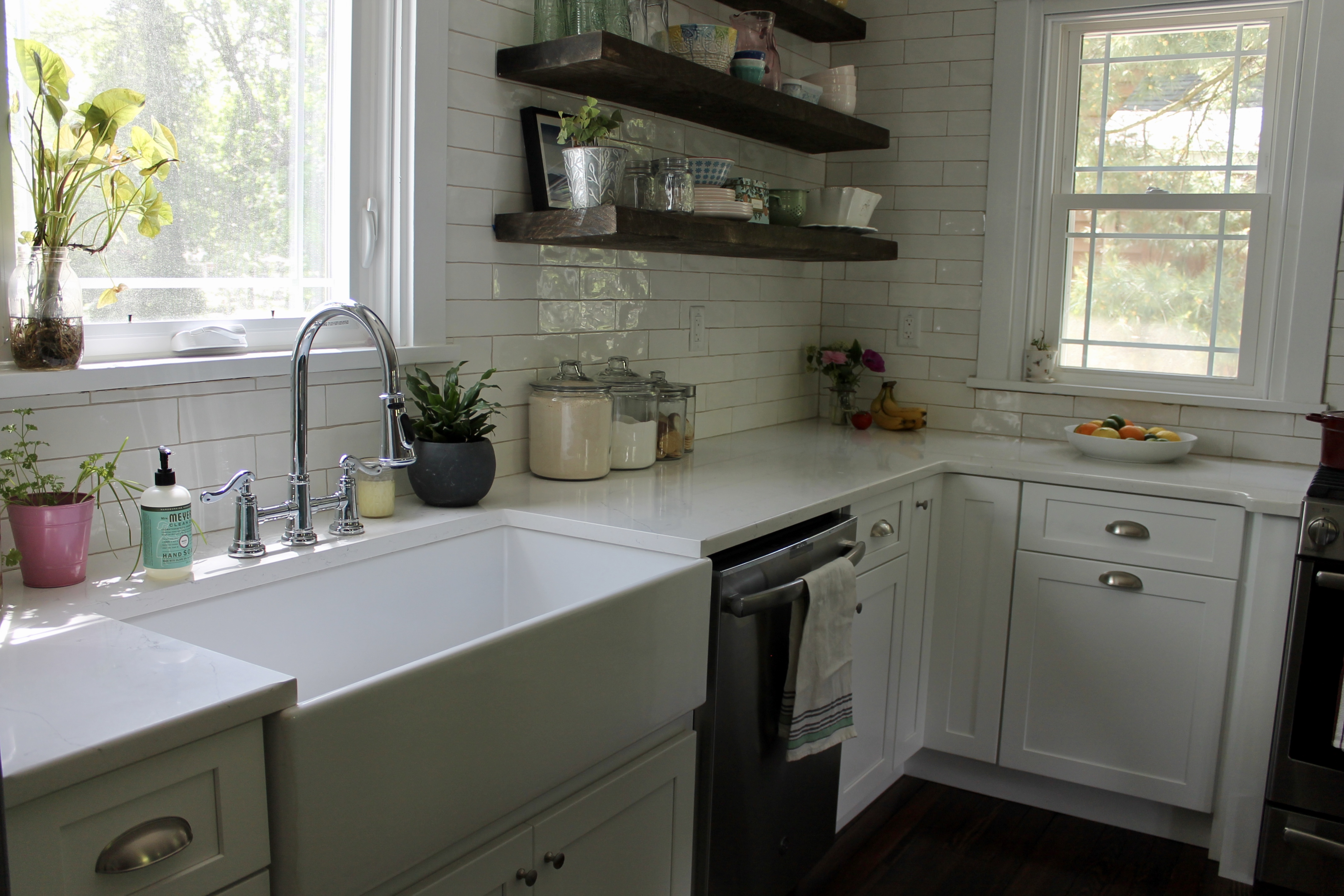 Our farmhouse sink is from called the Harper from Sinkology and is a white fireclay farmhouse sink… we're obsessed! It's 36 inches wide and while we had to get a new window (to make sure the sink could be centered on it) and redesign this area just to fit it, it was well worth it! It is beautiful and so functional! Sometimes, I can't even see the dirty dishes in it and that is magical (yes, magical)!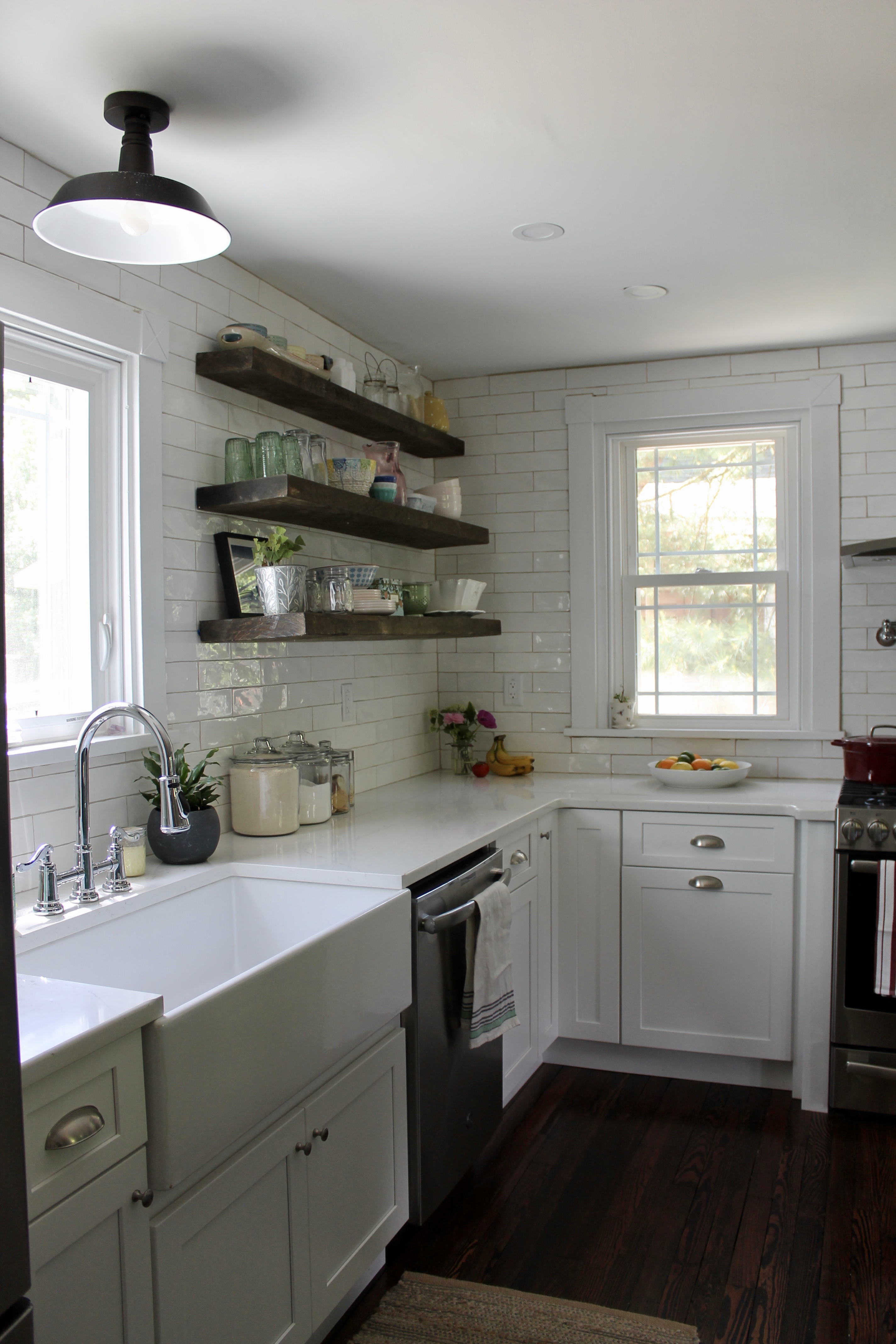 I bought 3 of these lights and used one in the hall outside of the powder room and one in the hall leading to the mudroom. I had a really hard time choosing the lighting for these rooms but I love the consistency that repeating the same fixture in different rooms provides. Another really difficult thing for me was choosing the paint color for the peninsula. I knew I wanted a color but originally, I thought I wanted hunter green. Then I painted the playroom Sherwin Williams' Salty Dog and decided against the darker color for this. During demo, some of the paint chipped off our original basement door and we found a really pretty green color underneath about 7 coats of paint. I matched it the best I could and decided on Sherwin Williams' Parisian Patina. I think it works really well with my slightly French Country, slightly coastal vibe.
Here's a view of our refrigerator and also, our floors and the side of the fireplace on the right. We kept the original flooring, 1. because there was no real good way to transition to a new floor and 2. because we love it. It is all original wood- they took a lot of floorboard from the bedroom on the 3rd floor that we only use as storage currently and replaced some of the ones that were in really bad shape and then refinished everything. I really love the finished product! I think I need a longer runner and a little bit of color in here next!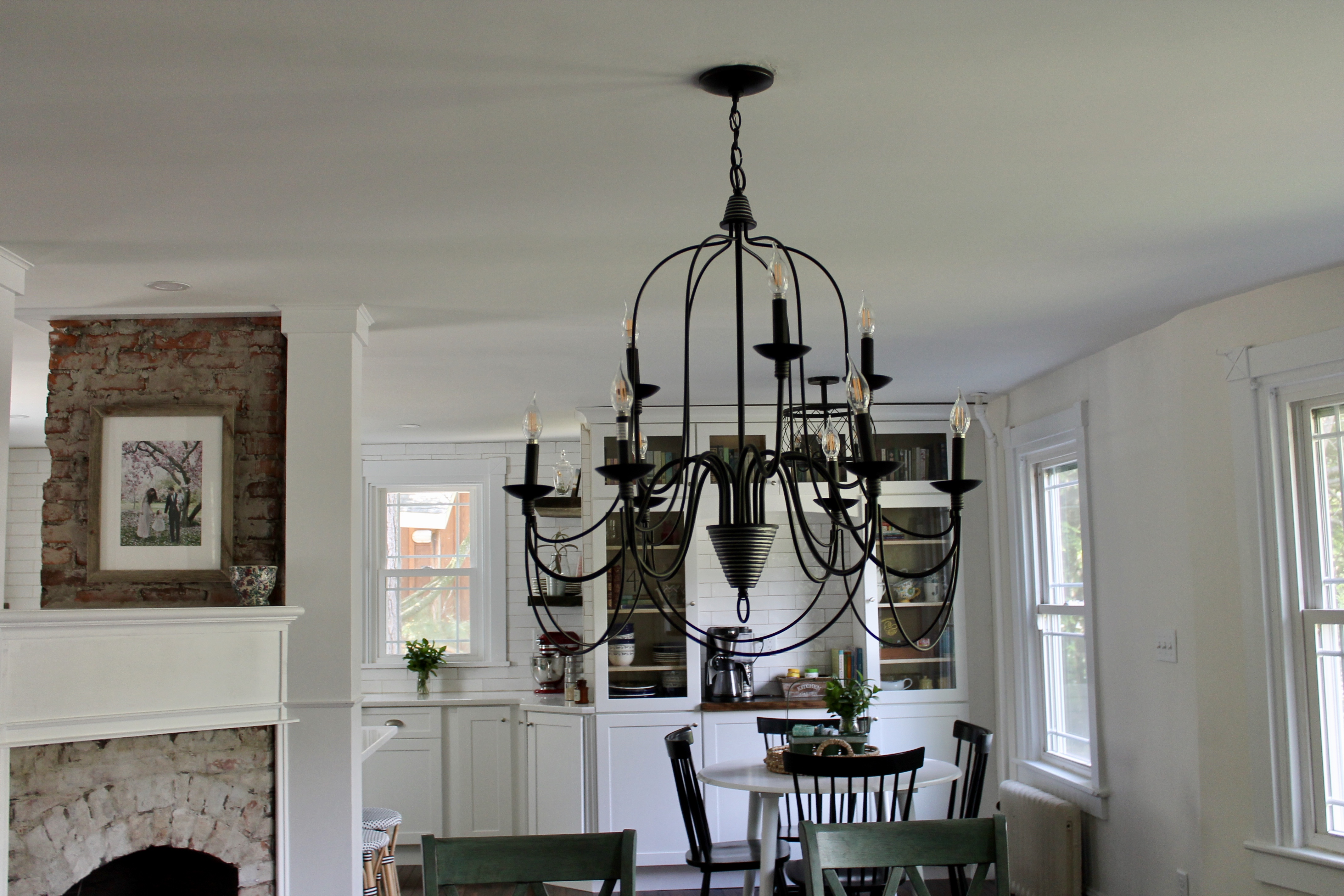 This is our dining room chandelier, which was also extremely difficult for me to choose. I originally thought I wanted more of a lantern style but I was having trouble choosing additional lighting that went with it without feeling like I was recreating someone else's home on Instagram. So, at the last minute, I changed my mind and found this beauty. Yes, it's large and no, I'm not sure if this is the size that it should be relative to our table or the room BUT I love it! I also was originally decided on our side chairs being white but the first ones I ordered arrived broken (Wayfair's customer service was incredible, by the way… #notsponsored) and these were the most similar chairs I could replace them with as I wanted to keep the diamond pattern on the back. The white were sold out so I took a leap and went with "deep sea green" and I love how they add some color to the room and carry the green into the dining area.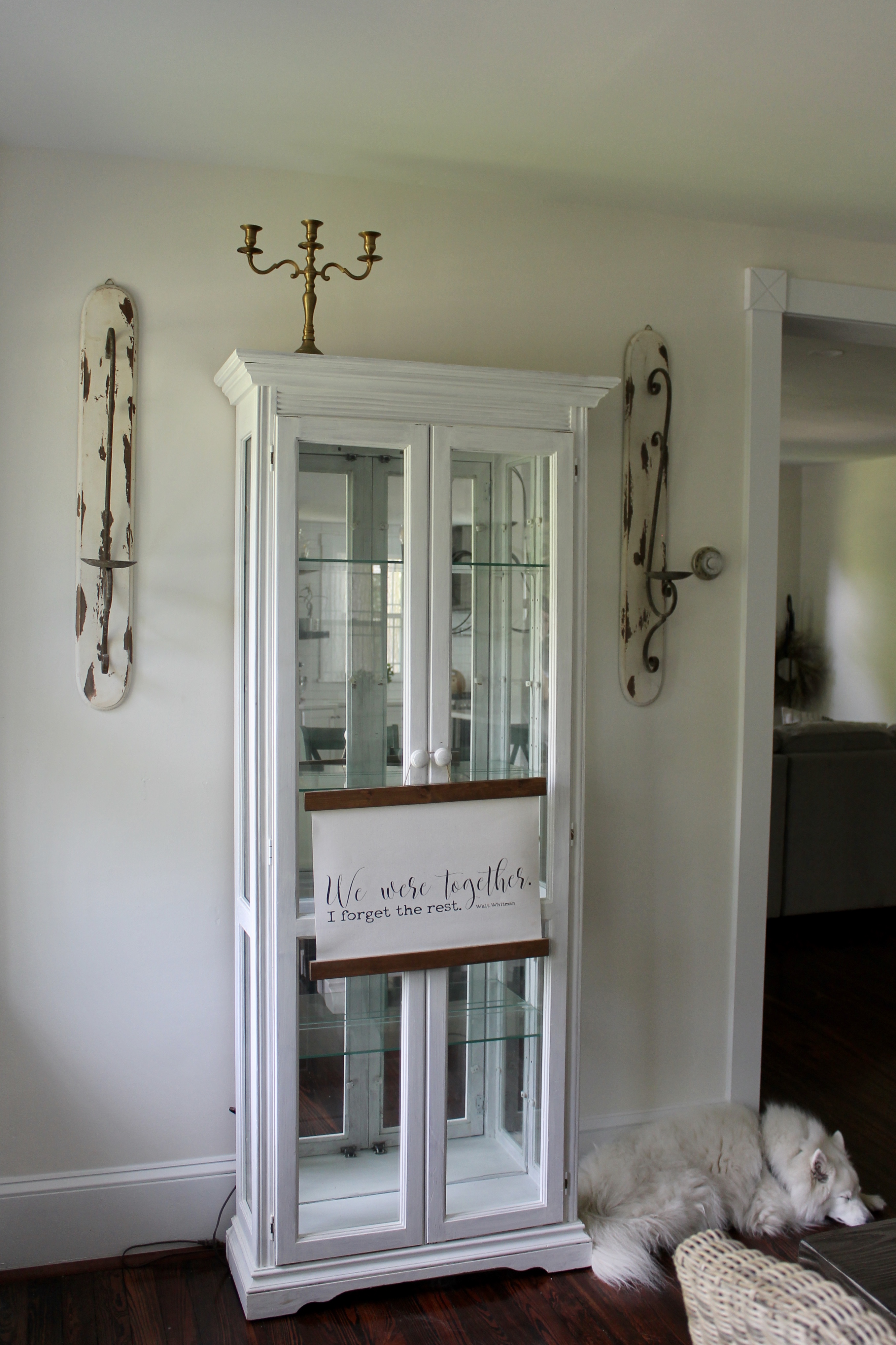 This china cabinet it actually my Mom's from when we were little! It is pine underneath the white (I asked her if we could paint it and then Joe's aunt actually stained it for us) and I remember she used to display her porcelain Disney plates in it. I haven't put all of my things back yet but now it's where I display my vintage china and tea cups collection.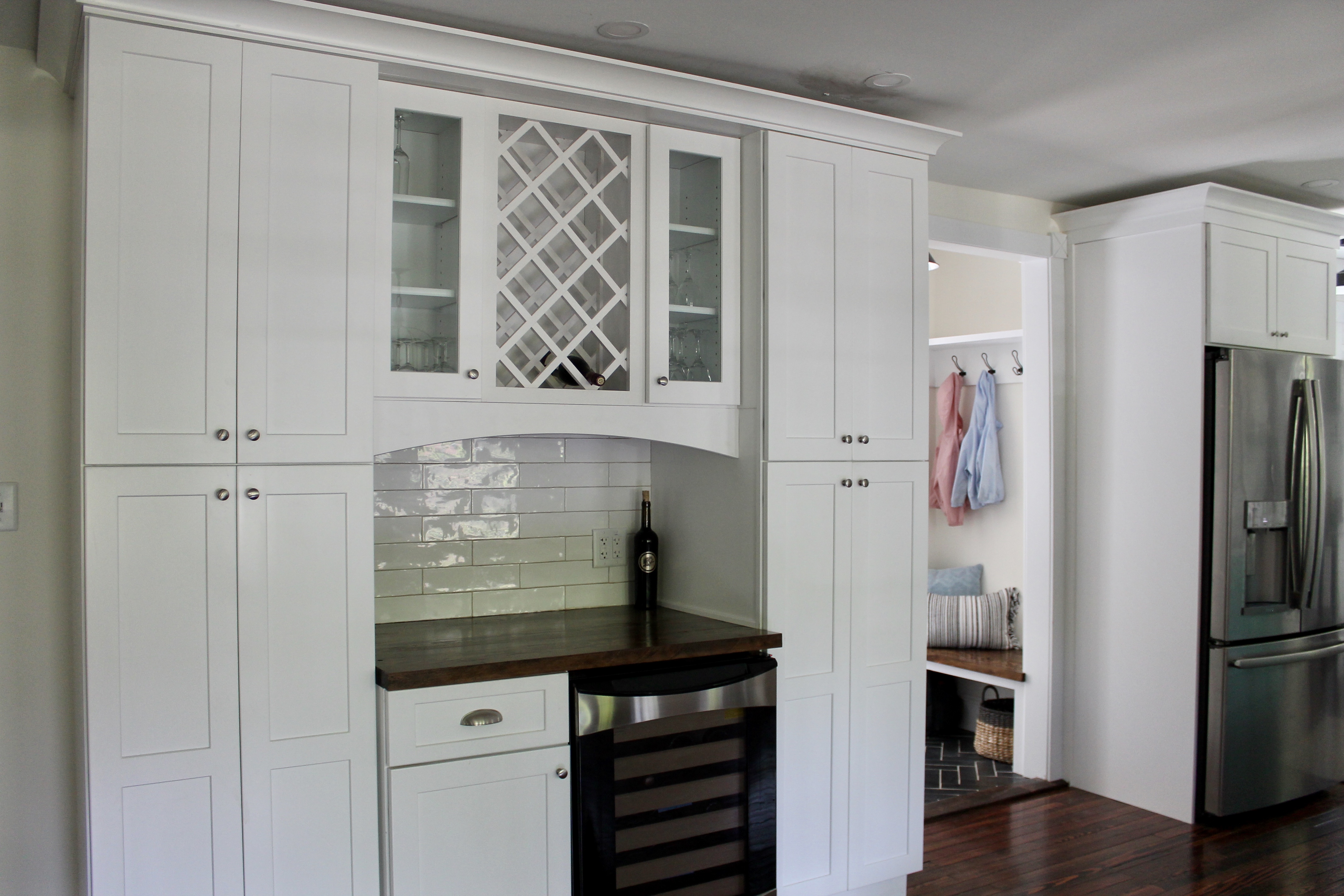 This is what we affectionately call our butler's pantry. Our actual pantry is on the right and the left side we're going to turn into a closet since we lost our large (and only) first floor closet and sizable pantry in opening up this space. Clearly, we also need to get to the wine store 😉 Our mudroom space is to the right and I will be doing a separate reveal for that and our laundry room once we're finished that space!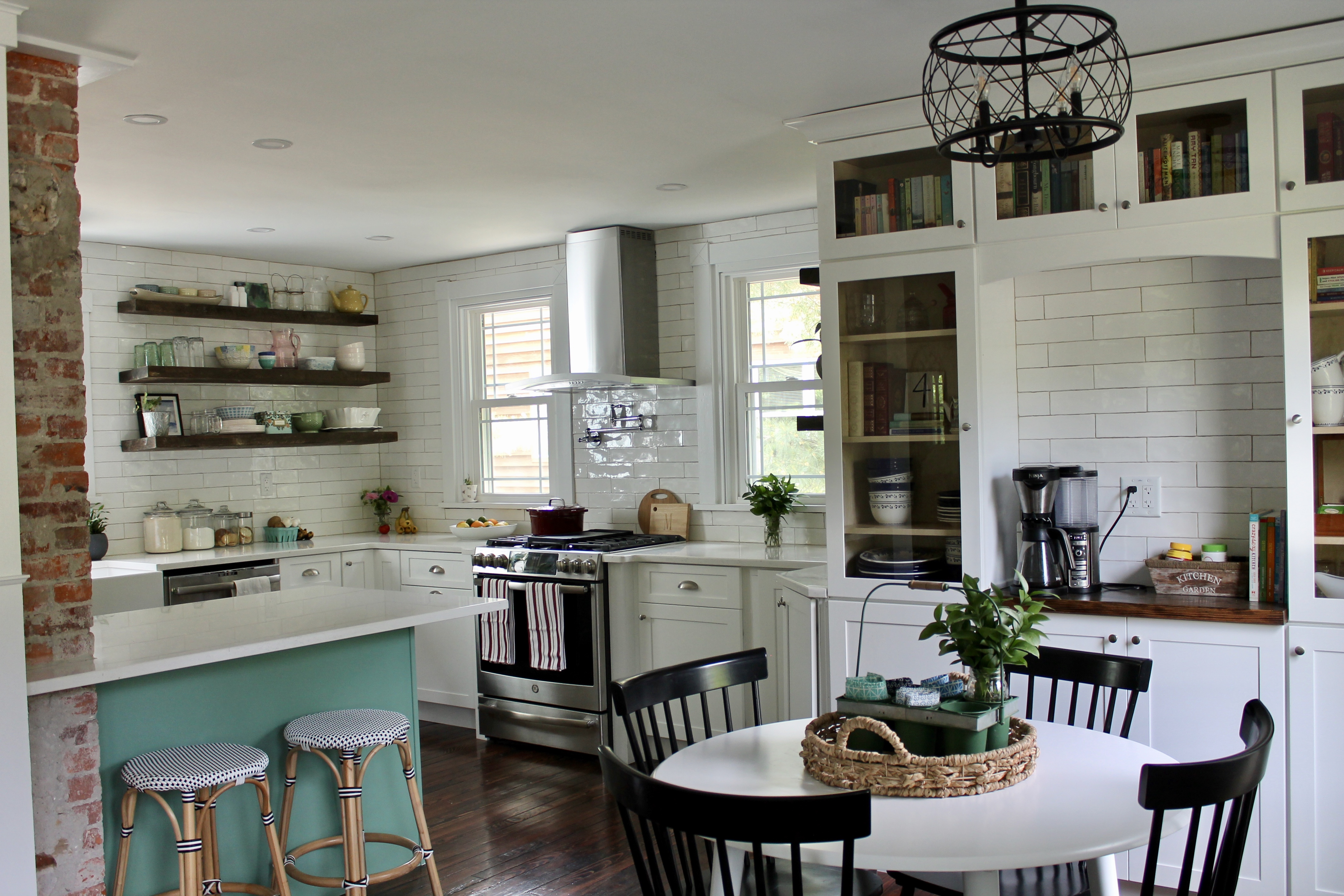 sink faucet: Pfister Faucets c/o, pot filler: Pfister Faucets c/o, sink: Sinkology c/o, appliances: General Electric, bar stools, kitchen table & chairs set, dining room table, end chairs, side chairs, dining room light fixture, kitchen table light fixture, sink light fixture, glass jars, dutch oven (exact color not available, similar), cabinet hardware (knobs, pulls), dish towels
If you've made it this far, thank you SO MUCH for reading and following along on this journey with us! I know this was a very photo-heavy post but I wanted to make sure I highlighted each part of our kitchen as every element was carefully curated to create this end result and to bring our vision to life. It's been an incredible process and I realized more than ever how much I really enjoy designing, decorating, and playing with color! We still have so. much. more. to do in this little home of ours and I plan to share everything here and on Instagram (are you following along @brittanyamonroe and @rosejamescottage?!)! I hope you enjoy seeing our progress!
Follow along on Pinterest, too, for more home and style inspiration!