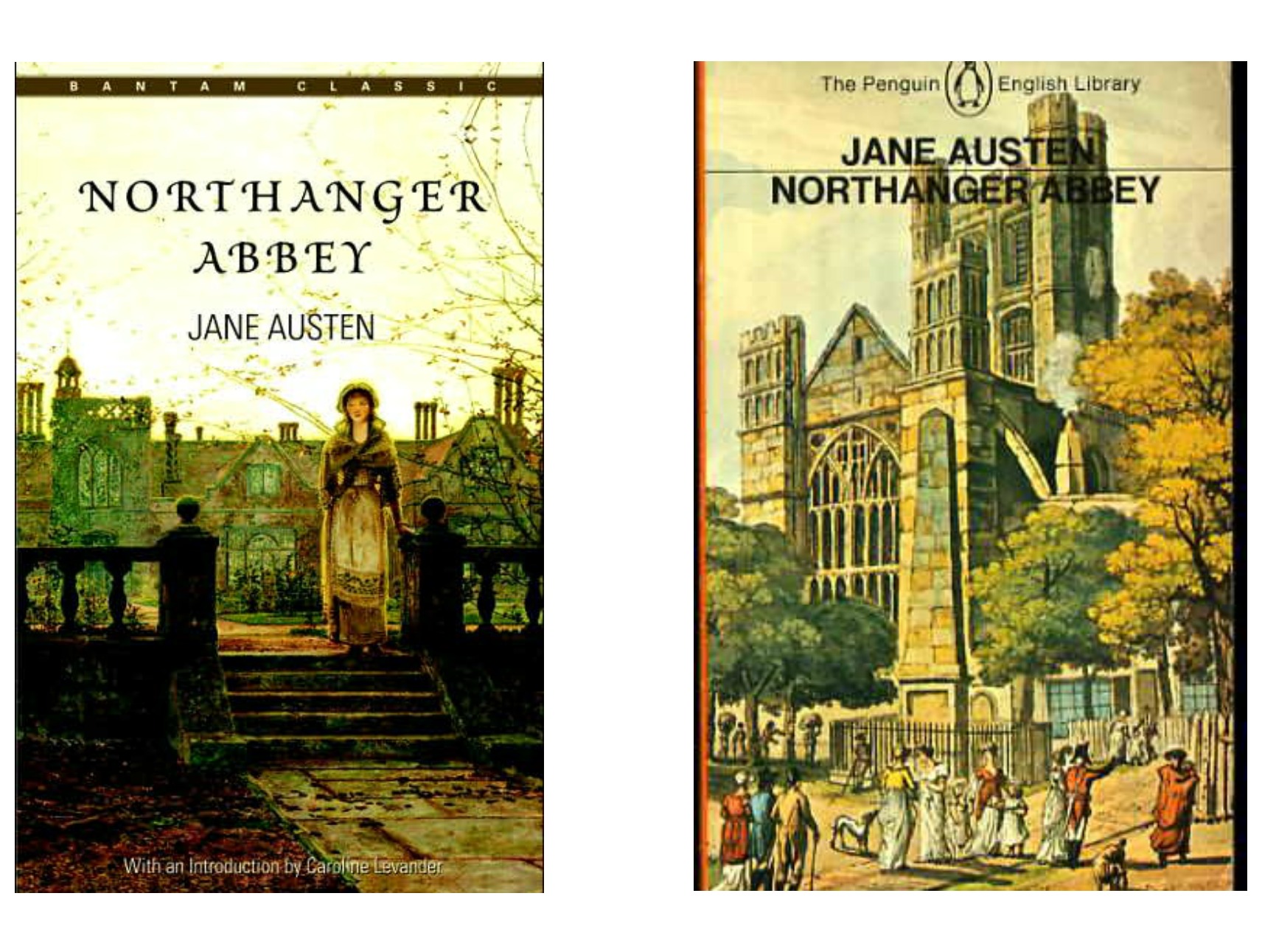 Northanger Abbey is a satire on the then very popular Gothic novel. It was the first novel that Jane Austen wrote, originally titled Lady Susan, but the last one published (Northanger Abbey and Persuasion were both published after Jane's death in 1817).
Northanger Abbey tells the story of Catherine Morland, a heroine in search of her hero by way of Bath, Udolpho, Northanger Abbey, and Fullerton. When she is invited to Bath with the Allens, her neighbors who owned much of the property in Fullerton, Catherine begins to have a respectable social life and meets her first love in Mr. Henry Tilney. It is in Bath that she also finds a not-so-true friend in Isabella Thorpe, though it is through Isabella that Catherine learns of The Mysteries of Ulolpho, an unwanted suitor in Isabella's egotistical brother, and a timid but loyal friend in Eleanor Tilney.
However, because of Isabella's brother's gross exaggeration regarding Catherine's wealth and status, she is later invited to stay with the Tilney's at Northanger Abbey where she blissfully spends her time imagining The Mysteries of Udolpho coming to life, strengthening her friendship with Eleanor, and falling more in love with Henry Tilney. All is going well until Mr. Tilney discovers that Catherine is not really wealthy and she is rudely cast out of their home and out of their lives, to Isabella's dismay and unbeknownst to Henry.
After seeing Sense & Sensibility last night at a local theatre with my Mom, I was inspired to write about Jane Austen's Northanger Abbey for my May book club choice. Even though it wasn't my original choice and it's not my favorite Austen novel, it's the most recent Jane Austen novel I've read so I figured I should go with that… it's also one that many people have probably not read, since it's not one of her most famous works. I honestly have loved every one of Jane Austen's 6 novels. Have you read any of them? What is your favorite?
I've actually been slacking quite a bit in my reading compared to the amount I read over the winter, but, right now I'm reading Fallout by Sadie Jones and next on my list is Mrs. Lincoln's Dressmaker by Jennifer Chiaverini, The Secret Keeper by Kate Morton (I've loved every one of her books that I've read), The Light Between Oceans by M. L. Stedman, Bossypants by Tina Fey, and The Winter Sea by Susanna Kearsley (oh, and I'm also going to reread Sense & Sensibility). If anyone is interested, let me know and I will post some of my recommendations and favorites! Also, if anyone has any recommendations, I always love to find new books to read!
Also, has anyone ever seen The Jane Austen Book Club? It is seriously one of the cutest movies I've seen, not to mention it's all about Jane Austen's books and how they are still relevant in today's world.
Jane Austen's novels in the order that they were written (not published):
Northanger Abbey (originally Lady Susan)
Sense and Sensibility (originally Elinor and Marianne)
Pride and Prejudice (originally First Impressions)
Mansfield Park
Emma
Persuasion (originally The Elliots)
I hope you guys have a great weekend!
❤Britt