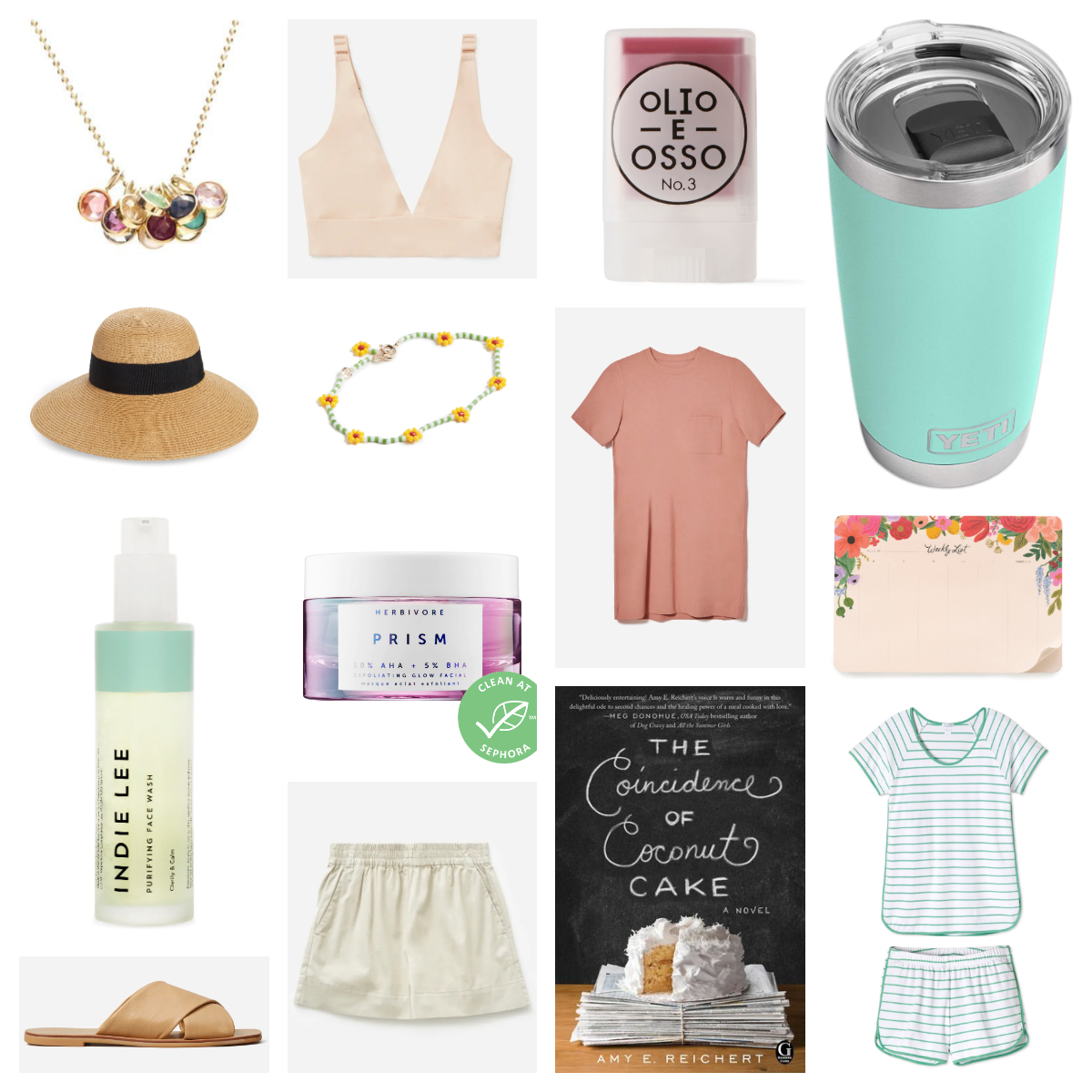 necklace, hat, face wash, sandals, bra, bracelet (reminds me of my mom & grandmom because they both love daisies!), facial, shorts, lip balm, dress, book, thermos, notepad, pajamas
It's no secret that my favorite colors are greens, blues, and pinks as they seem to be everywhere around here lately! For Mother's Day this year, I'm honestly really unprepared. Even though we've all been spending so much time at home, I feel less organized than ever. So while I don't have my Mother's Day gifts yet, here are some things I'm thinking of and some ideas for every budget. A few of the items on the list are things I have and LOVE (Joe got me this necklace for Valentine's Day this year and I haven't taken it off since. I have an amethyst for Amelia, turquoise for Joseph, and pink tourmaline for October- the month Joe & I got married. I kind of want the emerald for Joe's birthday and the ruby for mine, now!); this clean face wash that I use daily; this all natural lip balm (I have it in 3 colors); this t-shirt dress from Everlane that is super comfortable, washable, and versatile; this book (it's my second by the author and I love it!); and this thermos that I use for my coffee every morning.
If you have a larger budget, I love the idea of personalized jewelry (either something with their own monogram or their kids' or grandkids' names or birthstones… you know the mom or mother figure in your life best!) or a cute tote bag either or the beach or the farmer's market and filling it with goodies (or just gift it alone!)! You could even do one of these little bags and fill them with goodies (mini beauty products or yummy homemade… or store-bought… treats!) or a natural-hued basket filled with comfort items like a cozy throw, cute mug, or comfy slippers and a good book! For another really good stand alone item, consider a nice pair of shoes. Nice shoes tend to be one of those things you don't always want to spend money on yourself (fun fact: I get my mom a new pair of nice boots every year for Christmas and now she has a really nice collection!) but they make a huge difference in quality and comfort level. I now have 4 pairs of shoes from Everlane and each is just as comfortable as the last (I have the rain boots, sneakers, day glove flats, and day glove mules, and want to try a pair of their sandals next!).
If your budget is really tight this year (I understand- we're definitely spending considerably less right now than usual), what about a special book with a handwritten note inside? Or a bottle of her favorite wine, a homemade baked good or her favorite meal, flowers with a heartfelt note (even if they're picked from your backyard), or even something as simple as a candle or framed photograph? I think the most important thing is to remind her that she is loved and appreciated and just that she is seen because that's probably what she wants most 🙂 I hope however and whoever you celebrate, whether they're here or gone, that you have a wonderful weekend. Thanks so much for stopping by and let me know if I can help with any other ideas!
Here's some ideas for your Beach Lover (because we WILL get there!):

For the Homebody:

My wish list: