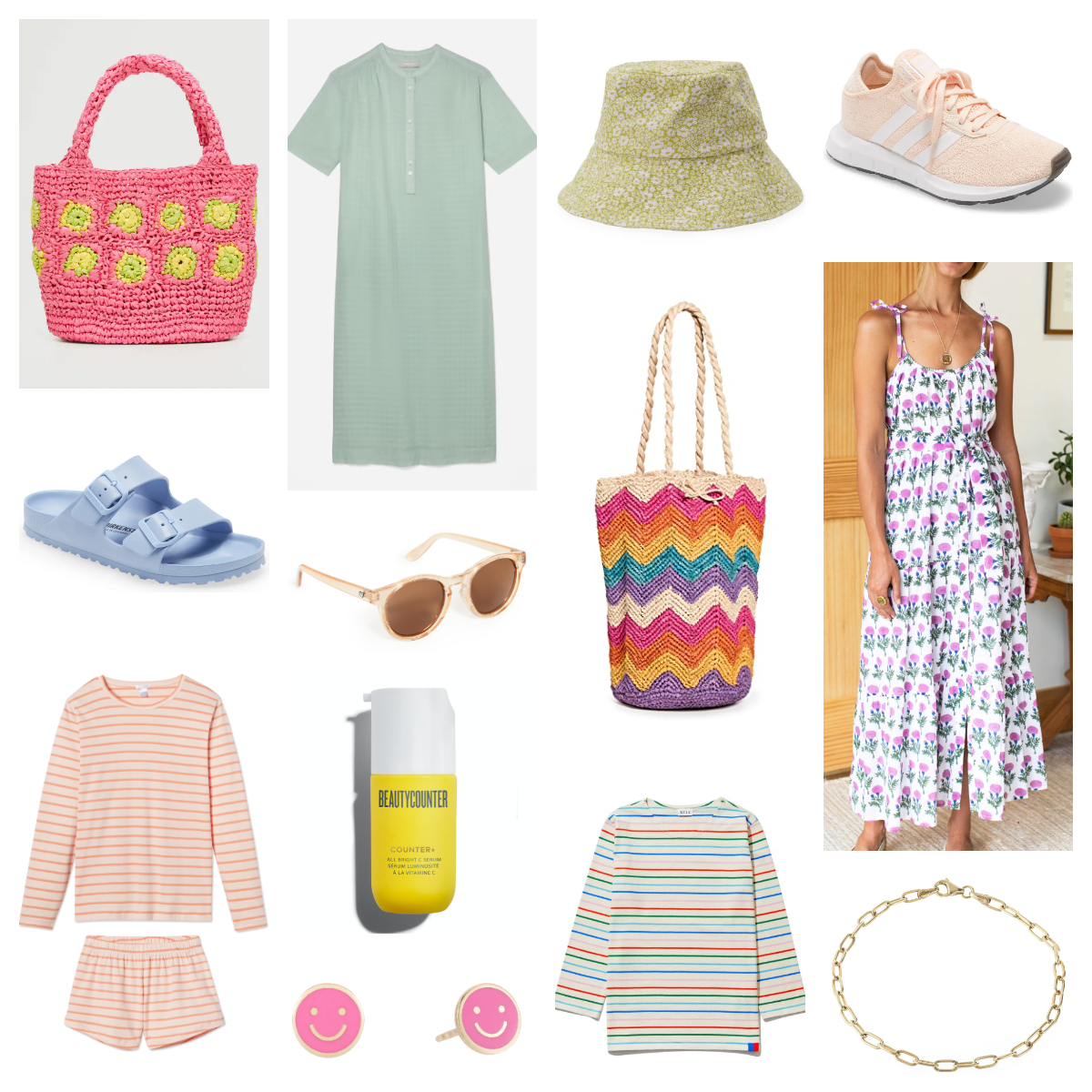 handbag, sandals, pajamas, caftan, sunglasses, All Bright C Serum, earrings, bucket hat, tote, tee, sneakers, dress, bracelet 
I have been loving all things rainbow colors recently and this gift guide is no exception. After the dreary and dark winter days, the bright colors just make me happy. The above items are all pieces I've had my eye on for a while now and think they'd make great gifts if you're celebrating someone for Mother's Day (or for yourself!)! This little bag is so sweet and perfect for spring… and for those of us who grew up in the 90s 🙂 I'm feeling very nostalgic for that period lately, in case you couldn't tell from this collage (case in point: this bucket hat). These sandals are my favorite and most worn all summer- I have them in bright pink and wear them so often that I'm thinking about adding another color to my closet. These cotton pajamas are 100% worth the hype and make a wonderful gift (I'm on my 6th set and am in the market for another!). Jewelry is always a good idea and Ariel Gordon is my favorite. Her pieces are beautiful, collectible, and wearable- so much so that I never take mine off- and everything in stock is 15% off right now. Another really nice gift is clean beauty. I've found that people don't always like to spend money on themselves, especially when it comes to skincare, so this makes a really thoughtful gift and, if it's your first time buying Beautycounter or if you use a new email, you can get 20% off your purchase! I highly recommend our All Bright C Serum with two forms of stable vitamin C for all skin types or our luxurious salt scrub and body balm.
Some other fun gift ideas:
~ Have a photo beautifully framed at Framebridge
~ Take whoever you're celebrating out to a nice meal or make one yourself (the idea is that she doesn't have to cook or clean up!)
~ Fill a pretty mug with her favorite tea bags, a face mask, and maybe a good book (pro tip: write a personalized note in the book instead of getting a card to make the gift a little more special). Alternate idea for the cook: fill a pretty platter with her favorite food or ingredients and write a note in a new cook book!
~ Put some fun outdoor dishes or glasses in a basket with a bright beach towel
~ Get a few items she can take to the beach and add to a beach bag or straw tote
~ Anything monogrammed!