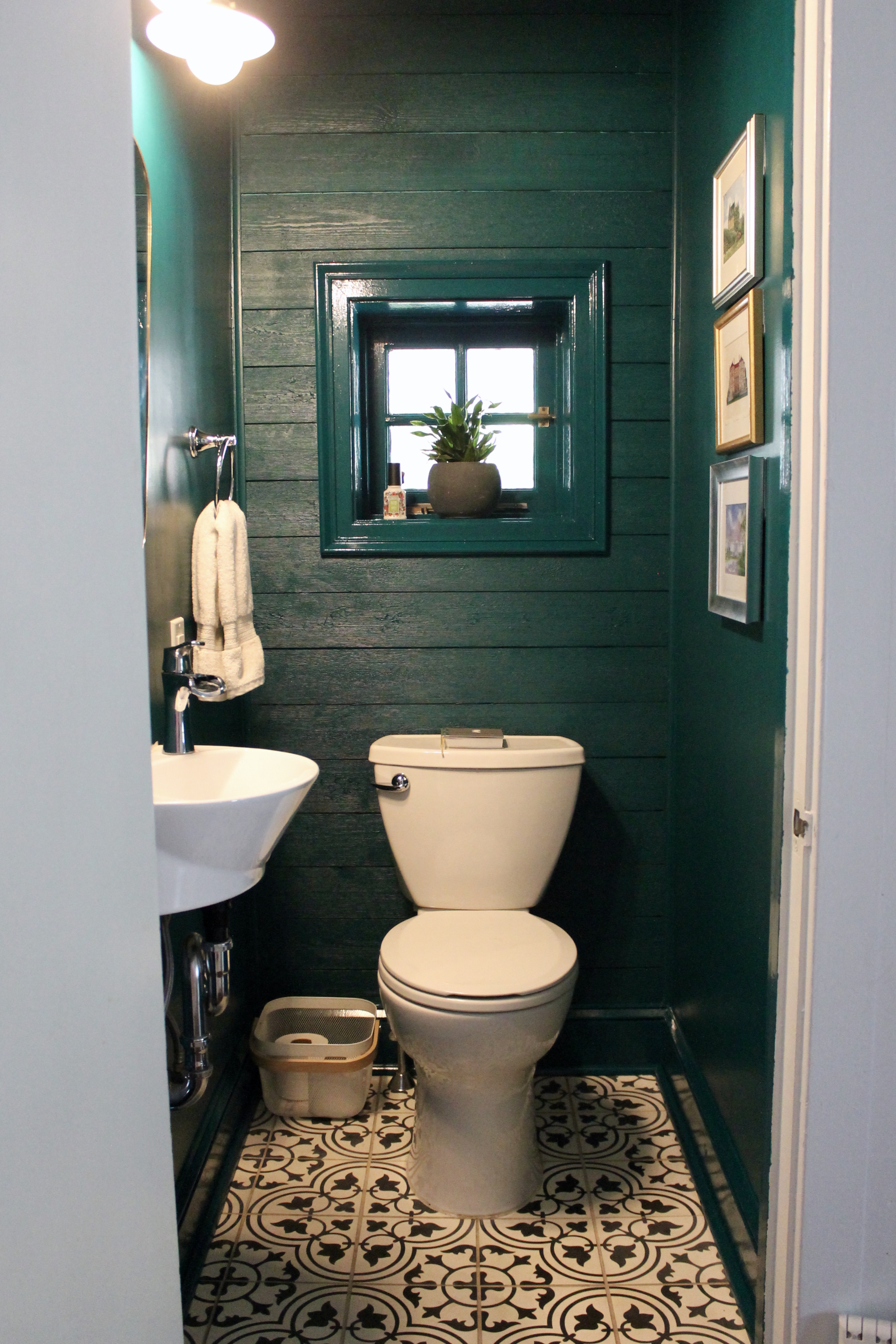 If you've been following me on Instagram or reading along here for a while then you know that one of the first projects we took on once we moved in, after the backyard, was our first floor powder room. It was in really bad shape (see the original before & after pictures HERE) complete with linoleum tile that I couldn't make look clean no matter how much bleach I used and a really ugly light fixture. So, Joe and his dad renovated it themselves and they did an incredible job!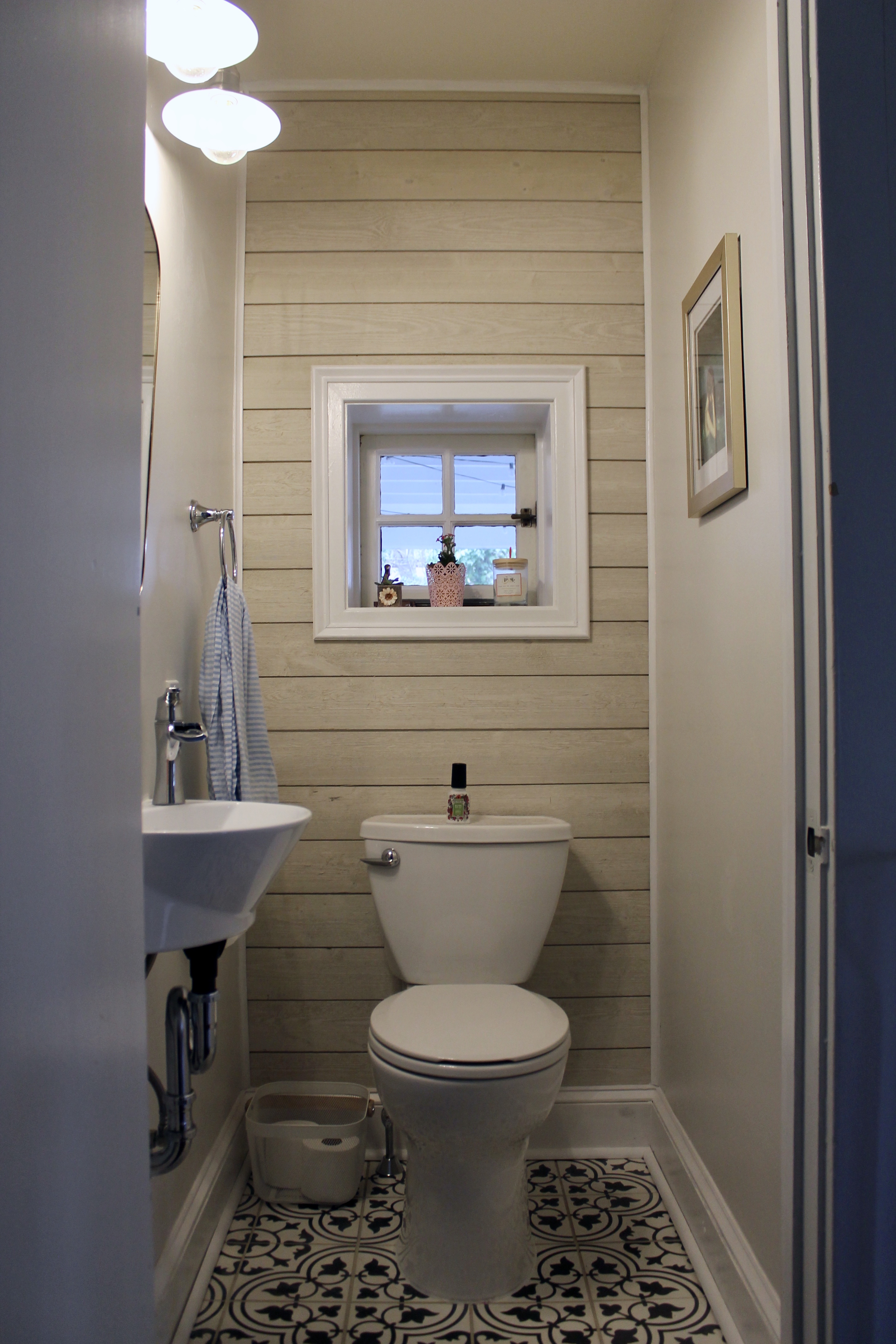 Here's what it looked like post-renovation. When we first bought our house (and even now sometimes STILL), I think that we were SO overwhelmed with the amount of work we'd taken on that it was really difficult for us to make design decisions. I think it's tough when you first move somewhere to decide on colors and decor decisions in general because moving is just overwhelming in itself. So, the only piece in this room that I really had my heart set on was this cement tile. I knew I wanted black and white and I didn't want it to feel too "farmhouse" (I love the look, it just isn't my style!) and once we put in the shiplap and painted everything white (because I couldn't decide on a color and Joe LOVES white), it felt very farmhouse to me and just seemed like something was missing. It never quite felt finished.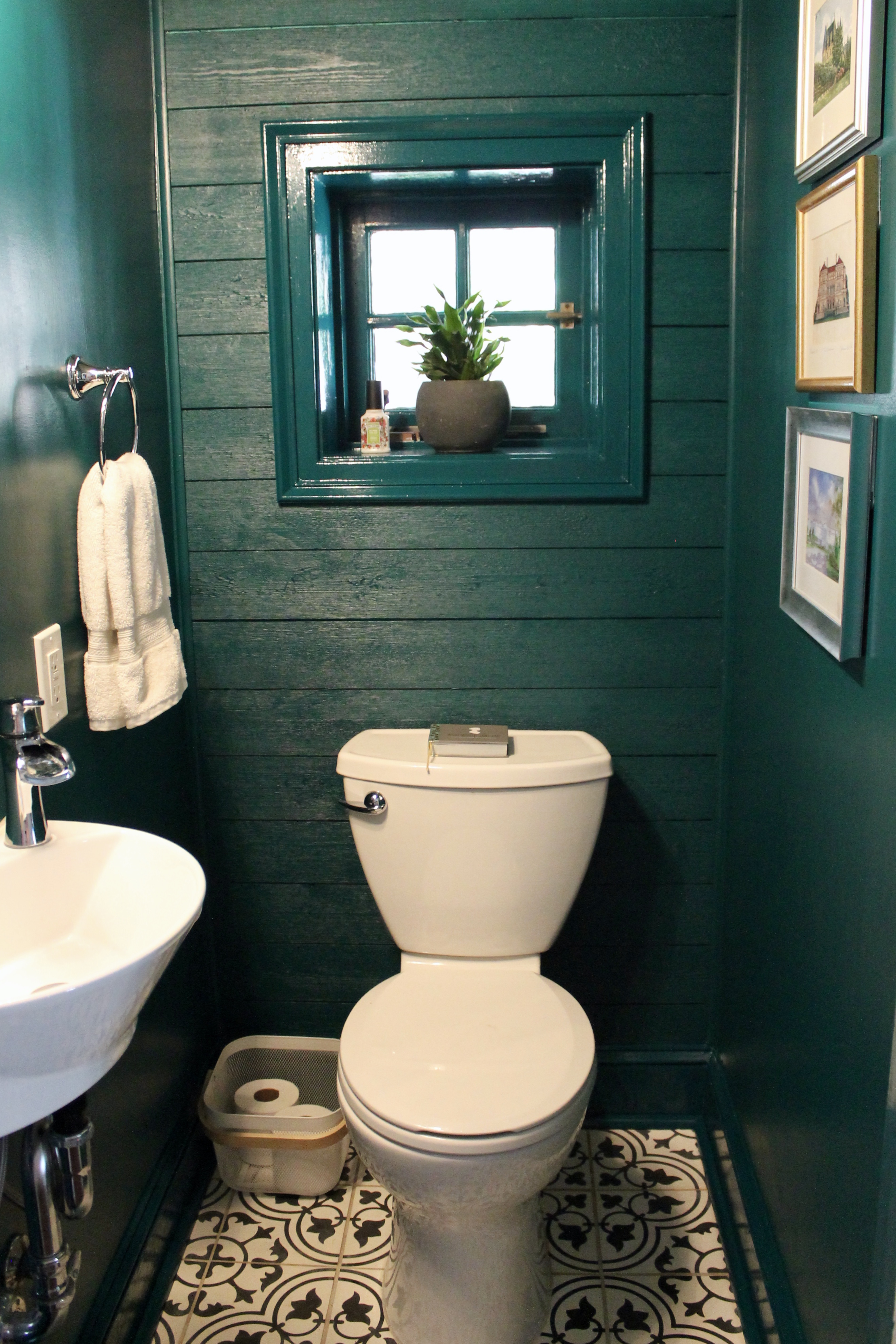 Shortly after this room was "done," we moved in with Joe's parents to start on our major first floor renovation and I didn't have time to think about the powder room anymore because we were designing and choosing everything for the kitchen/dining room/mud room & laundry rooms so, it took a back seat. Not to mention, I couldn't put my finger on what was missing anyway! Once we moved back in and started to get situated, I felt the same way about our kitchen/dining room/mud room & laundry room. Nothing felt complete and everything was VERY white, making it feel way more farmhouse than the garden/seaside cottage style I had wanted. So, I called my friend Lucy, an interior designer for her company Tartan & Toile, and asked her to come for a consult to help me figure out what was missing and how to make it feel more complete, unified, and more "me."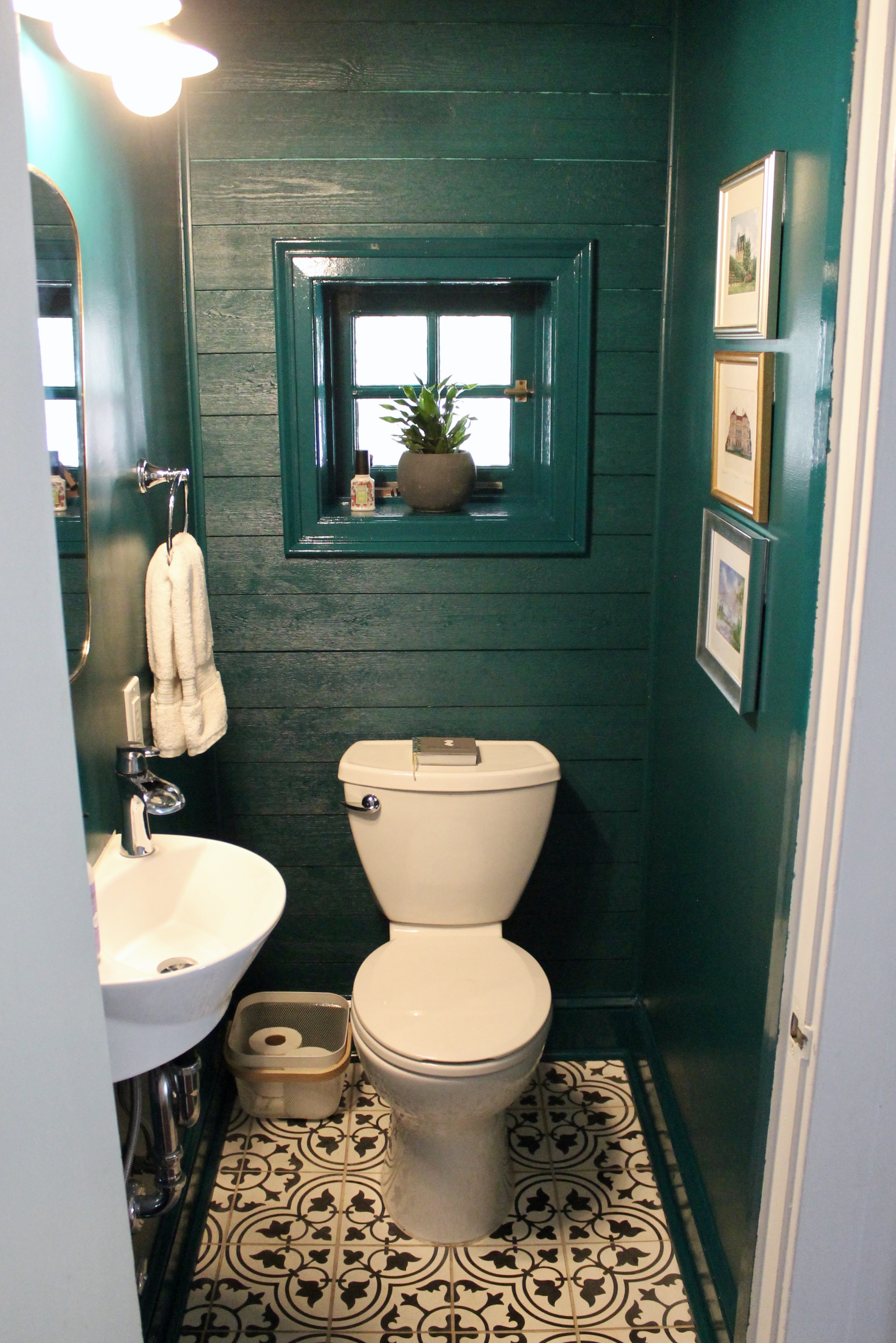 Her visit helped me SO much and I really wish I would have known her to hire her from the beginning! I'll write more about this when I finish our main areas (since we didn't include an interior designer in our budget from the start, it's something we're saving for and, in the meantime, trying to incorporate a little of her advice at a time… like paint!) but she took one look at this powder room and suggested painting everything a bold, dark color. My first thought was, "How did I not think of this before?" and then, "YES!"! And now I LOVE this room. Lucy and I picked 2-3 colors that would work and I decided on Sherwin Williams's Cape Verde (kind of on a whim, as usual) and started painting almost immediately! I did the walls in an eggshell finish and the woodwork in the same color but a high gloss finish (Lucy's suggestion and I'm obsessed!) and really like the contrast. I'm pretty sure I could still do another coat and definitely one on the shiplap & in between, maybe even on the window & woodwork, but there's 3 coats on everything already so I'm taking a break! Even Joe loves the bold green now and he was very skeptical! It feels very English and a little bit cottage and that's exactly what I wanted so thanks, Lucy!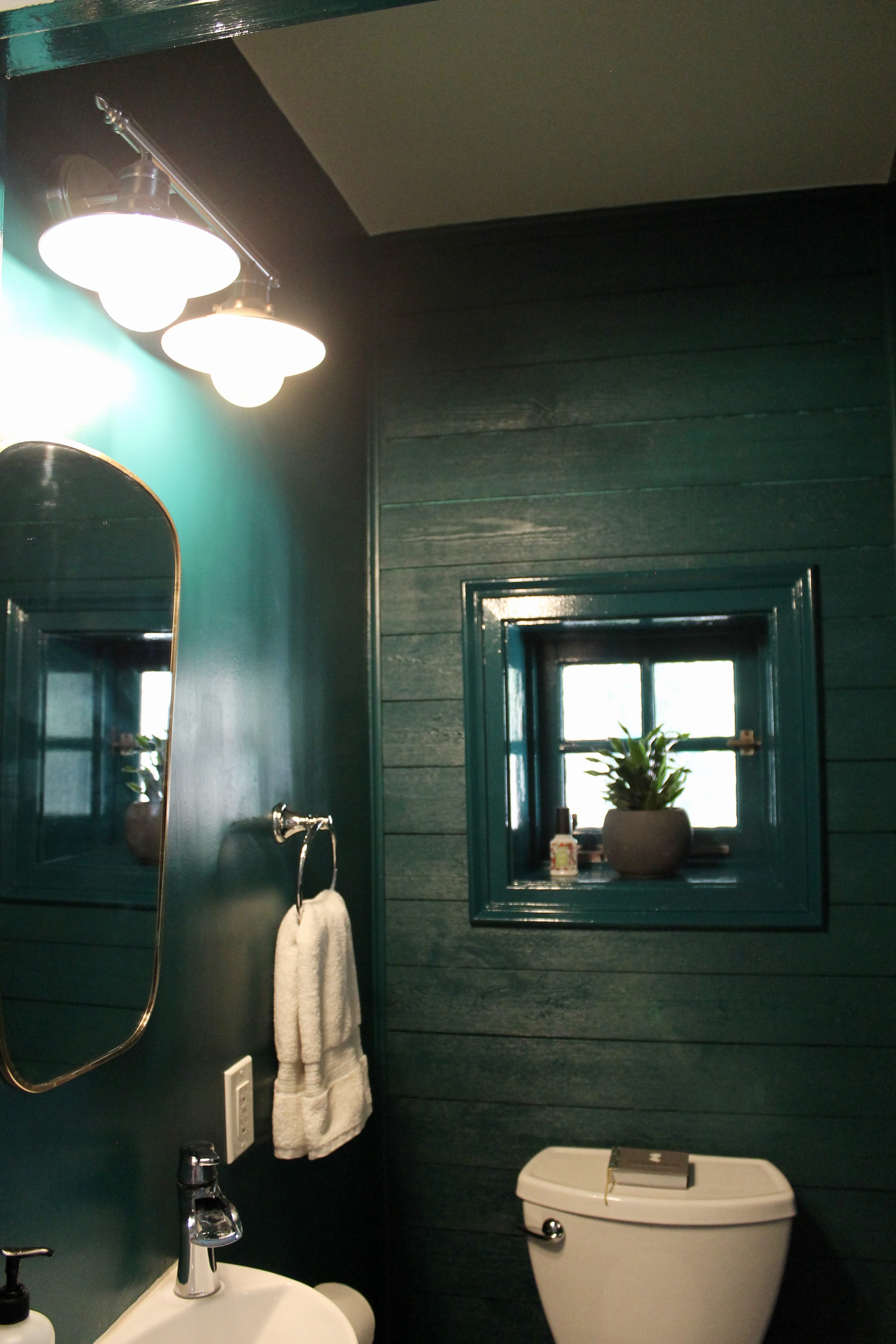 Initially, I wanted to say I did everything myself, and maybe that's why I didn't push for an interior designer or look for additional design help (I didn't know Lucy yet anyway so I like to think it was fate), and then I did do everything myself… finishes, furniture, fixtures, paint, etc., and it was SO overwhelming. I typically have a good eye for colors and patterns but I didn't realize how different and difficult it would be to visualize and put something together for such a large scale project.
I would 100% recommend using a designer from the beginning if you can, even in the smallest way if your budget doesn't allow for much. I just think it's always better to have another eye, particularly one that is trained in design and has been through the reno process multiple times! We spent a lot of money for our house to not feel "finished" so while it can be frustrating, I'm at least glad I know what I know now and have some help to get it to where I want it to be! The only thing I think is missing from this room now is a cute monogrammed hand towel!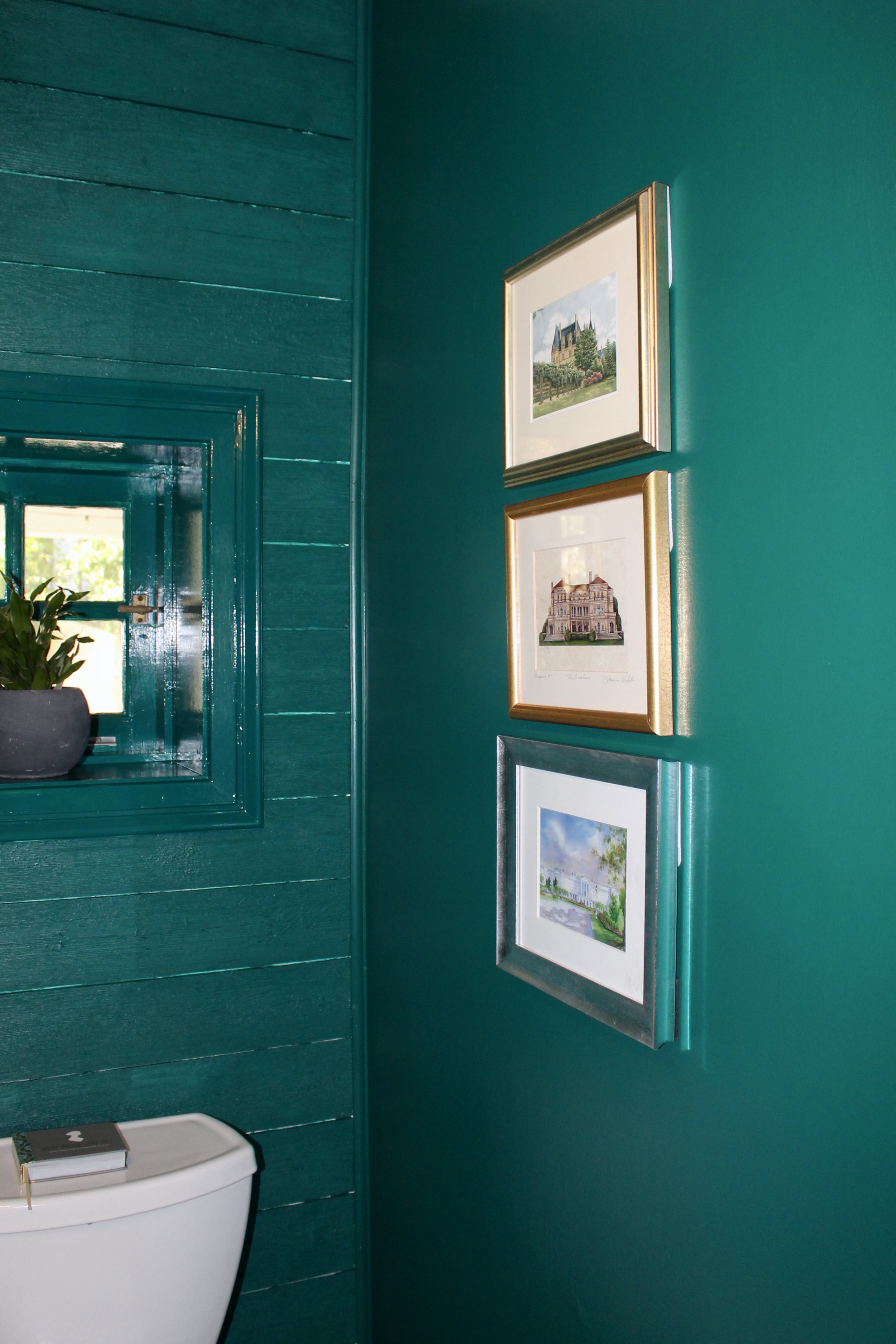 Pictures really don't do this color justice! The green is such a dark, stunning shade and the light reflecting off of it makes it look a little more washed out than it really is. I love the way the chrome fixtures pop against it and these house paintings are all prints of special historical homes or places we've traveled to that we picked up as mementos! The middle one, of The Breakers in Newport, came framed so we framed the other two in metallic frames and they look so good against this bold hue (the top one is The Biltmore in NC and the bottom one is The Greenbrier in WV). We've also seen The Aiken-Rhett house in SC, Edith Wharton's The Mount in MA,  and Lincoln's Hildene in VT but haven't been able to get pictures of those yet- we did just pick up another of Skytop Lodge (never used as a home but it is a historical lodge) in PA this past weekend, though! Do you have any collections like that from places you've been? And what do you think of this color and powder room? Would you ever consider a bold color in your home? Are you team color or team white?
tiles: The Builder Depot, faucet: Pfister c/o (Aliante in polished chrome), toilet: Home Depot, sink: Wayfair (it's sold out but it is an 18 inch sink- this one is similar but only 17 inches), towel ring: Pfister c/o (Northcott in polished chrome), paper holder: Pfister c/o (Northcott in polished chrome), paint: Sherwin Williams, light fixture: Home Depot, mirror: Target (also love this French County one)