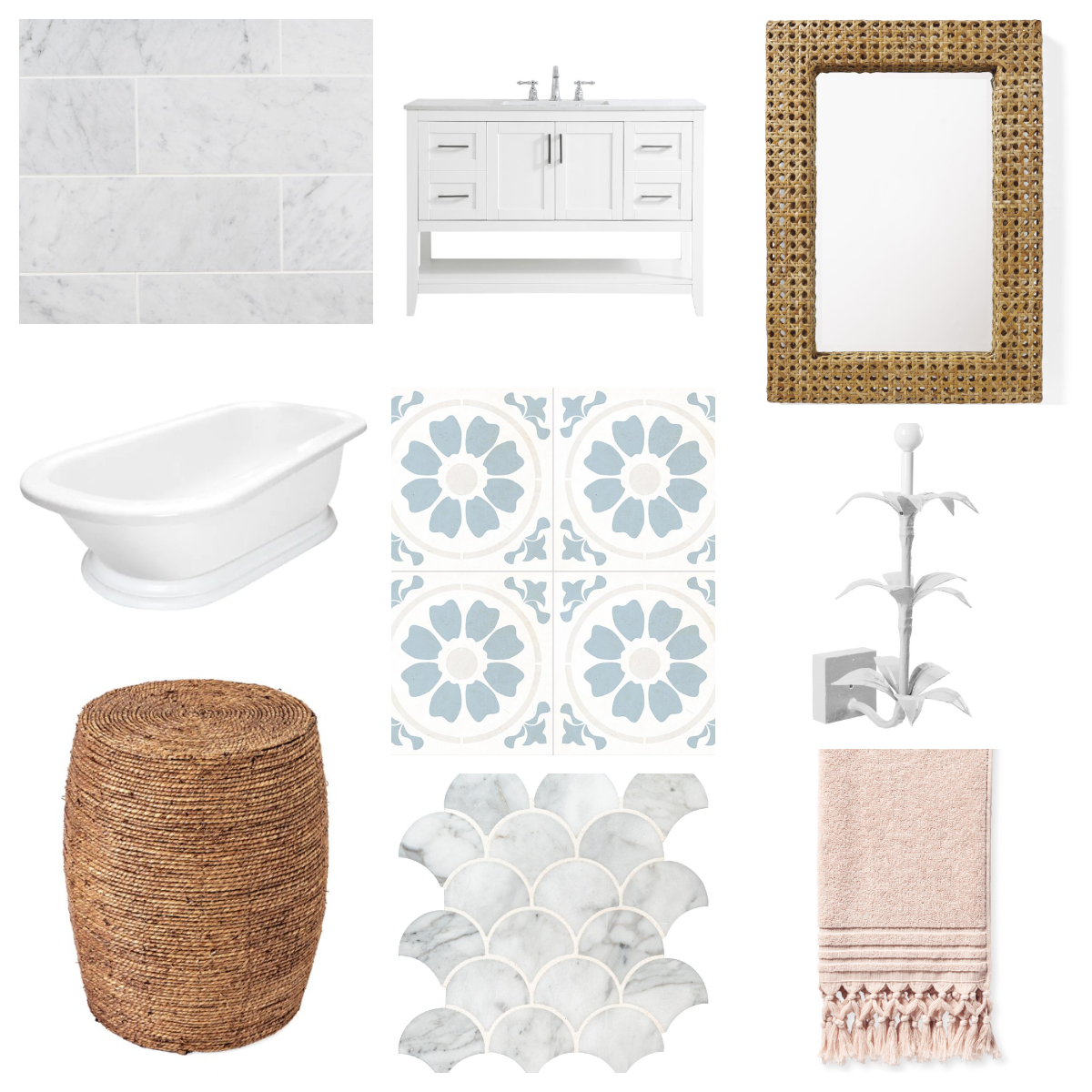 subway tile, tub, stool, vanity, floor tile, scallop tile, mirror, sconce, towel
If you're an email subscriber or check back regularly, you probably saw my recent post on my design inspiration for our second floor bathroom renovation. I knew I wanted a blend of classic Nantucket charm (lots of whites and creams) and relaxed trop-traditional (natural elements and pops of color) with an undertone of a comfortable cottage feel. One of the main features that I wasn't willing to negotiate on was a standalone pedestal tub. Our bathroom is relatively small as far as primary bathrooms go and it's our only one with a shower/tub (we have a very small powder room on the first floor and another bathroom on the third floor with a claw foot tub that we aren't sure works) so I wasn't sure whether or not we would actually be able to make it work but it looks like we can! I am also getting a stand alone shower (!) but I am giving up a double vanity for spatial and counter space reasons.
Anyway, I met with my friend Lucy of Tartan & Toile (remember when she helped me with updating my powder room?) yesterday and we mostly finalized all of the design details! COVID has pushed back our dates quite a bit but I'm really excited to get everything started! I wanted to share with you a few of the pieces that we're leaning towards here. I bought these sconces recently to go on either side of this mirror (I also love this rattan mirror) and I think we're leaning towards marble-look subway tile for the shower walls. I really want scalloped tile on the floor but we are having trouble finding any that aren't real marble so Lucy and I talked about doing some shade of gray instead. I was really torn as to whether or not to do a pattern on the floor or just keep it white but this bathroom design really sold me! We're hopefully going to do a custom build for the vanity and use either a marble or marble-look (we used marble-look quartz in our kitchen & love it!) remnant for the top. I'm thinking about this gold lantern pendant to hang over the tub and also I really love this coastal print for over the toilet or next to it.
I hope you're having a great week so far! Follow me on Pinterest for more inspiration or on Instagram for (mostly) daily updates! I'm SO happy you're here!