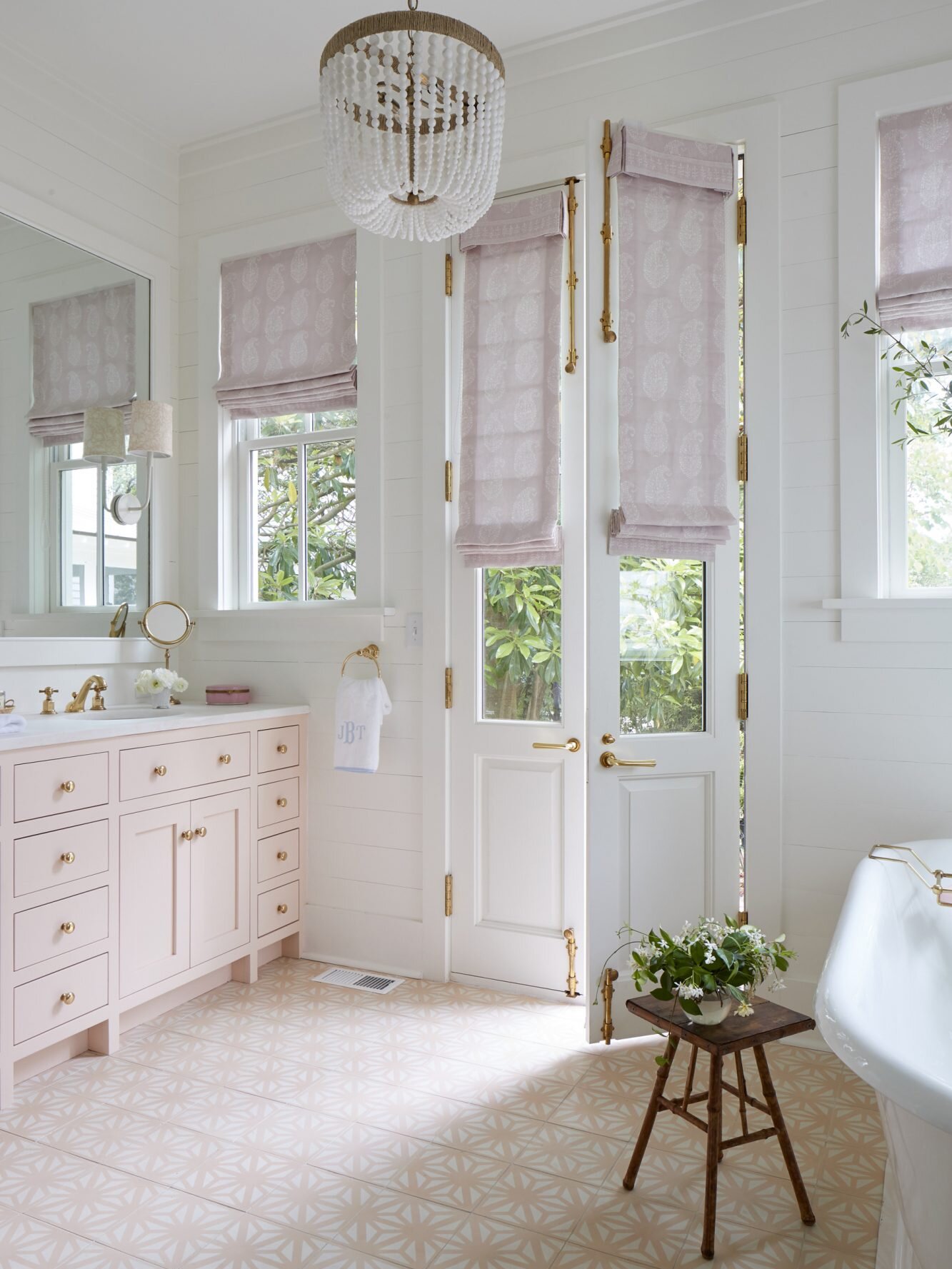 Photo from Gal Meets Glam
In an unexpected turn of events in the world of never-ending house projects, we now need to renovate our second floor bathroom in the next couple of months. A few months ago we started seeing bubbling in our (brand new) kitchen ceiling and have noticed it getting worse over the following weeks. We had our contractor come out and take a look and we think there's a leak somewhere that we need to take care of sooner rather than later. As we were planning on renovating our bathroom at some point, we decided it would be best to just do it while there's a problem instead of creating a quick fix (if there is one) and coming back to it in a few years. So, here we are with a post full of inspiration for our dream bathroom as found on Pinterest! Side note, I thought I wanted a plain floor until I saw this one with a subtle but sweet pattern… now I think I want something similar… maybe light blue?!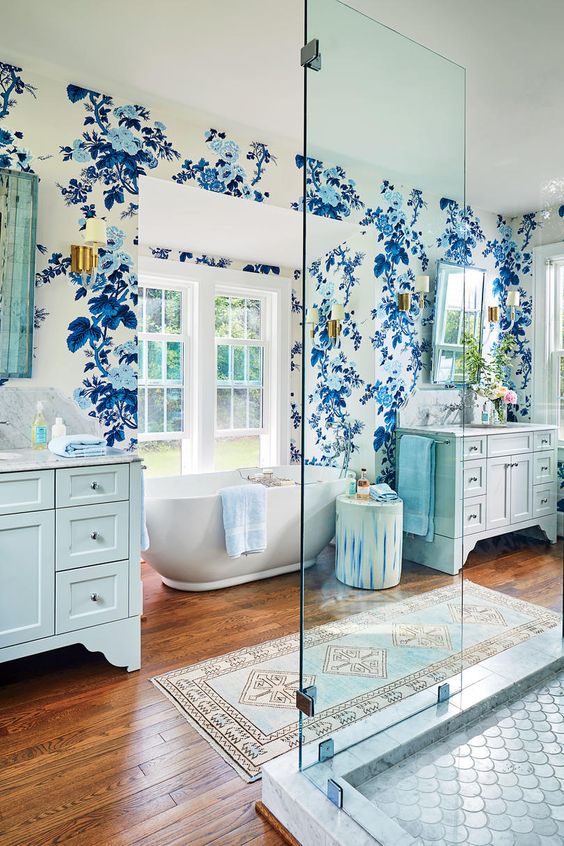 While I'm almost positive we won't opt for hardwood (unless maybe we find some original in good shape), I really love the look of it, especially with the bright whites and blues. I love the marble look and though we probably won't use real marble in here either, we do have a marble threshold that I want to reuse and I'd love to match the counters as close as I can! Also, this fish scale tile is high on my list for either the shower floor or the actual floor (in a larger size). I've loved it since we started our first floor renovation and have planned to use in in our second floor bathroom ever since! I'm thinking it will probably be some shade of light gray or marble-esque…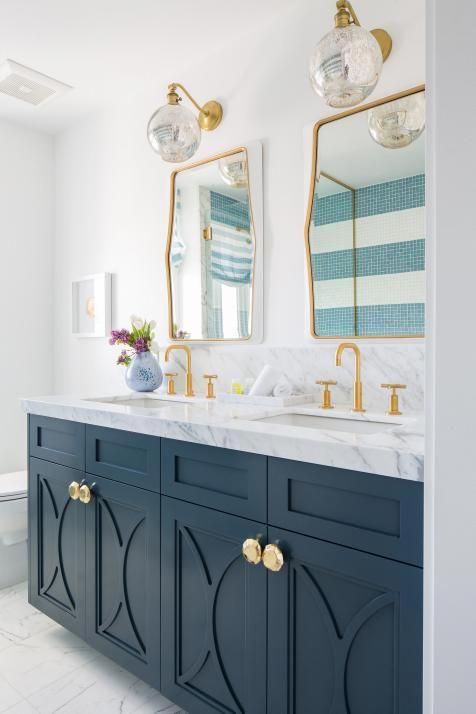 I really like the gold accents in this bathroom, particularly against the navy vanity. Again with the marble, in case you weren't already sensing a theme. I'm not sure if I'll go for gold fixtures but there will definitely be gold accent pieces. I'm totally a fan of mixed metals (see our kitchen here and our first floor powder room here!)!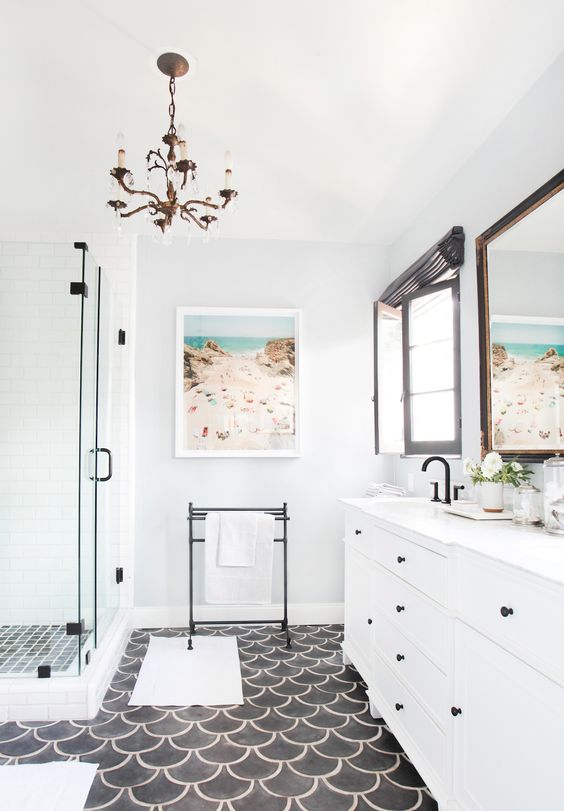 Here is the fish scale tile on the floor… I think this gray is a little darker than I'd like to see and this bathroom is way whiter than I want but I love how they mixed the elements of modern (photo art, clean lines) and vintage (mirror, shower floor tile) here.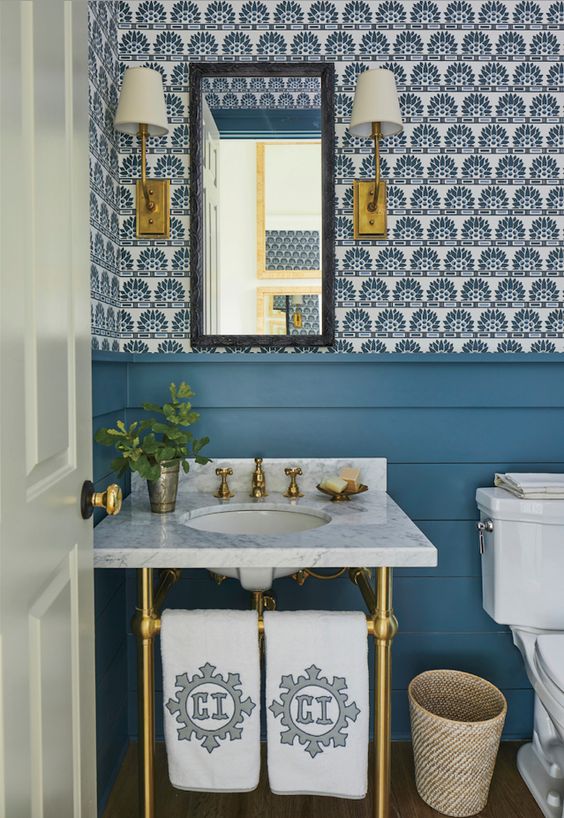 It turns out I really like design elements (such as wallpaper or a bold paint color) in small spaces. Also, clearly I'm leaning towards blue… while green is my favorite color, I tend to go for blues when choosing colors for home decor and stick with greens for accents. I really like the traditional shades on the sconces here. I think we'll try to blend traditional and classic style with modern and cottage touches. I seem to like a mix of Southern, British, and Nantucket cottage styles so we'll see where that gets us!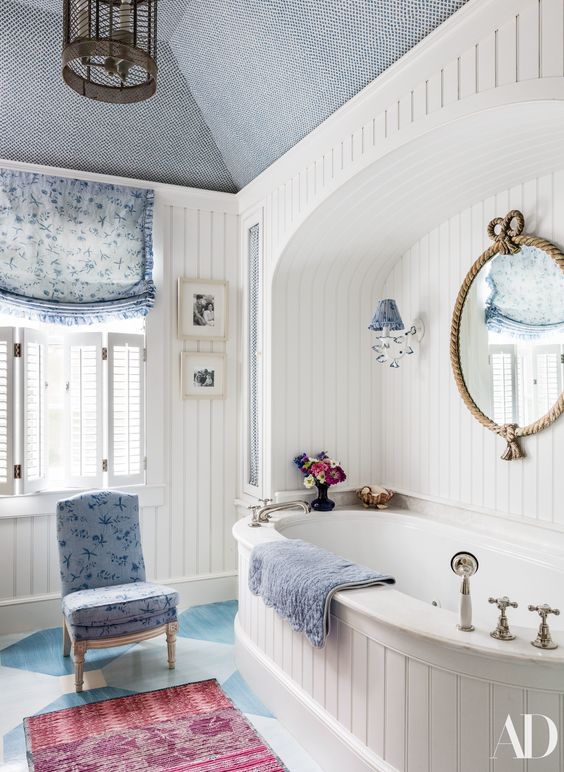 Photo from Architectural Digest
I ended up getting so overwhelmed when we were doing our first floor renovation that I just couldn't pick any colors other than white when it came down to the end. So on top of our white cabinets, tile, and counters (which it's worth noting I do love), we also painted everything white, too. Now I'm trying to backtrack a bit and add color so I want to make sure I think everything this bathroom through beforehand! Part of my problem is that I like a lot of different things and sometimes it can be hard for me to settle on one color or print or finish! Also, Joe and I have very different styles so it's been tough to agree on certain aspects of our home projects… typical, haha!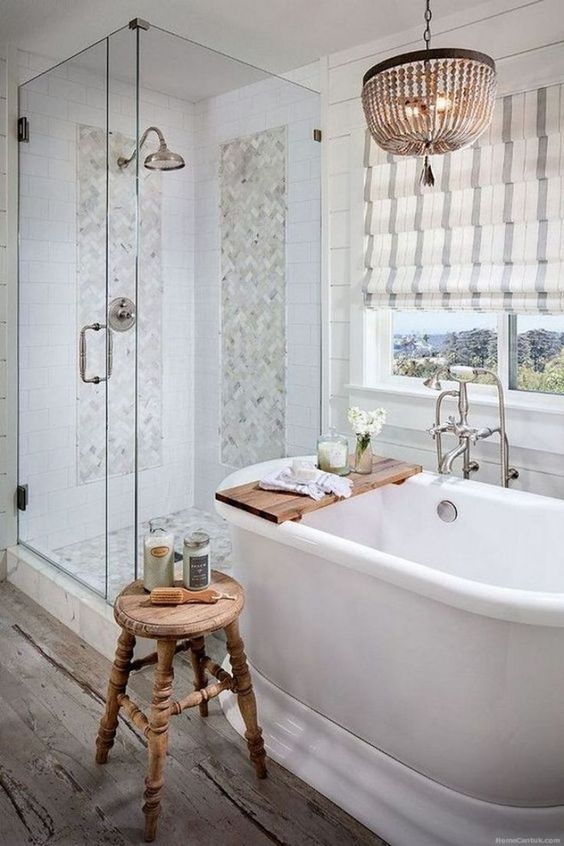 One big thing that we do agree on, however, is that we'd really like a separate soaker tub and glass enclosed shower. A tub is a must-have for us because of the kids so if it can't be freestanding, it will definitely change our design a bit. Joe would really like a "toilet room," too, but I don't think our space is big enough for that. We do have a little closet in there that I guess could give us some extra space but we actually use it for storage and I don't think I want to give that up. I think in an ideal world we'd like a double vanity but I'm also not sure we have the space for it… so, we'll see!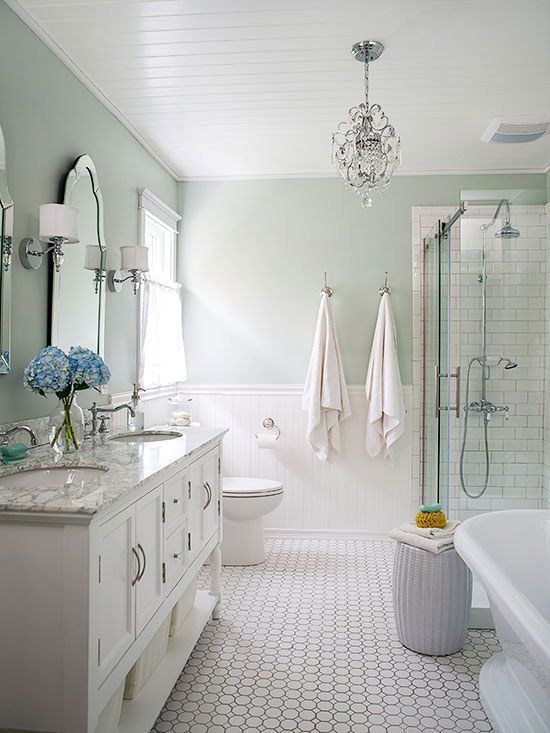 Photo from Better Homes and Gardens
Another thing I wish I had done with our first floor renovation was to hire an interior designer (remember when I talked about my friend Lucy of Tartan & Toile helping me with a few things here?!) but since this bathroom reno wasn't quite in the budget right now in general and with the quarantine affecting so many facets of our lives, I'm not sure what I'm going to do this time. I'm thinking that I'll at least do a consult because that helped me SO much with our first floor and I got so many good ideas! What's one thing you would want in your dream bathroom whether it be a wish list item or color or some other must-have?
I hope you're doing well and having a good week! Thanks so much for stopping by to read!
Follow along with my Bathroom Design Inspiration Board on Pinterest here and on Instagram here!