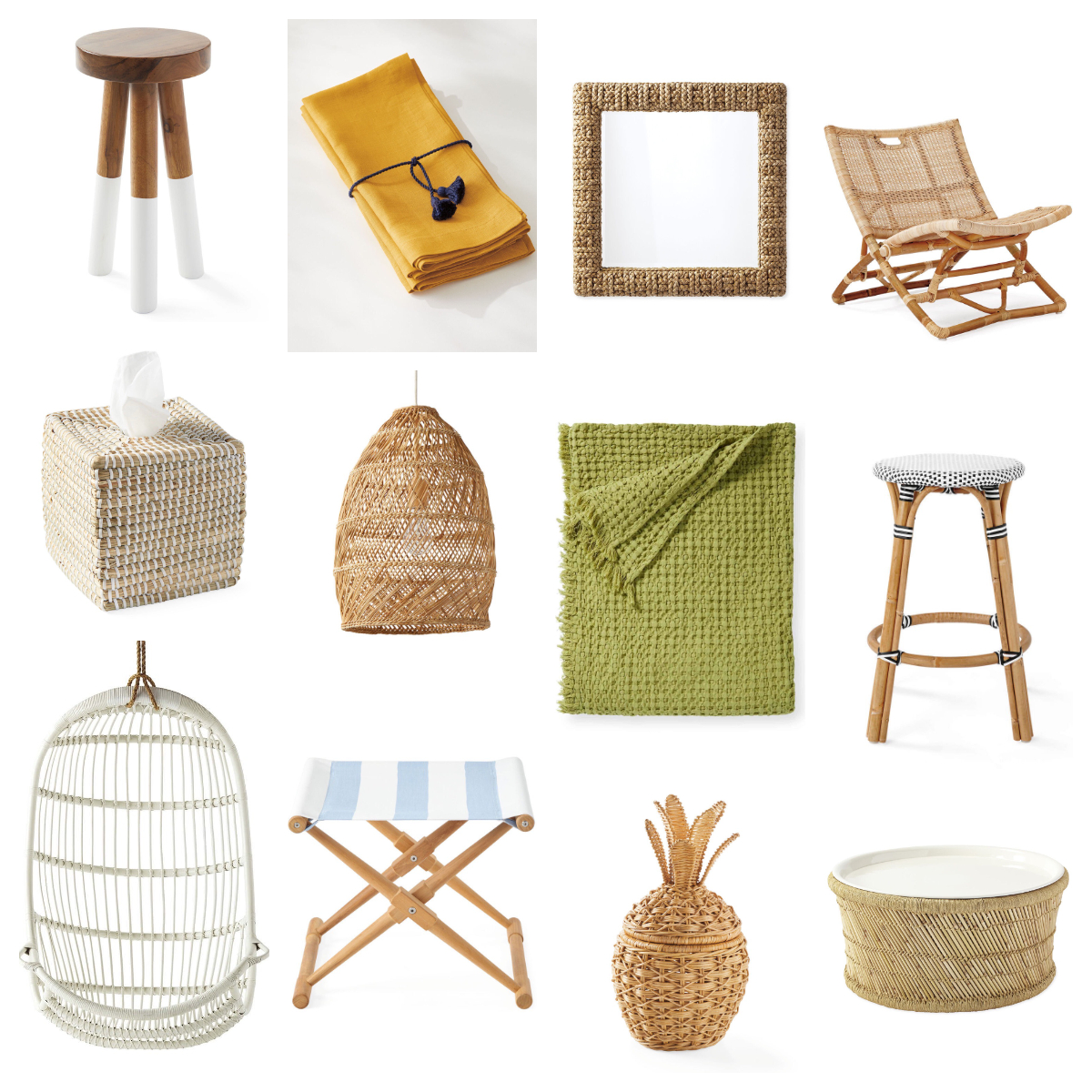 dip-dyed stool, tissue box cover, hanging chair, napkins, rattan pendant, camp stool, mirror, throw, pineapple, chair, counter stool, coffee table
Serena & Lily's Fresh Start Event is here and everything is 20% off! There are so many really cute new arrivals and sale pieces right now! I could honestly browse their site for hours and we save their catalogs as inspiration- fun fact: Serena & Lily is pretty much the only house style Joe and I agree on. We both lean towards traditional pieces with a coastal flair but he likes clean lines and I like a little bit of color so we always find the perfect combination here! There are a few pieces I've been wanting for a while now and I'll share them here along with a few other favorites.
Dip-Dyed Stool– We just bought this (on the last sale) for our bathroom upstairs and I love it! I'd been needing a place to set my phone/book/tea when I take a bath and this is perfect! I bought the larger size because I wanted the height.
La Jolla Tissue Holder– I've recently become a believer in using tissue box covers- we have them everywhere and using a cover really makes a difference!
Hanging Rattan Chair– I can't say enough good things about this hanging chair. My grandparents had one in their shore house growing up and it was always my happy place. Joe bought me the Outdoor Hanging Chair for Mother's Day a couple years ago and we've since gotten another one and they're both hanging on our screened in porch. These striped cushions for the hanging chairs are currently in my cart!
Salento Linen Napkins– These come in a set of 4 and are so nice. I have them in the green (grove) but I also love this deep yellow and there's a really pretty capri blue, too!
Headlands Bell Pendant– I love the natural, coastal feel of this. This would look great over a kitchen table, kitchen sink, or even an island!
Teak Camp Stool– This is another one of those pieces I've been wanting but don't have an exact spot for it… I've been thinking it would be really cute between our hanging chairs on the porch.
Costa Mirror– This would work pretty much anywhere! Think bedroom, powder room, above a console table…
Beachcomber Cotton Throw– This. Color. Also, I've found that cotton throws wash the best, especially with all the dog hair in our house. We have a few different textured throws (the faux fur ones are my least favorite) and one 100% cotton throw and that's always the one I reach for. Needless to say, this is in my cart.
Wicker Pineapple– I think this would be a really great hostess gift or gift for the person who has everything. I love any kind of storage with a lid that doubles as decor. And especially pineapples. They remind me of our time in Charleston and they're actually a symbol that means "welcome!"
Palisades Chair– How cute is this chair? I don't quite have a spot for it but I really love it… It folds up so it would be a perfect addition to pretty much any seating area.
Riviera Rattan Backless Bar & Counter Stools– we have two of these stools at our peninsula in black and white. They're actually not Serena & Lily (I found them years ago before I knew about Serena & Lily) but these are almost identical to the ones we have and they come in a few different colorways. There're also an option with backing (and sunwashed)!
Market Coffee Table– Ok, this has been on our radar for well over a year and every time a sale comes up, Joe and I talk about buying it. I love the coastal feel of it, the round shape would be perfect for going in the center of our room, and the top comes off to provide extra storage. Oh, and the table top is wipeable so perfect for houses with kids! Maybe this sale is the sale we buy this one?!