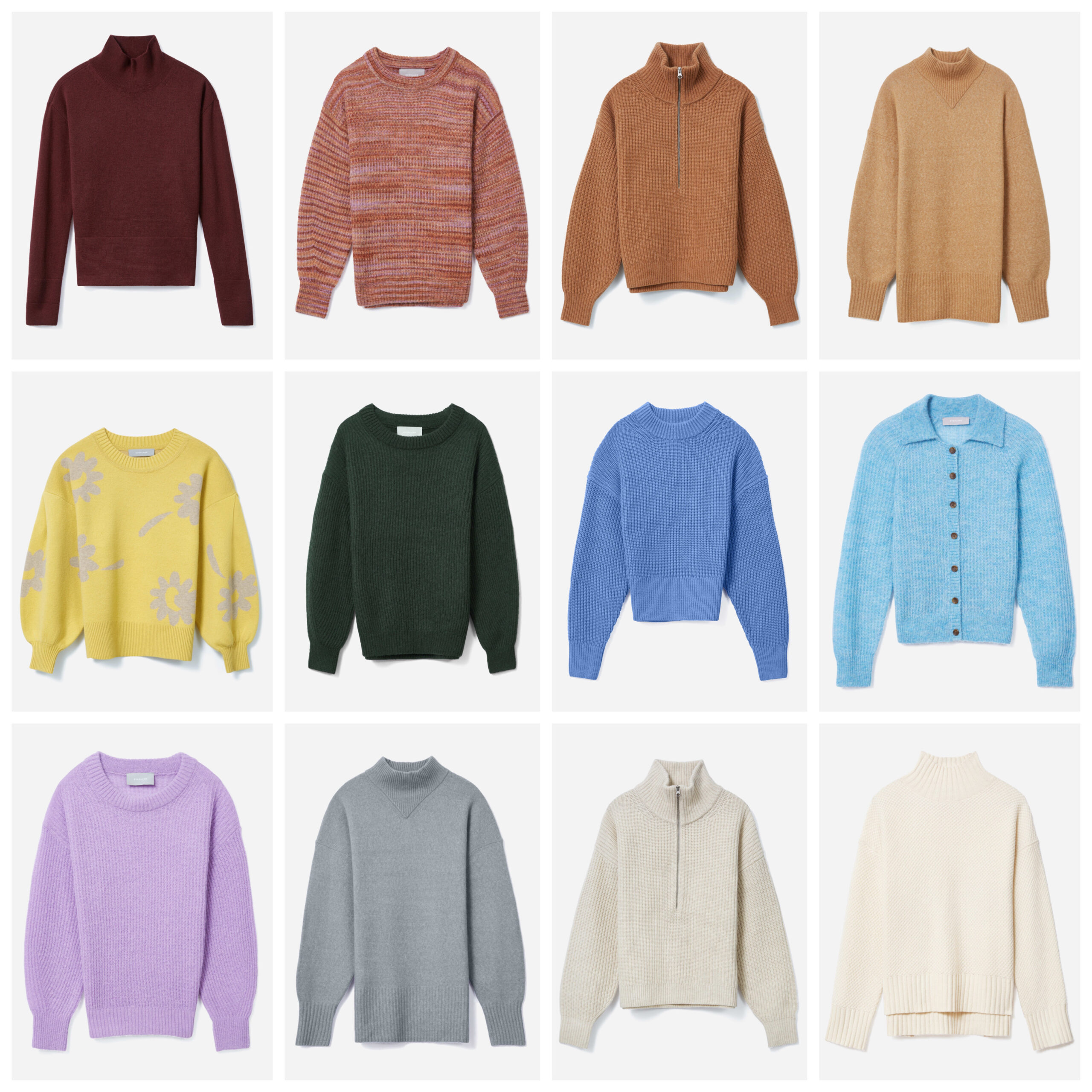 From Left to Right: espresso, red blend, deep camel, camel, yellow floral, hunter green, blue opal, turquoise, lavender, gray, oat, bone
I am officially sweater-obsessed! I typically like to add a sweater or two (or three) to my collection each year and this year, Everlane just has too many to choose! I live in sweaters from September to May and wear them with everything from joggers to leggings to jeans to dresses so I like to have a few different silhouettes and colors. Over the summer, I was tending towards mostly neutrals and adding a bright lip for color when needed but this season, I seem to be wanting all the colorful sweaters! For (maybe) the first time as an adult, I can honestly admit to wanting a rainbow collection!
I've been a fan of Everlane and their sustainable style options for years now and they just seem to get better with each season. I feel like they've always been pretty strong as far as neutral color options go but I'm loving all of the fun colors they've been adding to their line! I'm really into green right now (as my favorite color, I'm always into green but I find that it's hard to find really nice shades in clothing) and most shades of blue. They don't have a lot in pink currently but they have a few gorgeous shades of lavender and also some really pretty buttery yellows that I love!

I now own a good number of clothing items from Everlane, sweaters included, and can personally attest to their coziness and quality (so soft you'll want to wear them again and again AND they'll last you years!). I think most of their pieces fit pretty true to size and make really great gift items, too! Happy shopping (it also helps to know that you can feel good about what you're buying when you buy from them!)!