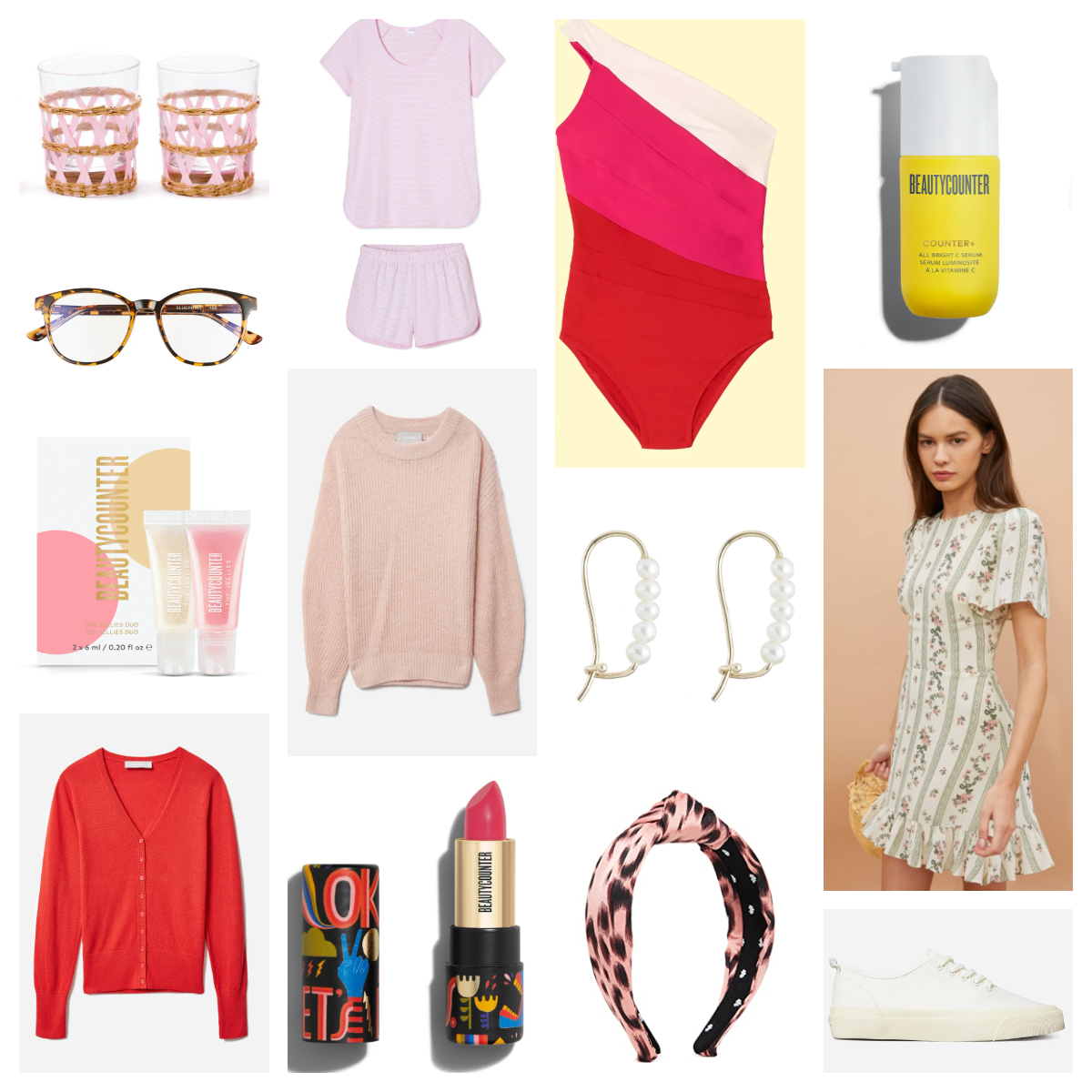 tumblers, glasses, jellies duo, cardigan, pajamas, sweater, "Give 'Em Lip" lipstick, swimsuit, earrings, headband, vitamin c serum, dress, sneakers
It's been a while since I've done a post here so I thought it would be fun to do a Valentine's Day gift ideas post! Joe and I honestly don't always exchange gifts for Valentine's Day but these are a few things that I've either been loving or would love to have. You can never go wrong with clean beauty or pajamas (I have a couple pairs of these and I really do love them! This lilac set is sweet, too!)! And I love a good sweater in red or pink, especially when it's one that works with everything from leggings to jeans to dresses. These pearl earrings are from one of my favorite jewelry brands (bonus points for being a small business & woman owned! I have this birthstone necklace with Amelia's & Joseph's birthstone + the month of our wedding) and this floral dress & flattering swimsuit are from two of my favorite sustainable brands (these WASHABLE sneakers are from my top favorite sustainable brand but if you've been here for a while, you already know about my love for all things Everlane!)! You can't go wrong with a cute pair of blue light glasses with all the screen time we're all having these days, these headbands are perfect for thicker hair (but not cheap so a great gift idea!), and these island wrapped tumblers are so cute! I use this Vitamin C Serum every morning and these lip jellies are perfect for the lip gloss lover in your life (appropriate for all ages- Amelia & I love them equally!)!
If you want to try any of the Beautycounter products I've listed (or anything else from Beautycounter!), please make sure to enter my name under consultant! If you have any questions, are looking for someone to help you personalize your skincare routine, or are just looking for a gift, please reach out and let me know! Email me or DM me on Instagram– I can't wait to help you!