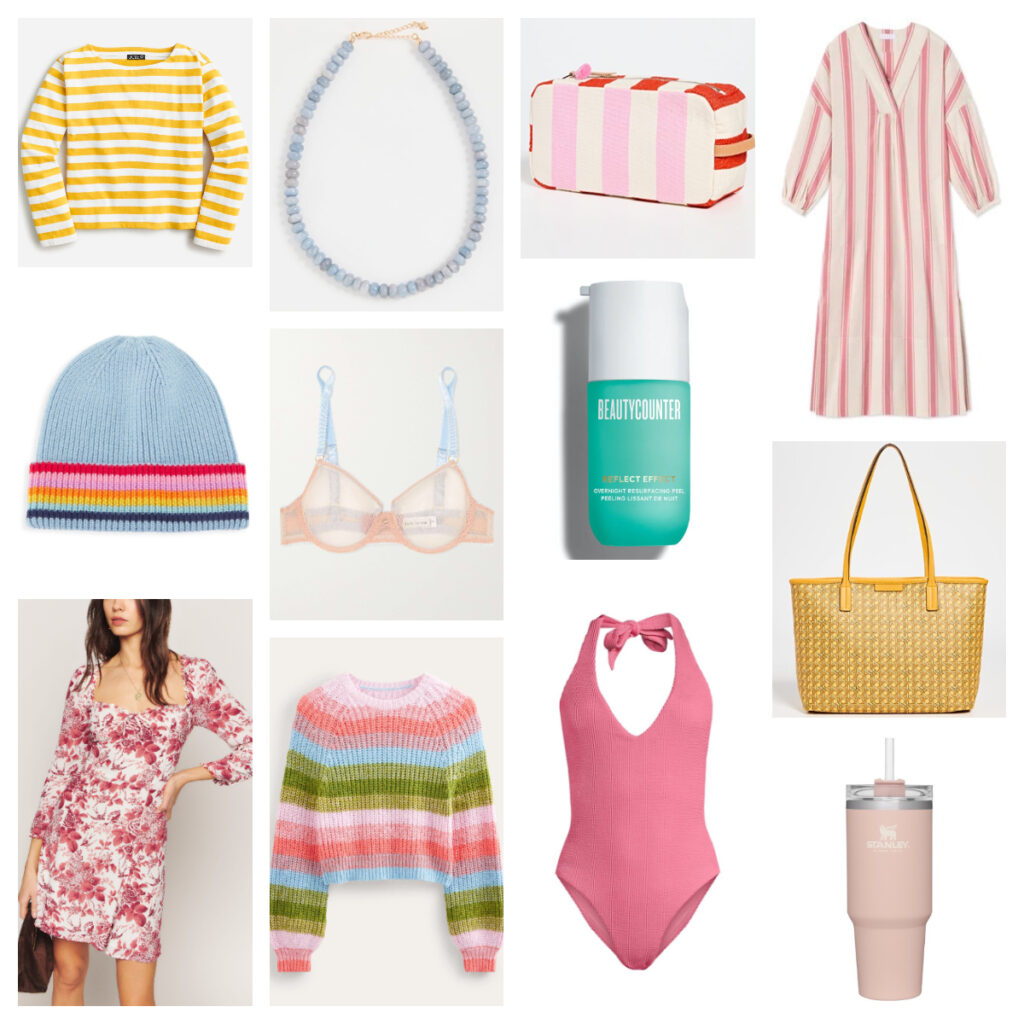 Striped tee– I would wear this with everything from jeans to over a bathing suit. Such a fun color, too (it also comes in pink!)!
Rainbow cuff beanie– I know there's not much of winter left but this is pretty…
Floral dress– I always love Reformation's floral dresses. This one feels right for a night out whether for dinner or drinks and the motif just feels romantic.
Tulle bra– This is a new-to-me brand and I'm officially a convert. The fit is spot on, the material is soft and this embroidered one is stunning!
Rainbow striped sweater– This is currently in my cart along with a few other things because it's 20% off today! The colors just make me happy and I've been thinking about it for well over two weeks so it's time to buy it.
Opal necklace– I've been wanting one of these necklaces since I saw them last spring. They come in such fun colors and make any outfit more fun! This blue is soft enough to wear with everything but pretty enough to feel extra special.
Striped Dopp kit– I love the bright colors of this bag and they're perfect for Valentine's Day! One of my favorite ways to gift is to fill a little bag with fun things such as skincare products, cute socks, or pretty accessories (think headbands, costume jewelry).
Overnight Resurfacing Peel– In case you're in need of a little extra self care… use this every other night after cleansing to promote skin cell turnover using clean ingredients and a multi acid complex. Follow with a moisturizer and wake up with glowing (literally) skin.
Crinkle swimsuit– The silhouette on this halter style swimsuit seems so flattering. And the pink… I've been swooning over this color lately!
LAKE pocket caftan– I love my LAKE pajamas and this caftan would be super cute for mornings when you're just lounging around or lazy weekend days.
I love any excuse for gift giving so, while Valentine's Day is not my favorite holiday, I still enjoy making valentines with my kids, putting little hearts up everywhere, and finding little gifts for people I love… including myself! Here's a few more ideas if you're looking 🙂
Jewelry/bags:

Dresses:

Lingerie/Pajamas: